Security forces in Lebanon have arrested a woman and her daughter for scamming people with a fake immigration program to Italy.
On September 16th, the Cybercrime and Intellectual Property Bureau of the Internal Security Forces (ISF) received a complaint about unidentified scammers, the ISF said in a statement on Saturday.
The plaintiff said that he had met a woman who held Italian citizenship and promised to help him travel to Italy in exchange for money paid in several transactions.
When the departure date arrived, the woman informed the plaintiff that she would not be able to come to Lebanon and pick him and his family up because her brother had died in London.
On September 23rd, the bureau detained the woman, 54-year-old Lebanese national "M.M." and her 24-year-old Lebanese daughter "S.H." in the southern city of Tyre.
During her interrogation, M.M. said that she had been residing in Italy before arriving in Lebanon in 2019, where she has tricked multiple victims into believing that her husband was an officer and that she could help them immigrate to Italy and work there.
She would ask for cash or money transfers in exchange for her supposed service, the transfers being made to her daughter's name.
For her part, S.H. confessed to having duped an individual into receiving money transfers to his name on behalf of her mother. She also said that she had taken advantage of someone else for money by starting a relationship with him.
Since their arrest, several people have identified the detainees and filed lawsuits against them.
To help other victims get justice, the ISF has published the photos of the duo, in accordance with a judicial notice.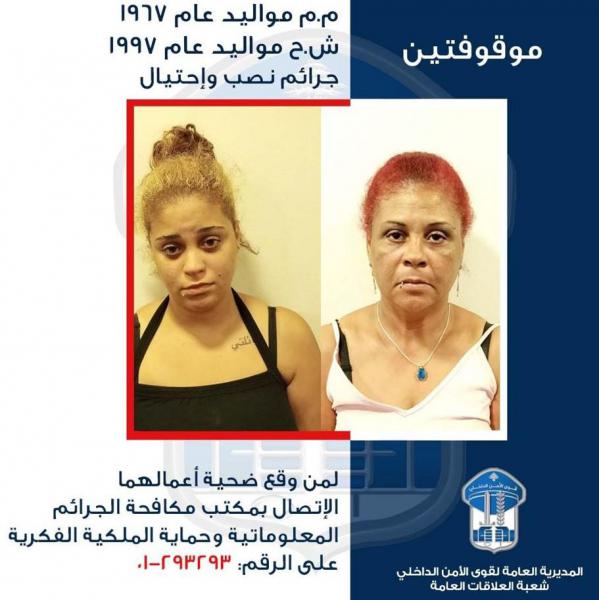 The ISF asks those who identify them and have fallen victim to their scams to head to the office of the Cybercrime Bureau at the Col. Joseph Daher Barracks, Camille Chamoun Boulevard, or call 01/293293, to initiate the necessary legal proceedings.