Elie Saab's newest ready-to-wear collection Summer Breeze reflects on the gentle, warm, and fun atmosphere of the season it represents.
Through this collection, the Elie Saab Woman drifts into colorful confidence, embodied with timeless and chic designs inspired by the gardens' freshness.
The RTW collection for Spring-Summer 2023 exhibits soft textures overlapping into
flowing and carefree creations.
The Lebanese designer uses pristine white, bright pink, hues of greens, gold, different shades of blue, and a splash of yellow to add an organic and natural feeling to his collection.
Embroidered floral symbols are used on oversized drill shirts and crepe dresses, along with classical purple wisteria to contour the neckline with a unique charm.
Crochet is ever present, as Elie Saab's RTW collection represents free-spirited designs with crocheted dresses, high-slit skirts, wide-legged pants, floral yarn-embroider, nude tulle gowns, and cocktail cutout dresses.
The designer accentuates the designs with floral brooches, monogram earrings, and ear cuffs.
"Like a summer breeze, the ELIE SAAB Woman whispers as stylishly as she appears,
leaving in her wake a grace of white impressions," described the Lebanese designer.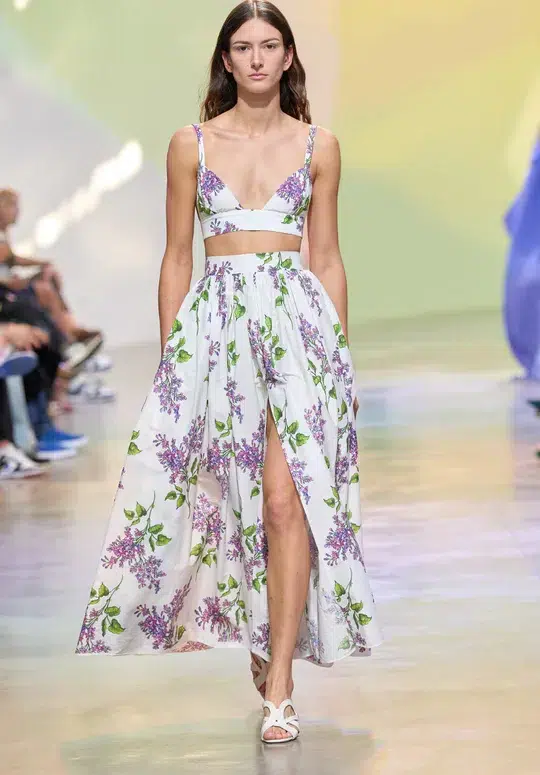 Related: Discover Georges Hobeika's Vibrant 'Flamingo Club' RTW Collection For Spring & Summer 2023