Forbes magazine just ranked 9 Lebanese entrepreneurs in their annual "30 Under 30" list which recognizes the youth's imminent change in the region.
The magazine searches for young entrepreneurs under 30 who are the "most innovative founders, game-changers, policymakers, and social entrepreneurs" in the Middle East, and are passionate and consistent.
In addition to the above, its criteria for the selection sums up as follows:
The candidate must be under 30 years old on December 31, 2019.
The candidate could have any nationality but had to be residing in the Middle East.
If one business had two under 30 co-founders, they are counted as one entry.
Last year, 6 young Lebanese entrepreneurs and change-makers made it on the Forbes List of 2019.
This year, Forbes named 9 Lebanese among these extraordinary bright minds that are achieving in making a difference.
Paul Barakat Diab & Elie Nahas
Cofounders of the new online learning service Augmental, Paul and Elie created this startup that caters to 6th-grade to 12th-grade students and teachers to enhance the e-learning experience in schools.
Augmental helps them adapt to online techniques based on their individual's performance, ability, and strength, and it's available in the 3 main languages used in Lebanon: Arabic, French, and English.
After winning first prize in the Supernova Challenge startup pitch at the annual AI Everything conference in Dubai in 2019, Elie and Paul are hoping to expand their business to cover the MENA region as a whole.
#3 Kamel Wehbe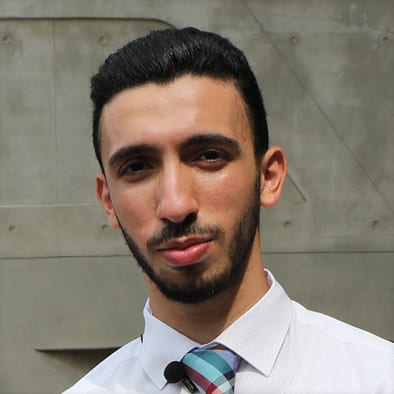 Wehbe is studying Law & Politics and has already become the first National Youth Liason to the Lebanese Presidency, and is setting up the first UN Youth Council in Lebanon.
He has led various initiatives "including the production of a reform package with projects of unprecedented magnitude."
He is said to have "influenced the overall national policy in favor of the youth of Lebanon" and his initiative has been included in the 2021 National Budget for implementation.
#4 Abbas Sidaoui
Abbas Sidaoui cofounded with Wassim El Hariri the Middle East's first mobile and mechatronics solutions company, Revotonix.
The company created its first human-sized robot Felix that has taken advertising to a new level, an interactive one.
Revotonix projects have been a success in the Middle East, providing electronic solutions to companies in Lebanon, Egypt, UAE, and also Germany, and other countries.
In addition to signing recently a partnership with Germany-based Insystems Automation, Revotonix is designing a window cleaning robot for a company in Chile.
#5 Majed Halawi
Majed Halawi delivers through his company Pure Harvest sustainable food security solutions for local food production. He assists high-tech greenhouses in the Gulf region, leading their extension and contributing with engineering teams to increase efficiency.
Pure Harvest aims to find smart technological solutions to the increasing agricultural obstacles farmers are facing due to climate change and more.
#6 Nataly Naser Al-Deen
Scientist and social entrepreneur Nataly Naser El-Deen has successfully discovered new findings in young cancer-infected breast tissue. She has received three full scholarships from the US department worth $500,000 to continue her Ph.D. breast cancer research at AUB.
In 2015, she founded Pink Steps, promoting a healthy lifestyle for breast cancer patients.
#7 & 8 Karim Ibrahim & Toufic Assaf
Karim Ibrahim and Toufic Assaf founded Robocom VR, a company that focuses on providing a location-based virtual reality entertainment.
Back in 2017, their company partnered with EMAAR to open up a VR theme park in Dubai Mall with all of its content created locally.
Robocom VR has exclusive licenses to develop VR location-based simulators for Disney, Hasbro, the Discovery Channel, and Code masters in the Middle East, Turkey, North Africa, India, and Southeast Asia.
That's in addition to having worked with powerhouses like Nike, PepsiCo, Lionsgate, Dreamworks, and WWE.
#9 Nadim Habr
Nadim Habr owns a technology company called Designerhubz that builds fully automated robotic rigs that 3D-captures and digitizes physical inventories.
Designerhubz works with online retailers to create an immersive and interactive online shopping experience for their customers.
Among them, the powerhouse Ikea that has signed a contract with Habr to use the Designhubz robot across its stores in Saudi Arabia and the U.A.E.
For all the list of Forbes 30 Under 30 of 2020, visit here.