It is with curious interest that we went digging for the story of the Lebanese family behind the largest car dealer network in Montreal and Quebec, and one of the largest in Canada.
Their massive showrooms of major car brands are everywhere, standing wide and bright and reflecting dazzling success. In Montreal, when someone is looking to buy a car, it is always the Gabriel Group that is first cited, followed by: "They are Lebanese." Well, how can we miss that?
With its dozens of showrooms and over a dozen car brands, the Groupe Gabriel has been ranking #1 in Quebec since 2014.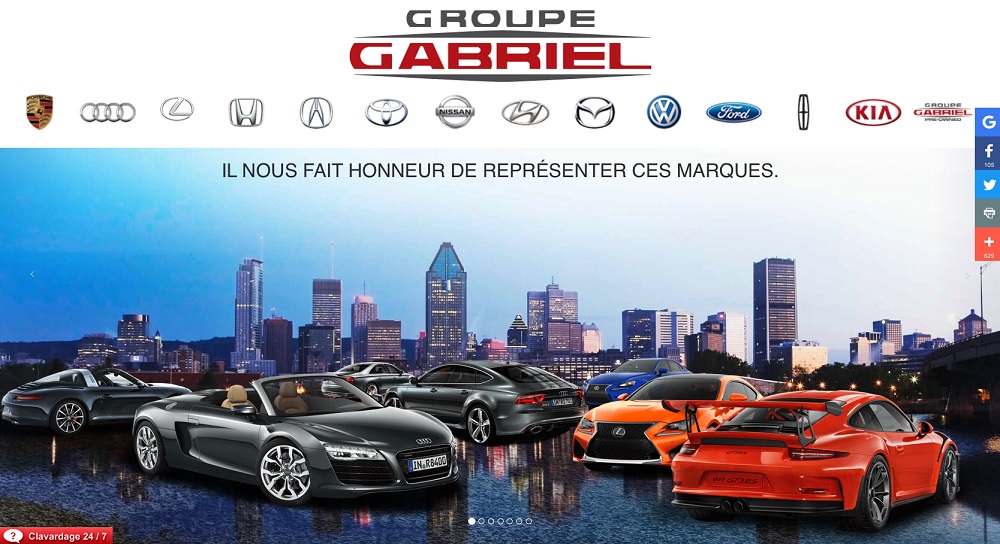 However, its success started farther back when, challenging the odds and rejections as a newcomer, Gabriel Azouz started steadily building his business, one dealership at a time, until those car brand companies who had rejected him at his beginnings sought him out for their businesses.
In 1985, Gabriel Azouz left Lebanon with his wife and children, seeking a safe ground where he can build his own business and a new life.
Son of the distributor of General Motors in Beirut, Hani Azouz, Gabriel was practically born into the automobile business.
He was the youngest of five brothers but the only one who grew a passion for his father's business, working his way up the ladder to become the general manager at the age of 21.
When the time came for Gabriel to leave his war-torn country, he opted for Montreal where two of his siblings lived.
As soon as he settled in, he contacted the Canadian division of General Motors and Ford, wanting to establish a local auto dealership. He faced rejection. "They both turned me down saying I had no Canadian experience," he said.
It is true that all newcomers to Canada face that same problem, to-date, whatever their qualifications and experiences.
With rare exceptions depending on the employer, having at least six-month "Canadian experience" is a must to get even employed; even if you need to get employed to acquire the local experience.
Newcomers have to first work anything out of their field of expertise or education until they mark that six-month of local job experience.
Azouz swallowed his disappointment but not his determination. He decided to approach Honda and Toyota.
It was only until 1986 that Honda Canada called him back with a proposal: to invest in one of the first dealerships in the province with a new car the company was seeking to introduce to the market: the Acura.
As it came to be, Gabriel Azouz was the only one in Quebec willing to take the risk with a brand that was still un-established.
Gabriel might have been new to the market and the country but he wasn't new to the business, so he went for it, and opened Acura Gabriel in 1987 in the district of Dollard-des-Ormeaux, Montreal.
That was the first of many to come, for Gabriel had no intention to settle with one dealership!
The volume and customer satisfaction at Acura Gabriel, which was hitting sales' record, greatly impressed Honda Canada and impelled it to propose Azouz with a new dealership. Azouz took it and opened the Honda Gabriel's dealership in Montreal-North in 1989.
Barely a year later, in 1990, Mazda Canada stepped in. The company had been keeping tabs on Gabriel's two operations and, impressed with the sales volume, they reached out to him, offering him a franchise.
Gabriel accepted and opened Mazda Gabriel that same year on Saint Jacques Street W, Montreal.
At the time, Gabriel was aiming for the best Japanese brands, so he approached Toyota Canada, and launched in 1994 Toyota Gabriel and Lexus Gabriel in the back-then Montreal district of Saint Laurent.
Around 1998, he opened Nissan Gabriel and Hyundai Gabriel in Anjou, and a satellite Nissan location in Pointe-aux-Trembles, grouping them along Henri Bourassa Blvd, to which he added later Mazda President around 2001.
While Canadian manufacturers didn't see the benefits of multiple dealerships, deeming better to run all separate operations independently, Azouz envisioned the opposite: more business and traffic with dealerships next to one another. And he did just that, developing his multi-dealership.
It was during that time that Gabriel was approached by Ford Canada's vice-president, the former executive who had previously refused him a franchise for "lacking the Canadian experience."
"They changed their mind after they saw how successful we had become," Azouz recounted to Montreal Gazette. He took the offer and relocated the showroom to Saint Jacques Street in the proximity of his Mazda Gabriel, opening Ford Lincoln Gabriel in 2002.
Two years later, in 2004, Azouz's Groupe Gabriel acquired Auto Strasse Inc. and its three leaderships: Audi, Porsche, and Volkswagen, and turned them into Audi Prestige, Porsche Prestige, and Volkswagen Prestige.
In 2008, he opened another showroom of Audi Prestige in Dollard-des-Ormeaux. That multi-dealership, anchored by the flagship Acura Gabriel and later joined by Audi Prestige, went to also include Hyundai President and Mitsubishi Gabriel.
Despite his expanding empire, Azouz stayed close to the day-to-day operations. Pierre Mamarbachi, one of his vice-presidents, would say that Azouz will never stop being a salesman.
"He will go up to strangers in a restaurant and ask if they need a new car then leave them his business card," said Mamarbachi, who was also quoted saying once that Azouz treated everyone like family, and he knew every single one of the names of his 1,100 employees (2010).
By 2010, Azouz was receiving offers to setup dealerships outside Quebec, but he always refused. "I concentrate on where I live," Azouz explained. "You can't run dealerships over the telephone. You have to be part of the equation."
Groupe Gabriel kept expanding, always in the Quebec province, including pre-owned vehicles' showrooms and an outlet for luxury pre-owned cars.
By 2014, Groupe Gabriel attained an impressive number of dealerships, the largest in Quebec with 24 new-car dealerships, ranking to date the #1 in all Quebec.
And that despite that Gabriel Group had cut off Ford–Lincoln and Mitsubishi dealerships from its Montreal portfolio, but he went on adding new ones, covering 26 dealerships, 14 brands, and 2 luxury used vehicle locations by 2016, in addition to, as per today, 31 pre-owned showrooms.
That makes Groupe Gabriel the largest car dealer network in Montreal and Quebec, and among the largest in Canada.
During every Montreal International Auto Show, Gabriel Azzouz, his family and his Group are present with all their showrooms represented, and many salespeople from the dealerships present on the show floor.
In 2016, Gabriel Group was presented with the key to the borough that includes Villeray, Saint Michel, and Parc-Extension by its mayor Anie Samson.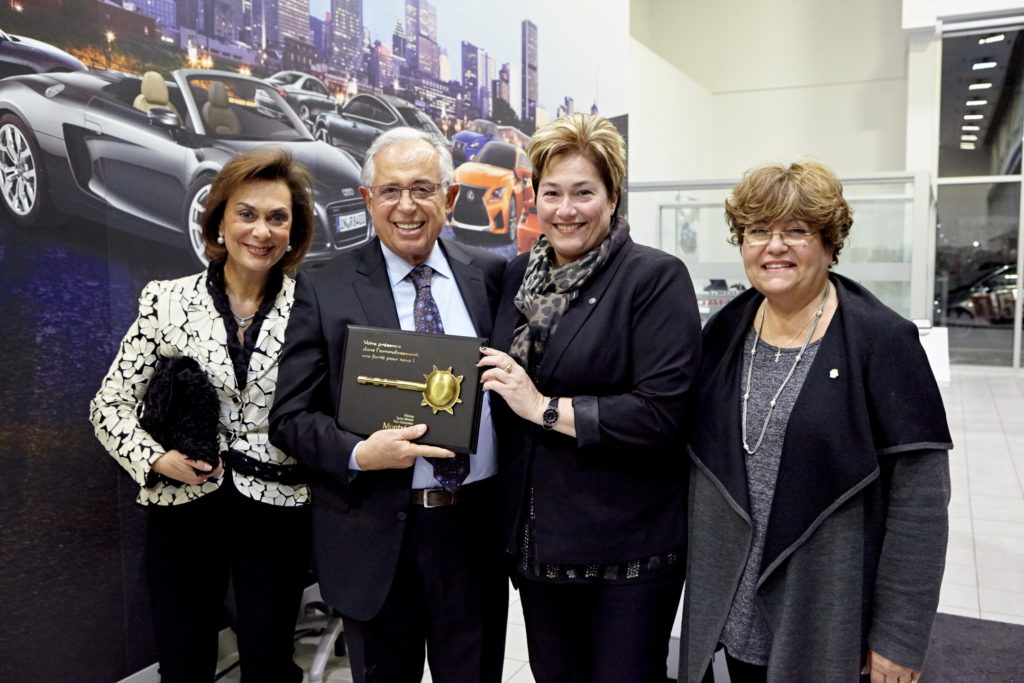 In November 2018, Group Gabriel went on to acquire the ownership of Motos Daytona Inc. from the Gref Family, owning as such the dealerships of Harley-Davidson Montreal, BMW Motorrad Montreal, and Moto International.
It is time we mention that Gabriel's son, Jimmy Azouz, who is now one of the vice-presidents at the company, was also born in Lebanon and came with his parents and siblings when he was 2 years old.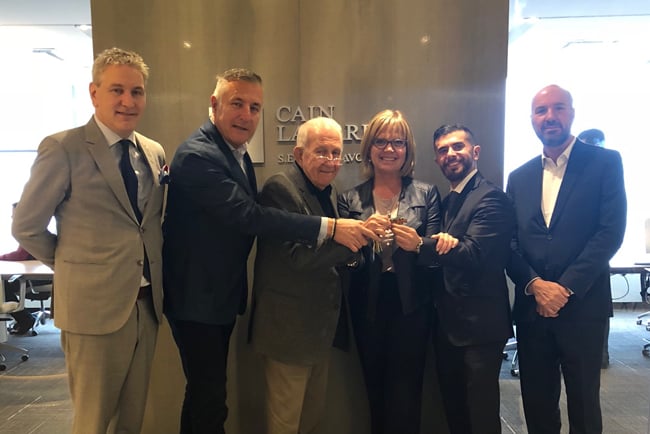 He stands as the third generation of his family to be in the auto business, considering that his grandfather started it with his General Motors' business in Beirut.
As per Jimmy Azouz, that type of business is "a cut-throat" and very challenging, which gives immense credit to his father for building from scratch, in a new country, that which has come to be an empire.
An empire that is still expanding…