In a courageous and selfless entrepreneurial action to support their peers across Lebanon, a group of Lebanese high school students created a new educational platform, offering free tutoring by professional teachers in many fields.
Aequitas is the name of the tutoring platform and it was created by Grade 12 students of College Notre-Dame de Jamhour: Maria Chebli, Rouham El Khoury, Baptiste Ghostine, and Christy Chivi.
After months of "extremely hard work" and despite plenty of discouraging comments about their goals, the four students finally launched Aequitas this month.
Their journey started on March 26th, 2021, when they refused to stay idle at seeing "the future of their country crumbling" and the countless challenges students across Lebanon have been enduring.
Speaking on behalf of her team, Maria Chebli told 961News: "As students who hope to see Lebanon rise again, this time in a sustainable and just manner, we decided to take matters into our own hands."
"Indeed, we believe that, in order to create sustainable change within a deficient country such as Lebanon, we should start with education," she added.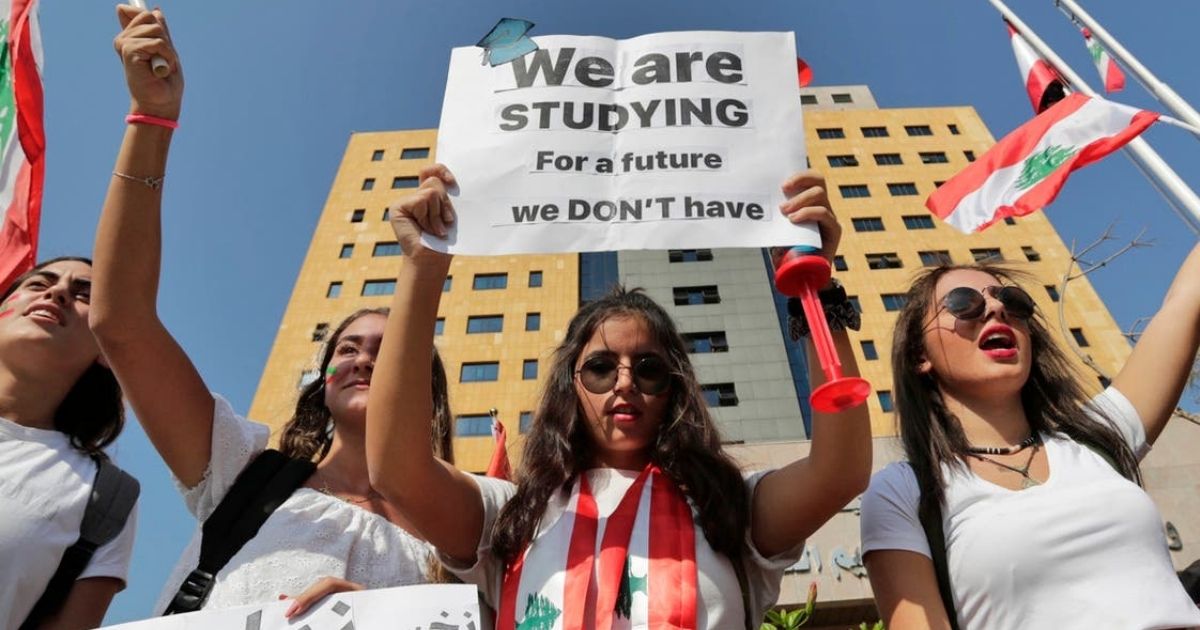 Not an easy endeavor considering their young age, lack of funds, and how the voices of the youth in Lebanon have been disregarded amid the major crises of basic needs and politics.
But they didn't back down. Maria, Rouham, Baptiste, and Christy kept working hard.
"Despite being told that our goals were over-ambitious and unrealistic, we managed to mobilize some of the best teachers in the country, and collaborated with NGOs, donors, lawyers, and like-minded stakeholders, to cover all the aspects, from the learning material to funding, to intellectual property rights," the team told us.
And Aequitas was born as an educational NGO and on a good foundation.
Aequitas offers quality education free of charge for anyone who does not have access to tutors or cannot physically attend classes. This is how:
Quality content: Covering the official French and Lebanese programs with courses taught in the best schools in Lebanon from Grade 9 (Brevet Certificate), Grade 10 (Seconde), Grade 11 (Première), and Grade 12 (Terminale).
Videos: The courses and exercises are accompanied by videos that will take up the objectives for a better understanding.
Training: All the exercises are chosen and come with a checked correction to meet the needs of the students.
Answers: A platform dedicated to asking questions with answers verified by Aequitas' teachers and university students.
All the courses are done by qualified tutors from the top schools and universities in Lebanon to ensure a high quality of education.
Since the start of the project, a year ago, the young team of Aequitas worked extremely hard to reach this level of quality at the launching of the platform, providing free education for all by Lebanon's best teachers.
So far, the team has completed the French Program for the classes going from grade 10 until grade 12 (Seconde, Première, Terminale) and the Lebanese Program for the Brevet Certificate.
Since many Lebanese school students have no longer access to education due to the severe economic crisis, Aequitas will give all registering students a boost to ensure their academic success.
"The Lebanese youth were the most affected [by the crises]: education became a social privilege instead of being a basic human right," the team commented.
"Lebanon's educational system used to be among the best worldwide… It became nearly impossible for students to attend online classes and is impossible for the state to open public and semi-public schools."
Currently, Aequitas covers the French curriculum, but they are working to also provide lessons in the Lebanese curriculum, which will benefit a larger number of students nationwide.
It is certainly a commendable goal. However, it does need funding and the contribution of those who can support them.
"For this reason, we are currently raising funds to start working on the Lebanese program from grade 6 to grade 12, in both its English and French section," the team told us.
"We still need quite a large amount, but we hope that people who share the same ideals will be willing to join hands with us."
To this end, these remarkable young Lebanese with their hearts on their peers' future across Lebanon have created a donation page on their website, and they are reaching out to NGOs and individual donors.
The call is for everybody who can help them achieve their goals, whether by donating, volunteering, or registering as a teacher.
Students who wish to register for courses can do so on Aequitas.
Editorial note, March 23rd: After the publishing of this article, the team emailed us to inform us that the website will only be ready to receive registrations as of March 26th.