Yara Khaweja, a Lebanese national who works as the official spokeswoman for the International Committee of the Red Cross in Yemen, was injured on Wednesday in an attack on Yemen's Aden airport.
According to LBCI, Khaweja was heading to Cairo when the explosion took place. She is now receiving medical treatment and is in a stable condition.
Before leaving her hotel to the airport, Khaweja tweeted: "I did my last interview out of 80 interviews about the humanitarian situation in Yemen. I have never gotten used to the tragedy that this beautiful country is going through."
"The responsibility weighed on my shoulders every time, as all platforms in the world fell short in telling the suffering of Yemenis. I wish for Yemen a better reality that it deserves," she added.
According to security sources and medics, at least 13 people have been killed in an attack at the airport in Yemen's second city of Aden as the new government arrived from Saudi Arabia.
The explosion happened as ministers were preparing to disembark. However, Information Minister Moammer al-Eryani assured that the cabinet members are "safe", and accused the rebel Houthi movement of carrying out what he labeled as a "cowardly terrorist act".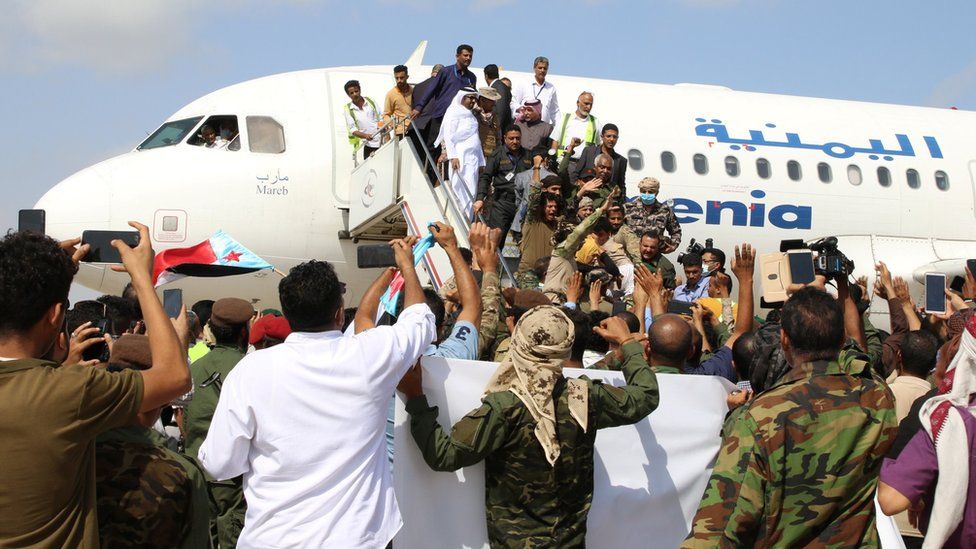 A crowd that had gathered to welcome the ministers quickly fled the scene once thick smoke was seen from the airport terminal. The sound of gunfire was heard soon afterwards.
An AFP news agency correspondent reported hearing at least two explosions in total, as did the Minister for International Cooperation, Najeeb al-Awj.
The cause is still not clear. However, according to Reuters, three mortar shells landed on the terminal.
Meanwhile, Saudi television channel Al-Hadath broadcasted a video showcasing a missile hitting the tarmac and exploding.
Later on, Yemeni Prime Minister, Maeen Abdulmalek tweeted: "We and the members of the government are temporarily in the capital of Aden and everyone is fine. The cowardly terrorist act that targeted Aden airport is part of the war that is being waged against the Yemeni state and its great people."
"It only increases our determination to carry out our duties," he added.
Yemen has been crippled by a clash that escalated in 2015, when a Saudi-led coalition of Arab states issued a military plan to defeat the Houthis and restore President Abdrabbuh Mansour Hadi's rule.
The conflict has reportedly left more than 110,000 people dead, triggering the world's worst humanitarian crisis, with the population living under the poverty line, as well as leaving the country even more vulnerable to the coronavirus pandemic.