Founded in Beirut, the Jean-Louis Sabaji fashion house has unveiled a Couture Collection for Fall 2022 inspired by the underwater world.
The talented Lebanese designer has come up with an Avant-Guard couture collection combining fashion and art while also taking his fans "on a journey under the sea."
Jean-Louis Sabaji used soothing blue colors, pearly white, vibrant reds, and the light color of corals while also emphasizing gold-plated scallops and shimmering fabrics inspired by the hues of the sea.
The Couture Collection for Fall 2022 features elegant dresses and gowns showcasing ropes, seashells, corals, crystals, waves-sequences, and sparkly embellishments to represent the aquatic world.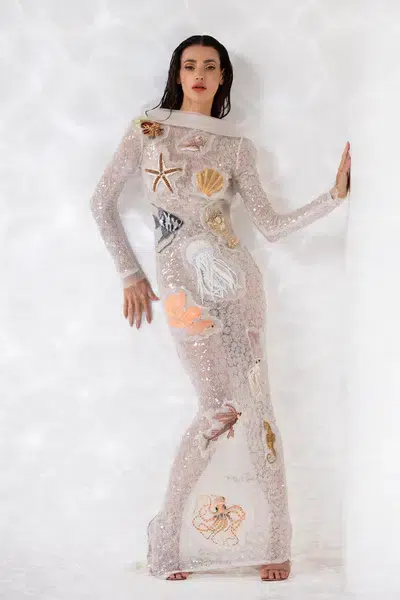 The collection is rich with a variety of mediums and styles, from silk taffeta, gold foiled silk tulle, and sheer fabrics to sequins, dresses embroidered with pearls and shells, asymmetric gowns, and mini-dresses.
Take a look at some of his new designs: