The Lebanese digital artist Karl Sfeir has collaborated with the Beirut-based fashion designer and brand Hassidriss to release the couture collection 2022 in a state-of-the-art presentation.
Karl Sfeir is a rising star in the digital world in Lebanon, creating exceptional digital artworks that evoke both wonder and amazement.
For Hassidriss' newest couture collection Hiwar Al Turab, or The Soil Dialect, Sfeir created 3D backgrounds and settings for the presentation of the dresses, breaking new ground in the way fashion is exhibited.
The digital artist focused on the imaginative and innovative side of the Hassidriss pieces to create the background designs for the collection's lookbook and campaign shoot, and the outcome is nothing short of fascinating.
Inspired by Hassidriss futuristic fashion style, creativity, and embroidery, Sfeir used those techniques as a muse for his out-of-this-world visuals.
The Hiwar Al Turab couture collection features avant-garde pieces inspired by futuristic elements and women's power, and hues ranging from red to soft beiges.
The collection comprises beautifully seductive dresses with daring cuts, reflecting both feminine power and sensuality.
The fashion brand's collaboration with Karl Sfeir has resulted in a fascinating dream-like presentation that takes fashion to the next innovative level, which is quite impressive: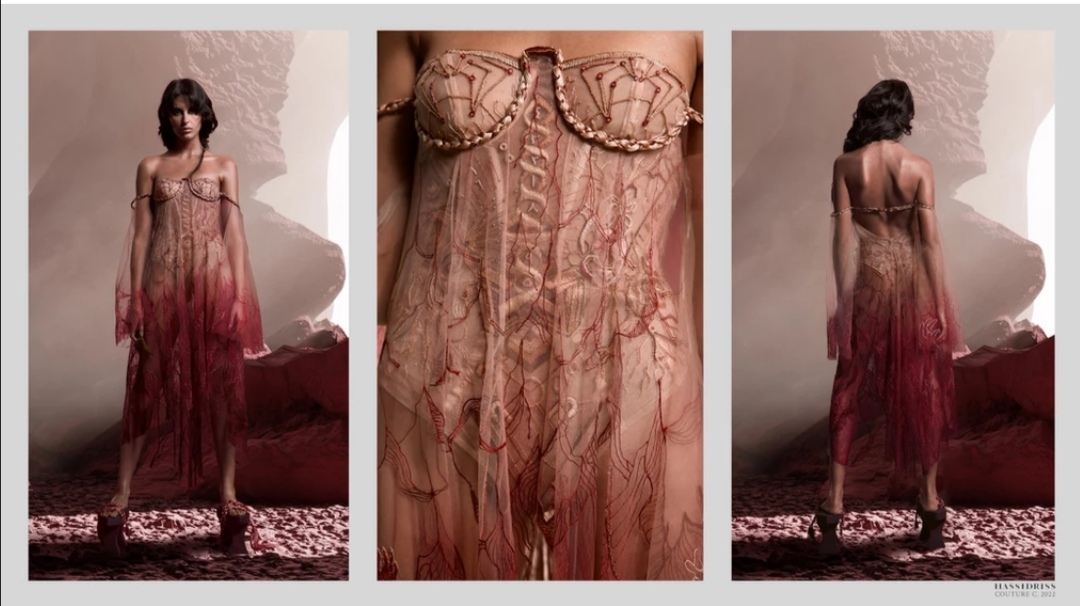 Related: Meet The Lebanese Rising Star In The Digital Art World