For the past few days, Lebanon was put in an extremely challenging situation; sectarian chants were getting raised and the gongs of a potential civil war were almost heard again.
After more than a month of revolution, political parties decided to form counter-demonstrations. From Beirut to Bekfaya to Baalbak to Tyre, and all the way to Tripoli, the streets were tensed in all areas around Lebanon and the Lebanese people were all put in front of a major turning point: choosing between peace and war.
And the people, with no doubt, chose peace.
Via Fatima Harkouss
Ain El Remmaneh and Chiyah are two areas separated by one street and joined by patriotism. Ain El Remmaneh is said to be a "Christian" territory, and Chiyah is said to be a "Muslim" territory.
On Tuesday night, the peace between the two areas was disrupted by groups of people trying to chant sectarian biases and trespassing civil rights and freedoms of expression. Army forces quickly intervened to separate the sectarian groups that were creating tension and strives.
Due to the painful memory of the Lebanese Civil War, which had started one way or another in Ain El Remmaneh, many speculations ignited, hinting a new civil war. Communities all over Lebanon were left unsettled.
Via The961
However, Lebanese mothers not only know how to solve conflicts between their children and find the TV remote control that has been lost since forever, but they also know how to disperse hate and replace it with overwhelming love!
The women of Chiyah and Ain Remmaneh invited over the people from both areas for a peaceful march from Sannine Roastery in Ain Remmaneh to Chiyah.
Via Brady Black
Huge number of people from both areas, and from different areas all around Lebanon, met at Sannine Roastery at 4:00pm, the very next day of the conflicts, on November 27, to start the march. Our beautiful women marched their way to Chiyah holding flowers, peaceful posters, and candles.
For this march, our women left their pots and pans at home and carried their hearts upon their sleeves. The Lebanese National Anthem was the only chant heard throughout the march.
@17_tshryeen_officailembedded via  
The march was met with a heartwarming welcome from the people of Chiyah; women tossed rice and flower petals over the marching people from their balconies as a way of greeting. The fear of one another was broken once again by the will of Lebanese people and their stubbornness to keep the peace.
The march was so touching that army officers were seen smiling at the women with pride, with many of us crying tears of joy. People were finally coming to terms with the hate and grudge that were ignited during the 1975 civil war, choosing to bury the hatch and open a new page.
One of the mothers said in a live interview: "I want to say to Lebanon and to all the Lebanese people; no leader is worth the bloodshed of our children. We have lived through the civil war; we know what civil war means and we know blood and murder and we know that those who die in the process are easily forgotten."
She continues her cry saying, "Criminals pray in their own hypocritical way for the dead and then become members of Parliament and ministers. I say to all my people here, don't let your children go to war."
"We have demands; we demand electricity and we demand water and we demand basic life needs. If leaders do love you, they would not have let you beg for a chance to live."
@daleelthawraembedded via  
Touching words and emotional scenes were heard and witnessed as the Lebanese mothers of both these districts came together in an outstanding role model to the nation to impede the viral disease of sectarian-provoking to even see the light. 
These are the mothers who lived the civil war and its horrors and consequences. They refuse it to their children and the nation. 
A mother was seen hugging another from the neighboring district while crying. She had a sign that says, "Our children are not your children, our children are the children of life;"  a quote inspired by him who became known as the Son of Lebanon: Gebran Khalil Gebran.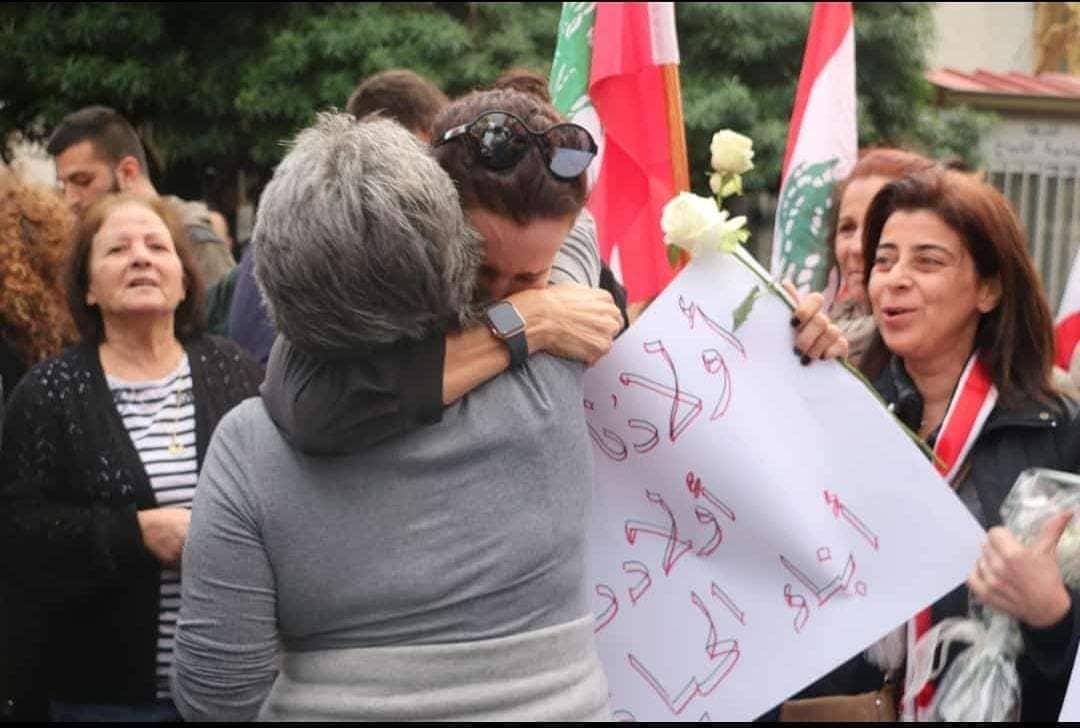 @17_tshryeen_officailembedded via  
This is the Lebanon many sacrificed their lives for. This is peace, this is love, this is Lebanon. These mothers, and the likes who marched today in Lebanon for the same purpose, just told us with their action that Lebanon is going to make it.
And we salute them for that, for the hope and empowerment they just gave the nation, and for being who they are of great mothers to Lebanon.