In a graduation ceremony on the Lebanese national army day, the officers of the 2022 course named after the "centenary of the Military Academy" got handed their graduation swords today, in presence of army chief General Joseph Aoun, President Michel Aoun, Prime Minister Najib Mikati, and parliament speaker Nabih Berri.
Other officials attended the ceremony such as Deputy Speaker of Parliament Elias Bou Saab, Interior Minister Bassam Mawlawi, Information Minister Ziad Makary, MP Elias Hankach, Major General Abbas Ibrahim, and the president of the Lebanese University Prof. Bassam Badran.
This year's course pieced together officers from both genders, for the first time in the history of the Military Academy.
Among the 123 graduated officers, 43 are women, according to NNA.
President Aoun said to the graduated officers during the ceremony that the sword they got today, symbolizes a lot in the military.
He urges them to "turn it into a word of integrity in the face of corruption and tireless work to support the truth without discrimination."
"The Army day this year deepens the meanings due to the challenges facing the military institution as a result of the difficult economic crisis for all its members and the entire Lebanese people," Aoun added.
President Aoun said that this special moment came in the culmination of the door that he opened for women when he previously assumed command of the army to be among the officers in the military institution.
Aoun mentioned the presidential elections and the cabinet formation process by saying: "I hope that the fate of the presidential elections will not be similar to the fate of the formation of the new government."
He commented that the new government doesn't have the necessary criteria to be an effective one capable of carrying out its responsibilities now and in the future.
As for the maritime borders, the president stressed that abusing our rights in our territorial waters and natural resources is not an option under any consideration.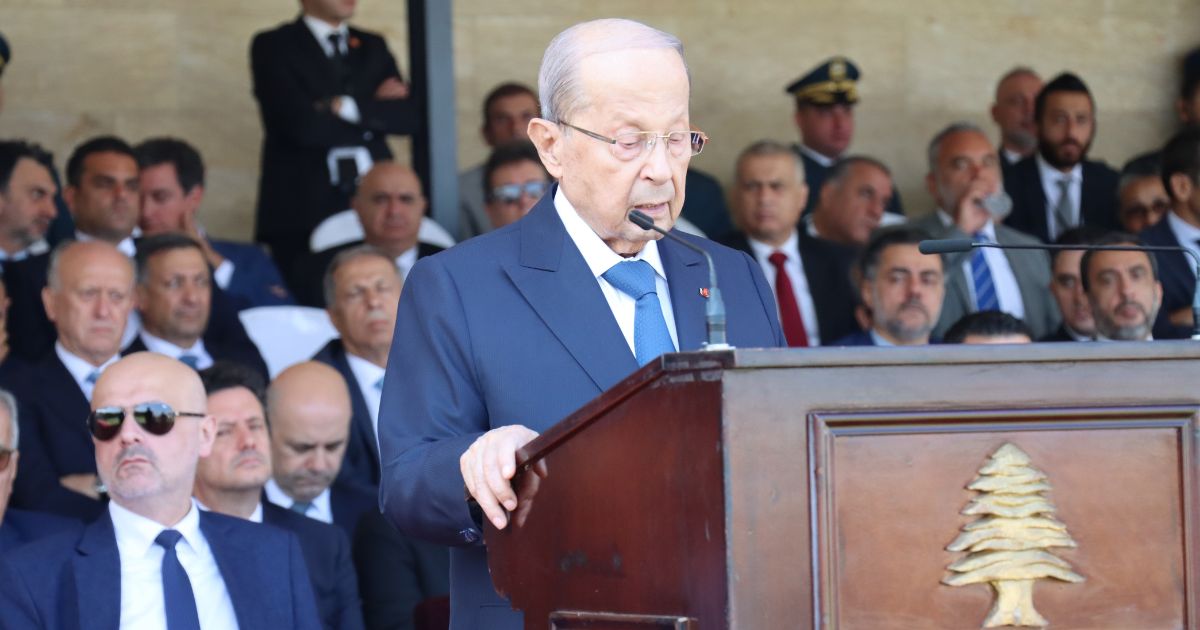 The ongoing negotiations to demarcate the southern maritime borders and preserve Lebanon's rights and reach conclusions that safeguard our rights and wealth.
From his side, Lebanese army chief, General Joseph Aoun, indicated in a visit to President Aoun after the ceremony, that "seventy-seven years is a long period in the history of the army, during which it took the responsibility of defending Lebanon with honor, sacrifice, and loyalty."
In the midst of the faltering state institutions Lebanon is experiencing today, Aoun stressed that the military institution remains the only and last coherent institution, in contrast to all the skeptics and those who bet on its disintegration and collapse.