For its tenth edition, Forbes 30 Under 30 list introduced 600 of the brightest entrepreneurs and leaders of 2022.
Among them, 6 Lebanese made it to the list in different categories for their innovative and successful ventures.
Tarek Mansour
Tarek Mansur is the youngest member of this selection and one of the standouts at just 25 years old.
The two-time graduate of the Massachusetts Institute of Technology (MIT) is one of 30 young people selected in the "finance" category, as the co-founder of the start-up Kalshi with fellow MIT alumnus Lopes Lara, its co-founder.
Kalshi, a financial platform, lets investors bet with "yes" or "no" on the occurrence of various events or their results.
This start-up has become the first regulated financial platform by the Commodity Futures Trading Commission (CFTC) in November 2020.
The platform has processed over $10 million in trades since its launch in July 2021.
Laureen Meroueh
Laureen Meroueh (29 years old) a first-generation Lebanese-American and holder of a Ph.D. from the Massachusetts Institute of Technology (MIT).
This mechanical engineer is one of 30 young people under the age of 30 in the "social impact" category.
Meroueh leads the start-up Alchemr, which is developing the world's first water electrolyzer by exchanging anions on an industrial scale.
These electrolyzers could then be combined with different renewable energy sources, without the need to use expensive and precious metals to produce hydrogen, to reduce hydrocarbon consumption and carbon dioxide emissions.
By that date, his company has already raised $3.7 million.
Edouard Massih
Edouard Massih joins the 30 Under 30 list in the Food and Drink category for purchasing his store located in Brooklyn's Greenpoint neighborhood in August 2020, in the midst of the Covid-19 pandemic.
Massih launched his brand Edy's Grocer, which sells products imported from all over the Middle East.
According to Forbes, Beirut-born Edouard Massih also runs a menu of Lebanese cuisine that includes homemade mezze, cheeses, seasonal salads, sandwiches, and appetizers. It also markets its range of nuts, dried fruits, cereals, flours, spices, and snacks.
Issam Freiha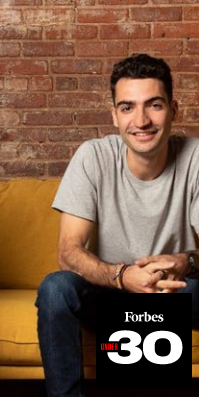 Issam Freiha, who is 26 years old and the second youngest Lebanese on the list, made it to the prestigious Forbes 30 Under 30 in the Retail and Ecommerce category as co-founder of Blank Street with Vinay Menda.
Blank Street, a coffee chain, is present mainly in the form of street carts selling coffees, but also in physical stores.
This Columbia University graduate announced on October 13 that they had raised $25 million, including from General Catalyst and Tiger Global.
The goal is to expand from 15 to 100 brands by 2022 and develop their mobile application to facilitate coffee orders.
 Andrew Malek and Marc Atiyeh
Andrew Malek and Marc Atiyeh, 27 and 29 years old respectively, are in the Consumer Technology category.
The two childhood friends and graduates in electrical and computer engineering from Harvard University founded Pawp in 2019, a platform dedicated to veterinary care. It offers unlimited access to a digital veterinary clinic, 24 hours a day, 7 days a week, without a prior appointment.
It officially launched in September 2020 and raised $16 million from the likes of Lux Capital, DCM, and Digitalis.