As if it's not enough that the Beirut port's explosion caused a staggering number of casualties, it struck numerous buildings, shattering windows and collapsing interiors, many of which are residential.
It left many people homeless, looking for places to stay as the night descends on Lebanon, dark and heavy with sorrows and worries.
In a spontaneous act of human unity, the like we've seen all through the revolution, Lebanese people jumped in to offer their help, posting on social media all which they can.
In addition to The961 prompting to raise funds for the Lebanese Red Cross, people and local institutions are offering accommodations.
Please share this if you know of someone or a family needing shelter or any of the above support.
Hotels & Homes
Other than hotel owners and citizens offering their homes, several NGOs and municipalities have stepped in to offer their housing services.
Offre Joie NGO:
Medical services to the injured
Zgharta in the north of Lebanon has opened its hospitals to receive the injured from the Beirut's blast, as posted by Antonio Frangieh and Zeeny Kheir, head of the federation of municipalities of Zgharta.
They are also coordinating with the residents who are willing to offer their empty houses and apartments for those left homeless in Beirut.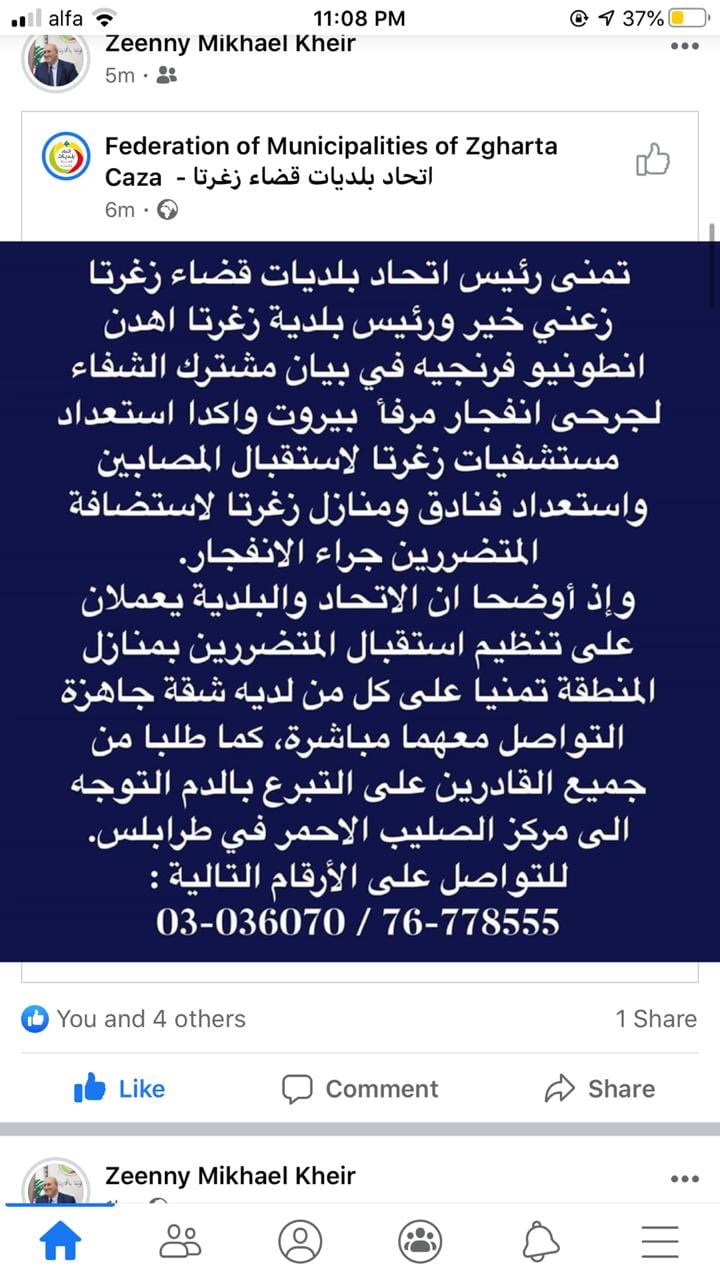 Doctors are offering aid for those who are injured since the hospitals are unable to cope.
Humans are not the only ones affected by the blast. Many animals were injured from the collapse of buildings, shattered glasses, and fallen bricks.
Many veterinarians are opening their clinics to attend to injured pets, and also to people with minor injuries.
Transportation for Blood Donation
A taxi service company is encouraging people to donate blood by offering free rides to and from hospitals and Red Cross donation centers. People have only to use the promo code DONATEBLOOD to get their ride.
They also listed places for blood donations such as Spears, Gemmayze, Antelias, and Jounieh.
Funds for the Lebanese Red Cross are also necessary. You can either donate at their official app or visit our link below for contribute: