This incredible picture of a mother photographing her baby's birth is going viral. Behind the lens, Lebanese-British photojournalist Natalie Naccache documented her daughter Seia's first moments on earth.
"I couldn't believe what was happening, and was trying to focus the camera on Seia coming out of my stomach," she told The961, reflecting on that beautiful moment in time, a testament to the miracle of life that female bodies are capable of.
Naccache had requested to photograph Seia during the planned C-section, the medically advised procedure after the traumatic birth of her firstborn, Rumi. During Rumi's birth, Naccache said that nobody was in the mental state to capture memories of it.
Rumi and Ramzi, 2019 – Photo taken by Natalie Naccache:
Being a photojournalist, she wondered if she would be able to record the birth of her own child during delivery, "since I wasn't able to witness it last time," as she told us. With the doctor's approval, she did just that.
In a quiet operating theatre in a hospital in Dubai, Naccache and her husband Ramzi waited nervously behind a screen as the C-Section operation was taking place out of their sight. 
"Suddenly, I felt a huge weight off my chest, and then someone pulled down the screen," she recounted. "The doctor asked my husband Ramzi to hand me the camera, and I began photographing Seia coming out of my stomach."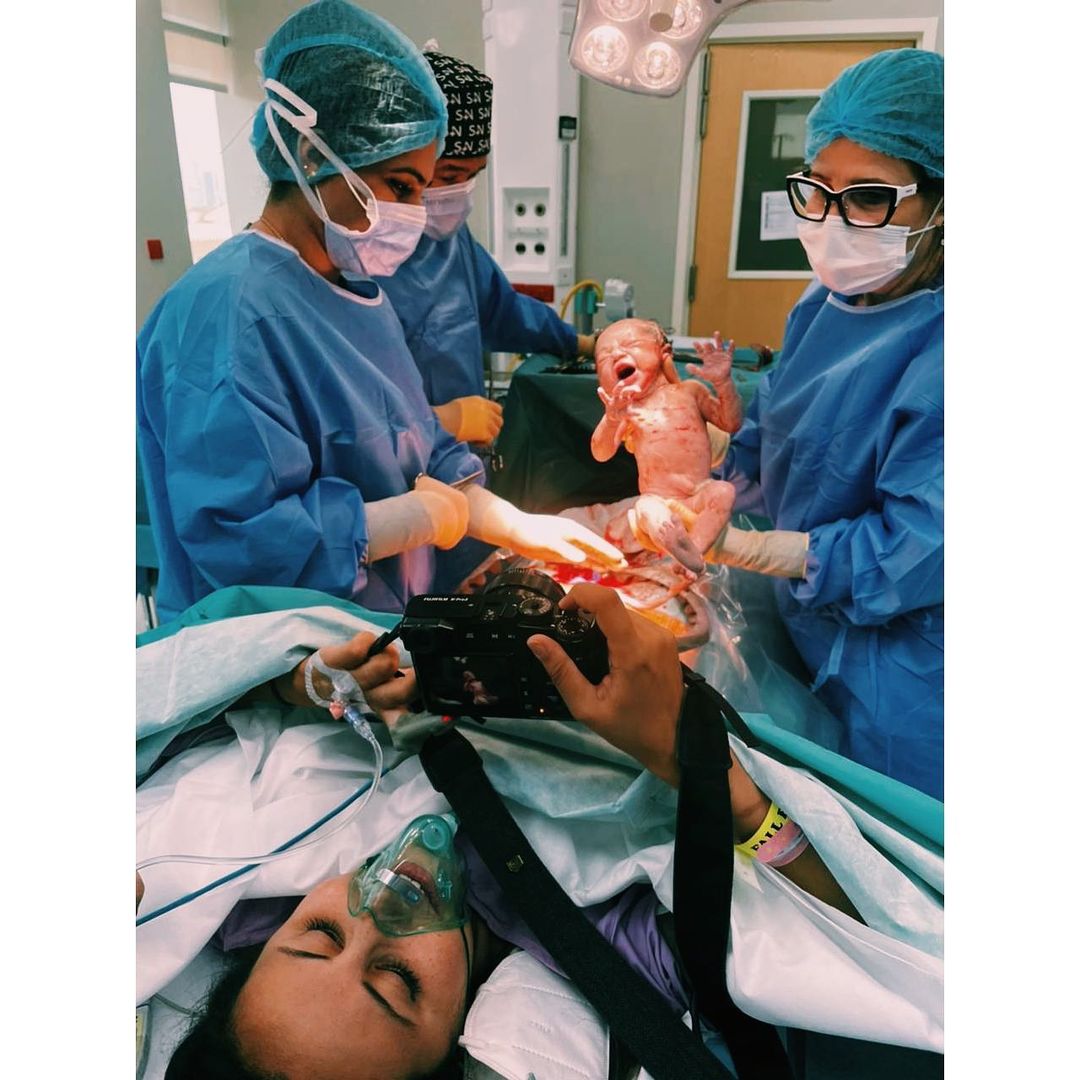 "At first, I only saw her head, then I witnessed her being brought out of my body. Ramzi started photographing the entire scene too. It was completely surreal and I'm so thankful I was able to capture this," she reflected on the most glorious moment one could ever witness: the miracle of life itself.
Naccache's initial plans were to deliver Seia in London, but the global health crisis made it impossible.
Giving birth during the pandemic, the delivery had to be an extremely intimate affair. It contrasted with the birth of big sister Rumi who is now 1.5 years old.
"It was strange delivering in a pandemic where it was advised no family was allowed into the hospital," she told us.
"The first time, my entire extended family and friends would come and visit me every day. This time was quieter, just Seia, Ramzi, and I – with nurses and staff in masks," a small yet strong support system.
Naccache's iconic photographs have inspired many. She was even featured on the Instagram account of Dubai's center for photography, Gulf Photos Plus.
About Natalie Naccache
Lebanese-British Natalie Naccache grew up in London where she graduated with a B.A. in Photojournalism from London College of Communication, and a Diploma of Art Foundation from Camberwell College of Art.
As a documentary photographer, her photographs have been published in some of the most renowned world publications such as The New York Times, Le Monde, Der Spiegel, The Sunday Times Magazine. She is currently based between Dubai and Beirut.
Naccache's work could also be found on her Instagram account.