A group of Lebanese researchers revealed a scientific achievement that holds promise in protecting against coronavirus (COVID-19).
While the world awaits the approval and distribution of international vaccines, Dr. Wassim Jaber, Dr. Hussein Jaber, and Engr. Mohsen Mumen have created a formula capable of protecting against the virus that causes COVID-19, for prolonged periods.
The formula incorporates nanotechnology and has earned two efficiency certificates, one from Valencia College in Spain, and another from the Lebanese University's Industrial Research Institute (IRI).
It has also been patented by the Lebanese Ministry of Economy and Trade.
Dr. Wassim Jaber was quoted by the Lebanese University as saying that the disinfectant formula is safe to use and can efficiently eliminate the virus from various surfaces and fabrics, including face masks and medical workers' personal protective equipment, as well as banknotes and other objects.
Additionally, it can be used on the filter of an air conditioner to eliminate the virus from a room's atmosphere. Its preventive effect against COVID-19 can last months, according to its developers.
The researchers have confirmed that the product will be available in Lebanon and other countries within 3 weeks.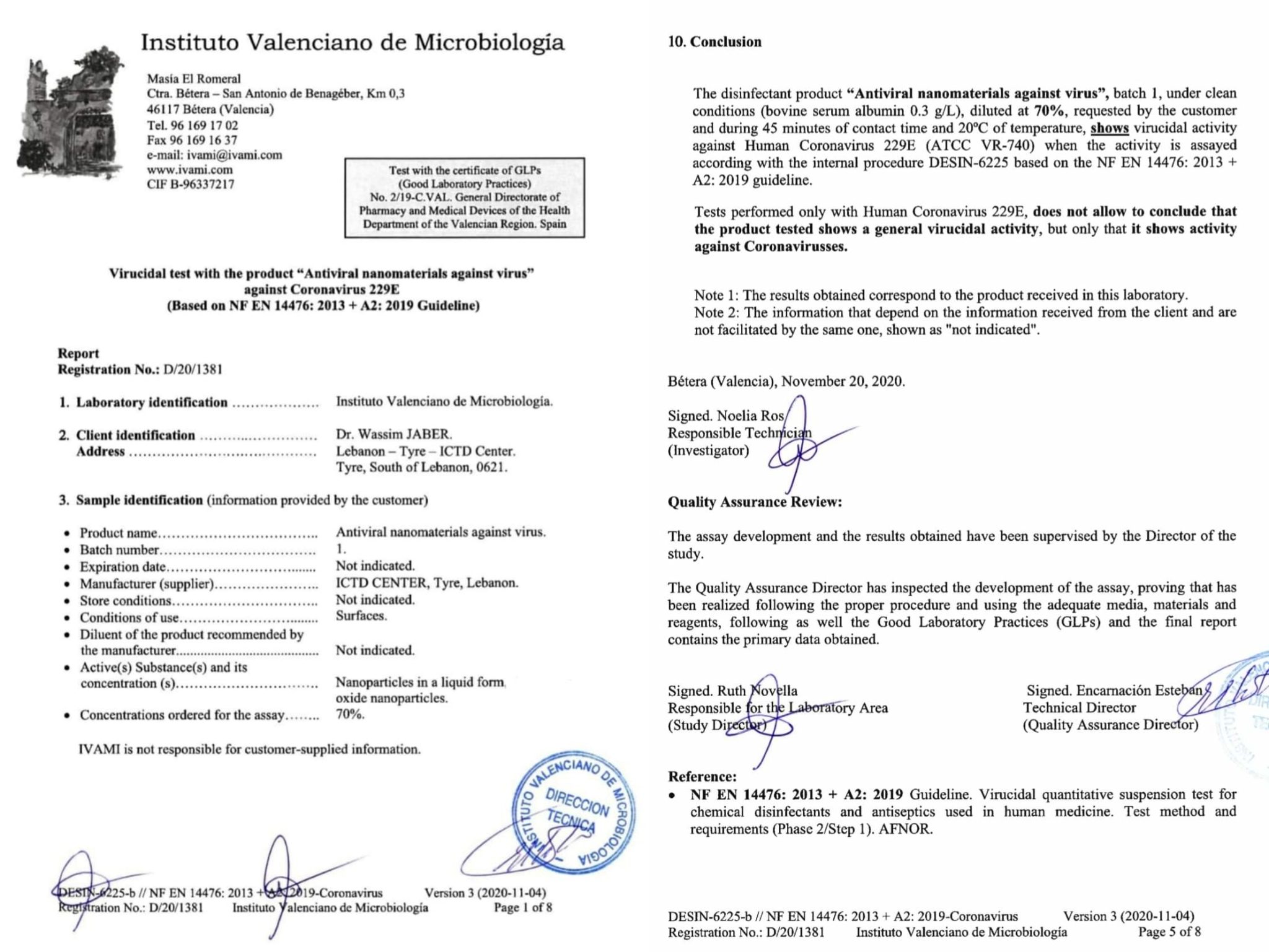 It's worth noting that Lebanon has reserved its share of COVID-19 vaccines from the American pharmaceutical corporation Pfizer, which is expected to begin local delivery of the vaccine in the U.S. this month. An emergency vaccine has just been approved as well and ready for distribution in the U.S in a few days.
As for Lebanon, caretaker Health Minister Hamad Hasan has estimated that the reserved vaccines, enough for 1 million people, will reach Lebanon in the first quarter of 2021.
We have a dedicated coronavirus section where you can find the latest news/updates about the pandemic in Lebanon, inform yourself with WHO-verified resources, and track the number of cases in Lebanon in real-time. Click here.