Lebanon is suffering the worst financial and economic crisis in its history, eroding the people's livelihoods and threatening their future.
The Lebanese have been watching with pain the collapse of their country and the sliding of a higher number into poverty, with no effective action being taken by the authorities.
On October 17th, they screamed for salvation and went on for months doing so across Lebanon and also the oceans as the diaspora joined in with their voices.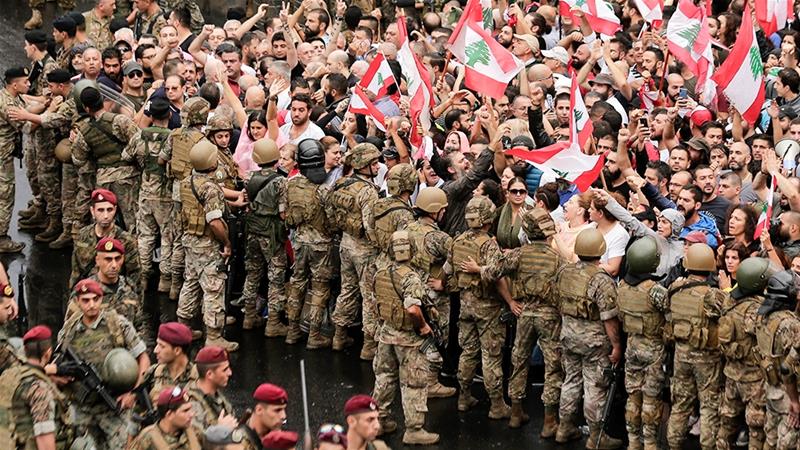 Almost half a year has gone by with no positive changes or reforms. On the contrary, the Lebanese have been sinking deeper along with their country.
The prices of food have increased by over 70% in a matter of seven months. The banks are holding tighter to people's money. Poverty's rate is now at 50%. Too many businesses have shut down. Unemployment has increased. Despair has taken over.
That is to add to the enduring crises to which no solution has been implemented as of yet: electricity, fuel, telecom, and so on.
Since the onset of the revolution, we've witnessed desperate acts by parents who could no longer provide for their families' basic needs.
We've also witnessed heartbreaking scenes, fathers weeping in the streets, and the citizens turning beggars at banks' doors for their own money.
We've heard the scream of the suffering people calling for immediate changes, and we've witnessed well-off politicians responding by suing protesters for feeling offended or bothered by them. And more recently, a politician inciting his peers to shoot at unarmed protesters when they feel offended by them.
The Lebanese today come out of their quarantine with no hope but to reignite their revolution on the streets.
Today, they hit the streets again across the country, more determined than ever. They call it Stage Two. It primarily aims at forcing early parliamentary elections that could bring in officials capable to implement immediate reforms and save the people.
A call to overthrow the ruling class has reportedly circulated social media for days and is said to have been signed by more than half a million Lebanese activists.
The activists have been preparing for a while for Stage Two, which begins today Saturday, June 6th, across Lebanon. Despite their fierce determination, they are insisting on everybody to keep it peaceful and safe.
Protests in solidarity with the Lebanese revolution from abroad are also back. And here is a message from Montreal:
Lebanon, we stand with you on the 6/6/2020 protests against corruption and illegal arms. From montreal, all the love!!!??❤??#لبنان_ينتفض #لبنان #لبنان__ينتفض pic.twitter.com/Ghzbh0ErAB

— Elie Jabbour (@eliejabbour14) June 6, 2020