The Lebanese diaspora in France has shone out across a multitude of different sectors, often amounting to some of France's most prominent businessmen. Jacques R. Saadé was one of them.
Born in Beirut on February 7th, 1937, Jacques R. Saadé graduated from the London School of Economics in 1957 and took over the family business after the death of his father.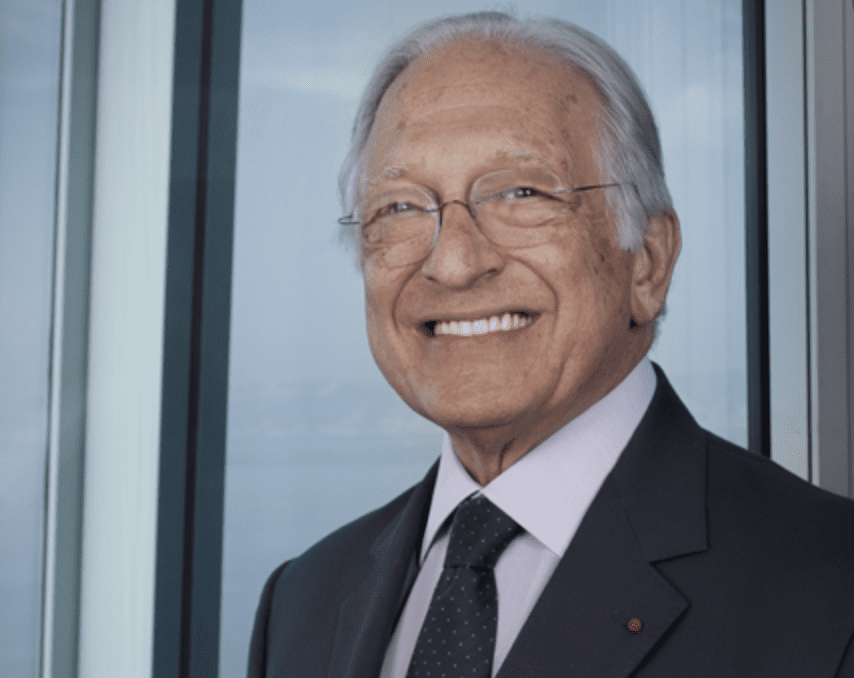 His father had established a substantial business in Syria, producing tobacco, cottonseed, olive oil, and rice, among other things.
In 1978, due to the Civil War in Lebanon, he moved to Marseille where he set up the Compagnie Maritime d'Affrètement (CMA) with his brother Johnny on September 13th of the same year.
The company initially operated services between Marseille, Beirut, and Syria. Saadé opted for Marseille for a particular reason. He said: "I wanted the sea. Marseille is beautiful and the sea looks a little like that in Beirut."
In 1986, after noticing that volumes from Asia were constantly on the rise, he decided to extend CMA's shipping lines to Asia, all the way to Japan.
He later traveled to China himself in 1992 to open the first regional office in Shanghai, entrusting the management of the company's development in Asia to John Wang, a professor at the Shanghai Maritime University.
At the height of the economic crisis between 2008 and 2009, the shipping industry was badly affected but Saadé refused to break up the Group.
Supported by his son Rodolphe Saadé and his daughter Tanya Saadé, he was convinced that the container transport sector would bounce back.
In 2010, CMA CGM signed an agreement with the family-run industrial Turkish group YILDIRIM. The agreement enabled the Group to strengthen its financial structure and secure finance for its investment plans.
In 2011, he built the Group's headquarters in Marseille: the CMA CGM Tower designed by internationally renown British-Iraqi architect, Zaha Hadid.
Today the CMA CGM Group is the city's biggest employer with over 2,400 full-time staff members operating just in the HQ.
In June 2013, and for the first time since 1962, it was the President of the French Republic, François Hollande, welcomed by Saadé, who inaugurated the CMA CGM Jules Verne, the flagship of the CMA CGM fleet at the time.
The French President met Jacques Saadé again in 2015 for the inauguration of the CMA CGM Bougainville in Port of Le Havre.
In 2017, Saadé appointed his son Rodolphe as CEO of CMA CGM. Later that year, Rodolphe Saadé became chairman too, with Saadé becoming founder chairman.
Today, the CMA CGM Group is the world's 3rd largest container shipping company and the first in France. With a fleet of 489 vessels, it serves more than 420 ports worldwide.
Present on all continents and in 160 countries through its 775 offices, it employs more than 29,000 people, including 4,500 across France. The company's revenue for 2016 was at US$16 billion.
Jacques R. Saadé passed away on June 24th, 2018, at the age of 81.
Perhaps two of his most notable accolades were his receipt of an honorary doctorate from the Lebanese American University (LAU) in 2014, as well as being named a Commander of the French Legion of Honor in 2015.
His company's legacy carries on to this day. He was estimated to be worth US$ 7 billion at the time of his passing.
---
Our team works tirelessly to ensure Lebanese people have a reliable alternative to the politically-backed media outlets with their heavily-funded and dangerous propaganda machines. We've been detained, faced nonstop cyber attacks, censorship, attempted kidnapping, physical intimidation, and frivolous lawsuits draining our resources. Financial support from our readers keeps us fighting on your behalf. If you are financially able, please consider supporting The961's work. Support The961. Make a contribution now.