A Lebanese student has ranked among the top 2% participants in the International Astronomy and Astrophysics Competition (IAAC).
Melissa Akiki, a student at the Lebanese University (LU) – Faculty of Engineering II, received the Gold Honor Award at the IAAC, which took place online over the course of four months and had its results published last week.
The IAAC is an international science competition that tests the knowledge and skills of students from around the world in the fields of astronomy and astrophysics.
It involves three rounds, the Qualification Round, the Pre-Final Round, and the Final Round, during which participants accumulate points by solving various problems and questions.
Winners can receive cash prizes, certificates, awards, not to mention international recognition.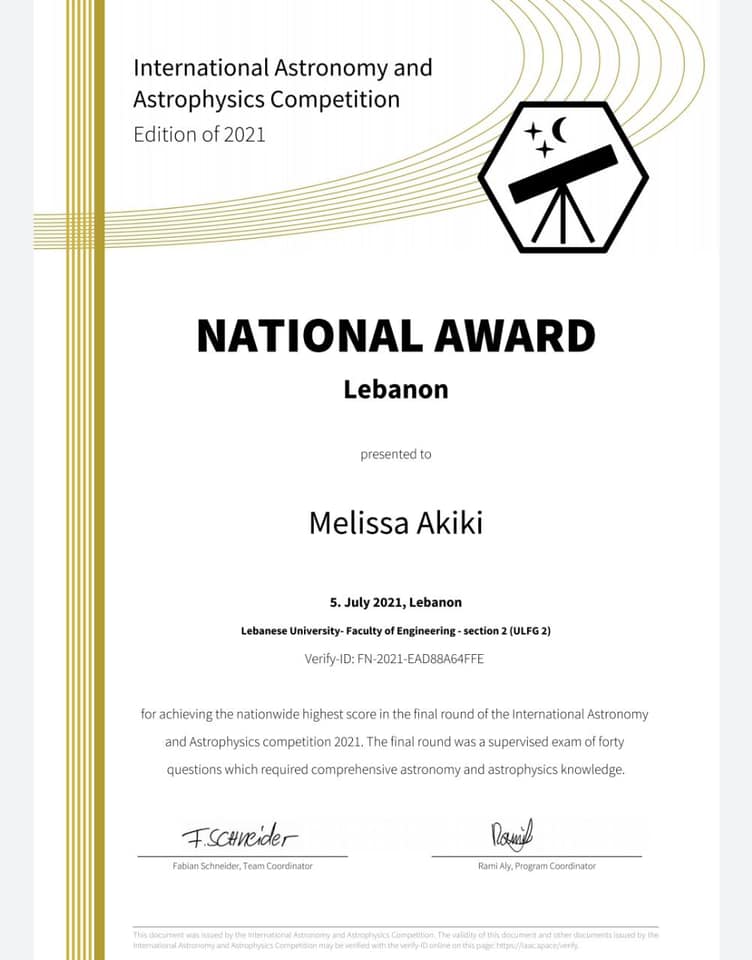 In addition to the Gold Honor Award, Akiki, who is the Event Manager of LU's Roumieh Space Club, received the special National Award, which is given to participants regarded as the most outstanding from their respective countries.
"We are proud to announce the great achievement of our Event Manager Melissa Akiki, who received the 'Gold Honor Award' and the 'National Award' in the International Astronomy and Astrophysics Competition (IAAC)," the Roumieh Space Club said in a Facebook post celebrating Akiki's results.
"She ranked in the top 2% among all participants worldwide and top 1 in Lebanon!" said the caption of the post, which displayed Melissa Akiki's National Award.