Lebanon recorded 2,652 new coronavirus (COVID-19) cases on Monday, the Health Ministry confirmed in its daily report on the epidemic.
In addition to the infections, Lebanon registered 54 virus-related deaths and 2,413 recoveries in the past 24 hours.
The total number of fatalities related to COVID-19 in the country has thus risen to 2,374, while full recoveries increased to 168,142. This puts the local mortality rate at approximately 0.84% and that of recovery at around 59.57%.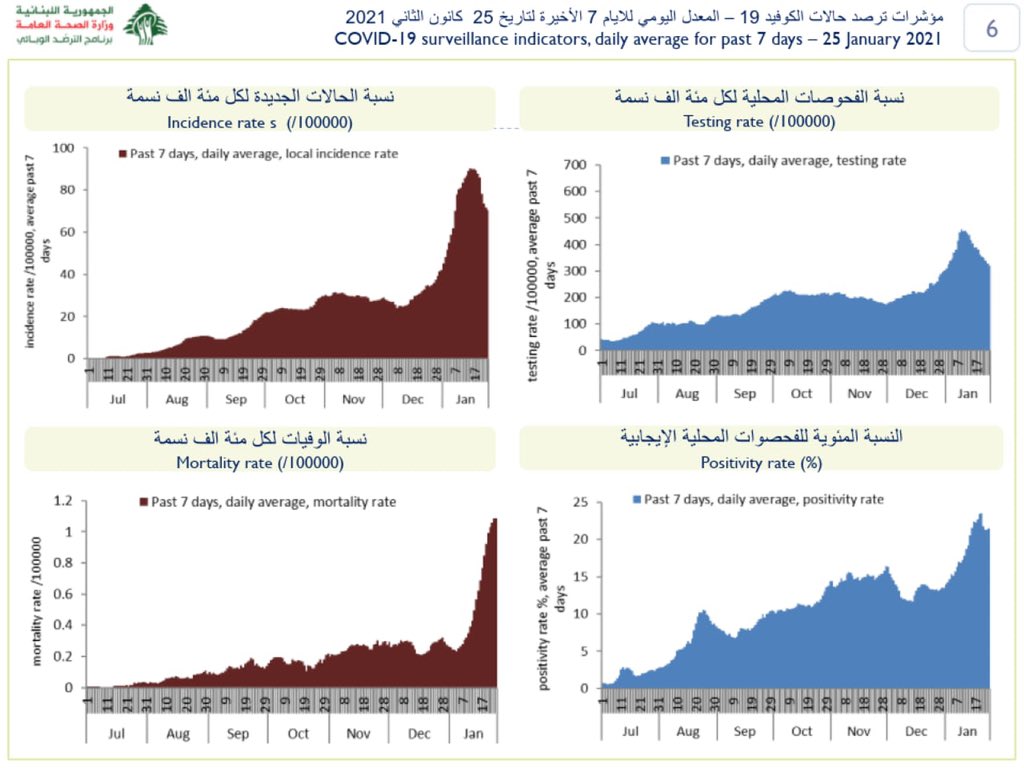 Out of the total 282,249 cases recorded in Lebanon since the beginning of the pandemic, 111,733 are active. Of those, 2,413 currently occupy hospital beds, 930 are critical cases in ICUs, and 308 are on mechanical ventilation.
MP Assem Araji, the head of the Parliamentary Health Committee, said on Tuesday that there is no place left for new patients in hospitals, noting that people have died in their homes.
Araji also confirmed that the mutated versions of coronavirus from Brazil, Denmark, and South Africa are also present in Lebanon. It was recently revealed that PCR tests conducted lately have shown the presence of a more infectious virus.
The Health Ministry's report indicates that 9,175 PCR tests were administered between Sunday and Monday, raising the total number of tests done so far to 2,507,512.
On Sunday, the Ministry confirmed 3,010 COVID-19 cases and 50 fatalities.
We have a dedicated coronavirus section where you can find the latest news/updates about the pandemic in Lebanon, inform yourself with WHO-verified resources, and track the number of cases in Lebanon in real-time. Click here.