Lebanon recorded 3,144 new coronavirus (COVID-19) cases on Monday, according to the Health Ministry – the lowest number since the beginning of the new lockdown last Thursday.
The country now has 255,956 total cases confirmed since the beginning of the pandemic, of which 99,386 are active.
154,611 have recovered in total, including 1,573 in the last 24 hours. On the other hand, 53 patients have passed away in the same period, raising the total number of COVID-19-related fatalities so far to 1,959.
Despite the strict lockdown that started last Thursday, the daily numbers of infection cases and fatalities have remained relatively high over the past few days.
Recent PCR tests in Lebanon have indicated the presence of a more infectious strain of the virus. So far, 2,381,977 tests have been administered, including 12,371 between Sunday and Monday.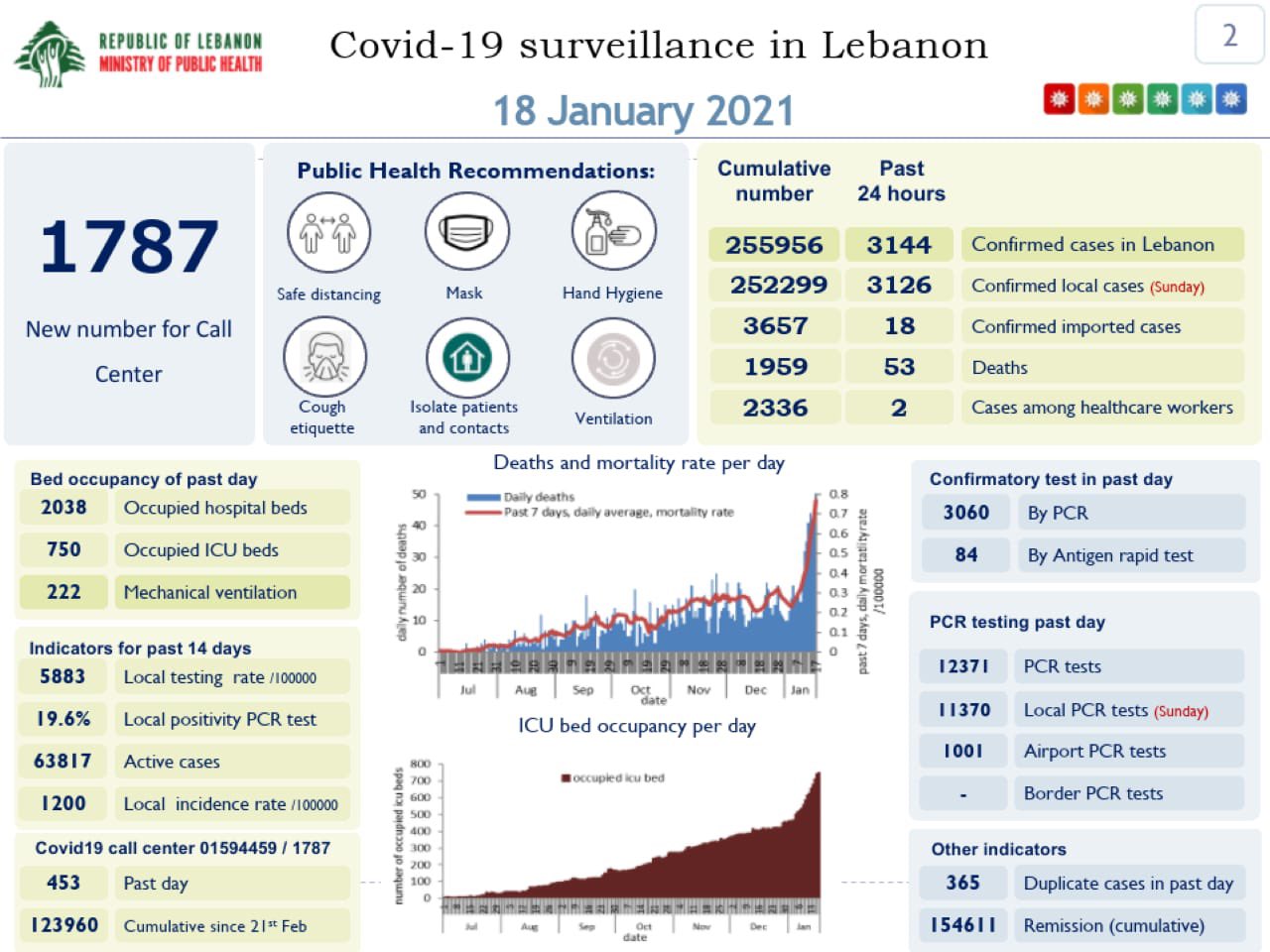 On Sunday, Lebanon finalized a deal to secure 2.1 million Pfizer-BioNTech vaccines that will gradually arrive starting February, according to caretaker Health Minister Hamad Hasan.
In the meantime, the country's hospital sector continues to crumble under the large waves of new daily cases.
Of the total active cases, 2,038 are in hospital beds, 750 are in critical condition in intensive care units, and 222 are on mechanical ventilation.
On Sunday, the Health Ministry confirmed 3,654 COVID-19 cases and 40 deaths.
We have a dedicated coronavirus section where you can find the latest news/updates about the pandemic in Lebanon, inform yourself with WHO-verified resources, and track the number of cases in Lebanon in real-time. Click here.