Lebanon recorded 3,220 new coronavirus (COVID-19) cases on Friday, the Health Ministry revealed in its daily report on the epidemic.
The new infections raised the total number of cases since the outbreak reached Lebanon to 272,411, of which 108,186 are active cases.
Of the active ones, 2,336 cases are in hospital beds as of Friday, while 892 are in intensive care units and 289 others are on mechanical ventilation, according to the report.
In the past 24 hours, 57 virus-related deaths and 3,185 full recoveries were registered, bringing the total number of fatalities to 2,218, and that of recoveries to 162,007.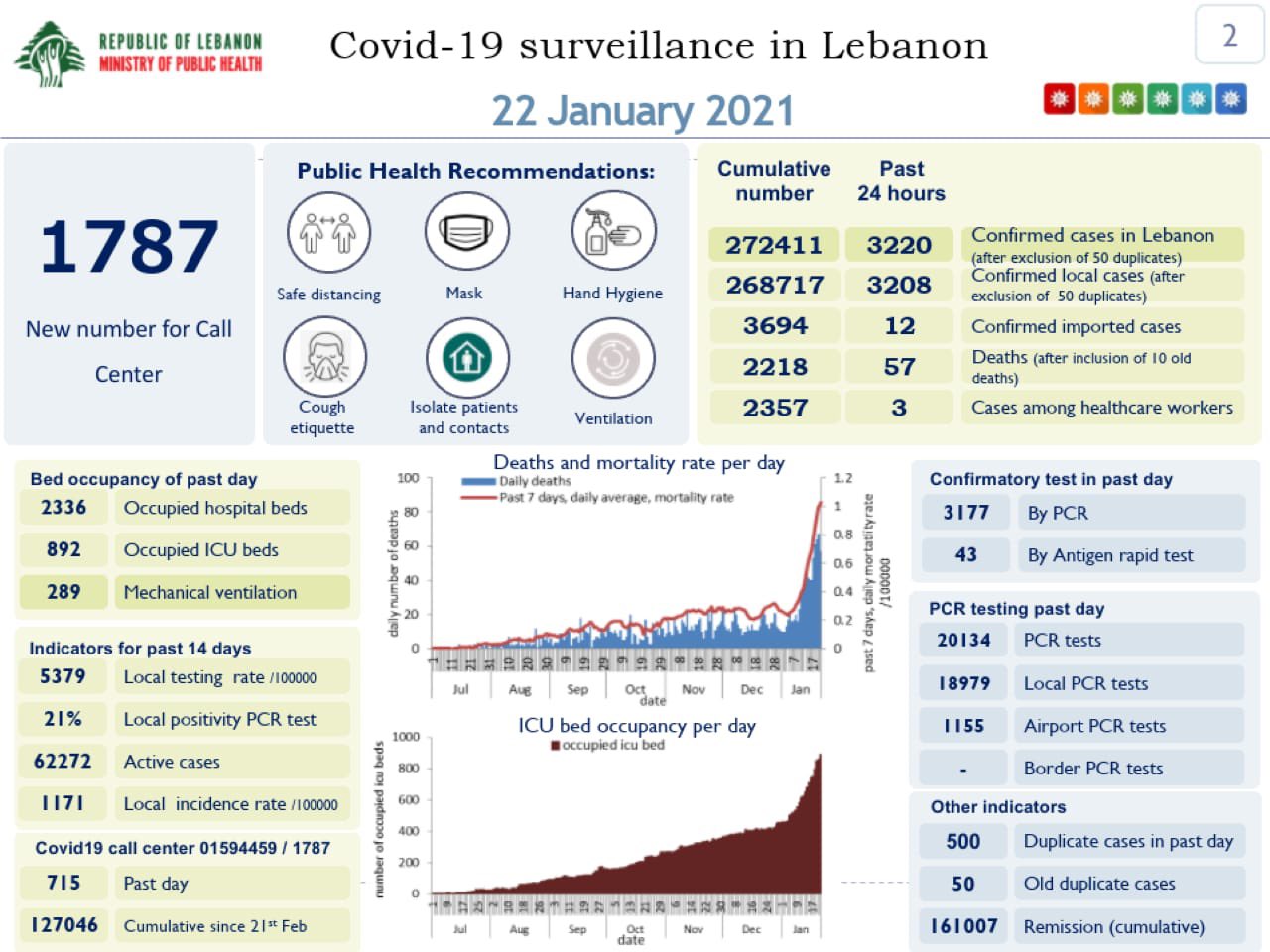 On Thursday, the World Bank approved $34 million to help Lebanon secure COVID-19 vaccines for 2 million people. The country expects to receive its first shipment of the vaccine in February.
Meanwhile, Lebanon had to extend the lockdown and the active 24/7 curfew on Thursday, for 2 additional weeks, until February 8th.
It's worth noting that daily infection rates have remained mostly high throughout the lockdown.
A noticeable drop in new cases, similar to that seen on Friday, was observed between Jan. 16-18, from 5,872 to 3,654 cases, then to 3,144 on Jan. 18th.
However, cases surged again significantly the following day, hitting 4,359 before continuing to rise gradually over the following days.
On Thursday, the Health Ministry recorded 4,594 COVID-19 cases and 67 fatalities.
We have a dedicated coronavirus section where you can find the latest news/updates about the pandemic in Lebanon, inform yourself with WHO-verified resources, and track the number of cases in Lebanon in real-time. Click here.