Lebanon recorded 4,176 new coronavirus (COVID-19) on Saturday, January 23rd, the Health Ministry revealed in its report on the epidemic.
52 virus-related deaths and 2,341 recoveries were recorded in the past 24 hours, which raises the total number of deaths and recoveries so far to 2,270 and 164,348, respectively.
The active cases stand at 109,969, as of Saturday, of which 2,341 occupy hospital beds, 895 are critical cases currently in intensive care units, and 295 are on mechanical ventilation.
It is to note that Lebanon received field hospitals a few months ago that are still unused today despite the urgent need for them during the critical public health situation the country is going through.
The situation has continued to deteriorate even during the current lockdown that imposes a 24/7 curfew. In light of that, caretaker Prime Minister Hassan Diab has requested the United Nations' assistance in combating the epidemic.
It is also worth noting that lockdown violations have increased lately, compared to the near-total commitment that was observed early on.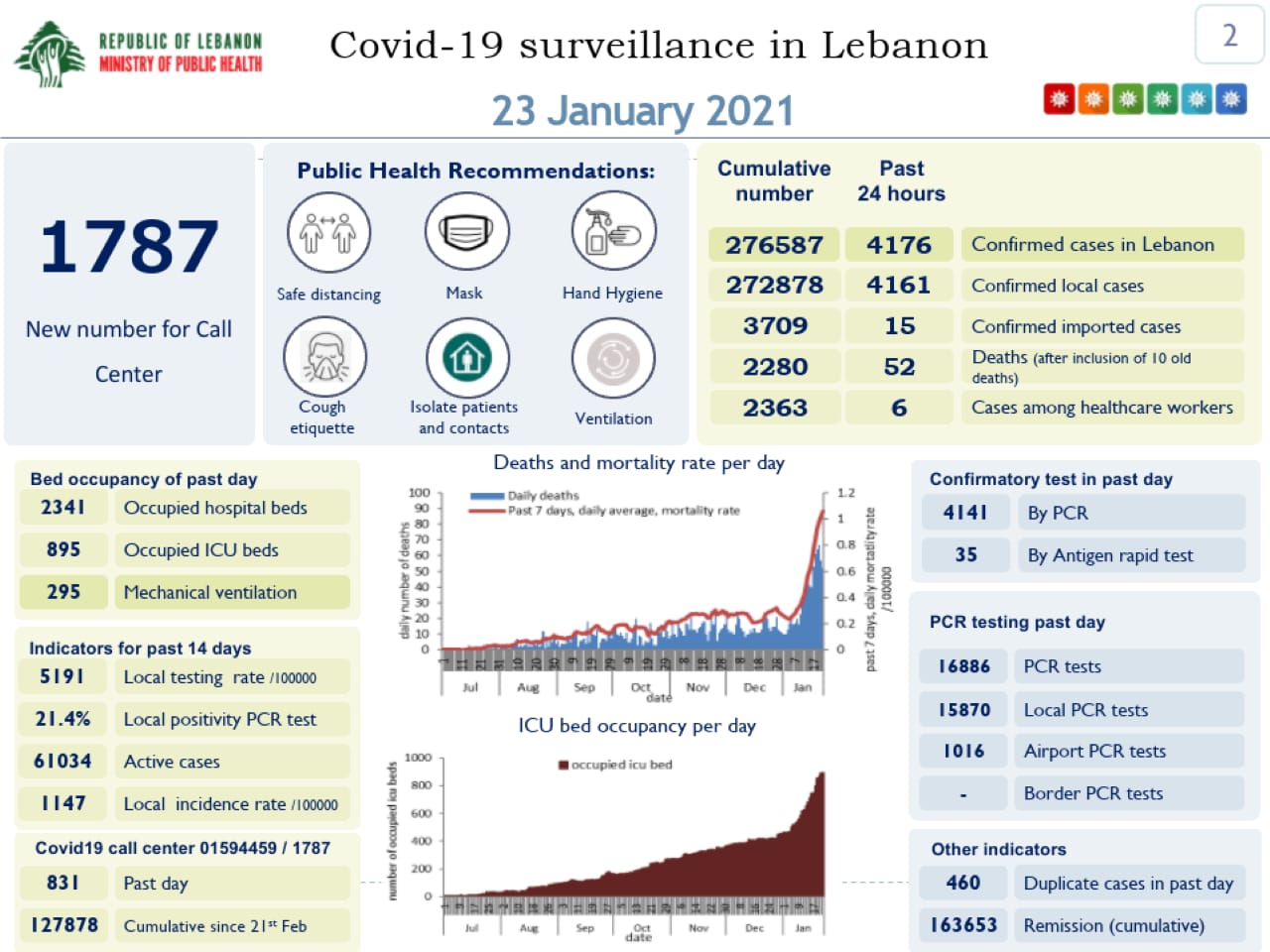 On Friday, for instance, a fight broke out in a village in the Mount Lebanon Governorate between municipal police, who were enforcing the lockdown, and a citizen, quickly evolving into heavy gunfire that prompted the intervention of security forces.
On the same day, the Health Ministry recorded 3,220 COVID-19 cases and 57 fatalities.
We have a dedicated coronavirus section where you can find the latest news/updates about the pandemic in Lebanon, inform yourself with WHO-verified resources, and track the number of cases in Lebanon in real-time. Click here.