Lebanon recorded 4,332 new coronavirus (COVID-19) cases on Wednesday, the Health Ministry confirmed in its report on the epidemic.
In addition to the new cases, 64 new COVID-19-related fatalities and 1,118 full recoveries were confirmed in the past 24 hours.
In total, the country has recorded 264,647 cases, 2,084 fatalities, and 157,202 recoveries since the pandemic started.
This puts active cases at 105,361, of which 2,282 currently occupy hospital beds, 855 are critical and in intensive care units, and 276 others are on mechanical ventilation.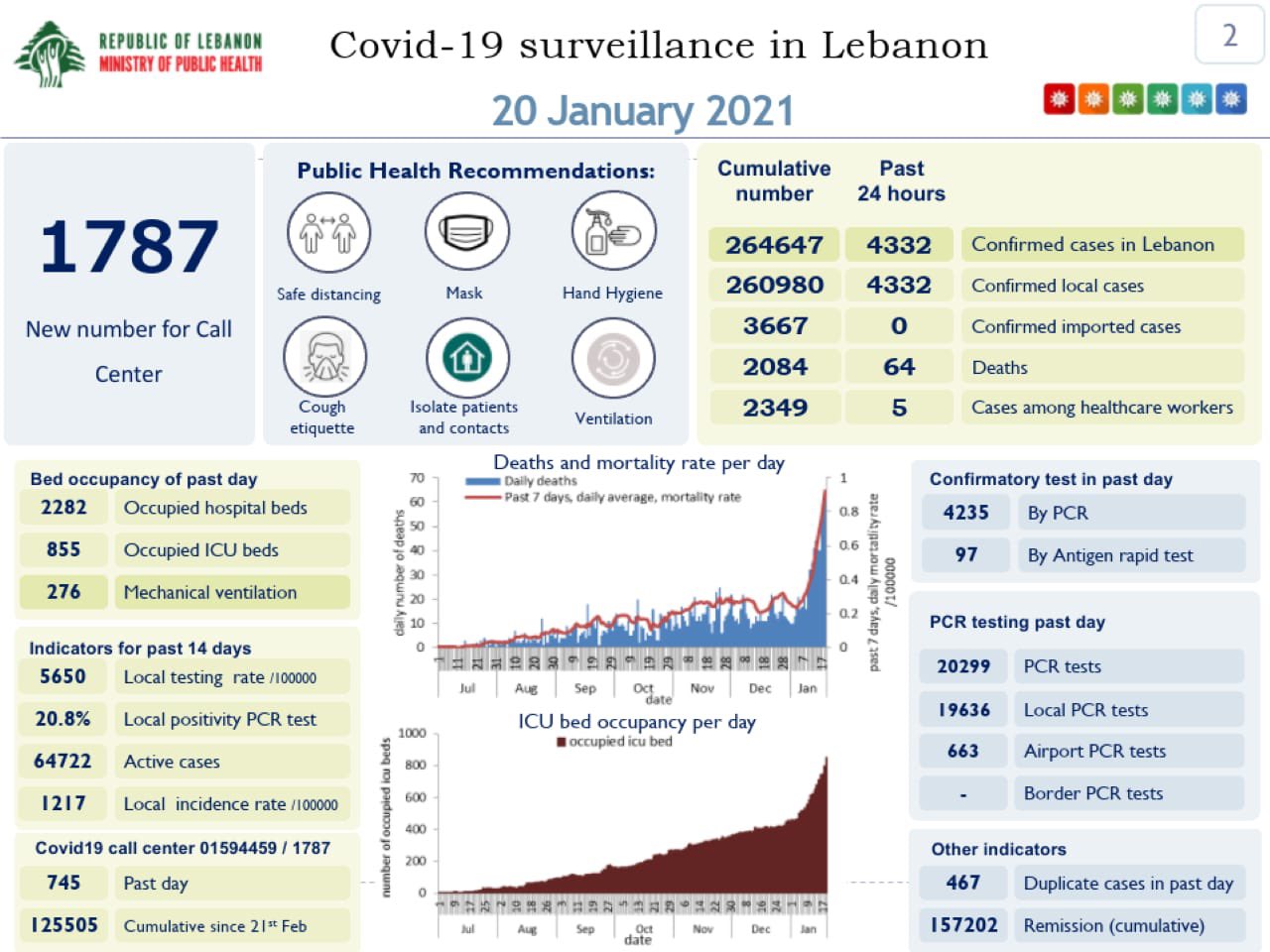 Social media users in Lebanon have been using the hashtag لبنان_يختنق# (Lebanon is choking) to shed light on the medical equipment crisis that resulted from the unrelenting spread of the virus in the country amid an unprecedented economic and financial crisis.
Meanwhile, the pressure placed on the country's healthcare sector continues to grow with the daily increase in infection cases, even amid a strict lockdown and an all-day curfew.
Between Tuesday and Wednesday, 20,299 PCR tests were administered in Lebanon – 19,636 local and 663 at the airport – raising the total number of local tests conducted so far to 2,425,188.
On Tuesday, the Health Ministry confirmed 4,359 COVID-19 cases and 61 fatalities.
We have a dedicated coronavirus section where you can find the latest news/updates about the pandemic in Lebanon, inform yourself with WHO-verified resources, and track the number of cases in Lebanon in real-time. Click here.