Lebanon is the proud breaker of dozens of different world records. As of May 2020, Lebanon holds over 30 Guinness World Records (over 40 to be more accurate). For a small country in constant struggles with enduring crises, Lebanon has been rocking it with World Records!
#1 The Tallest Plastic Bottle Sculpture, 2019
Caroline Najib Chaptini broke the record for the tallest plastic bottle sculpture in Chekka. The 28.1 m sculpture was a Christmas tree for 2019's holiday season. She's currently challenging Japan's world record for the largest crescent moon made of plastic.
#2 The Largest Collection Of Banknotes, 2019
In October 2019, Wissam Ali Youssef broke this record by owning 12,282 different banknotes. GWR says that they had an estimated total face value of $294,408.33.
#3 The Longest Yule Log, 2018
To celebrate the 2018 Christmas season, Club Ashtarout Mayfouk created a 1,136.36 m long yule log.
#4 The Largest Collection Of Stamps Featuring Automobiles, 2018
Six-time world record breaker, Nabil Karam owns 3,333 different stamps, and this was verified in Zouk Mosbeh, on November 1st, 2018. 
#5 The Most Consecutive Donuts (Spins) In A Car While Sitting On The Roof Of The Car, 2018
Naji Bou Hassan from Aley practiced for one year to break this record. His hard work paid off in 2018 when he made 52 consecutive spins while sitting on the roof of his car. 
#6 The Largest Underwater Photography Exhibition, 2018
In an attempt to increase awareness of the water environment in Lebanon, Colette Haddad worked with Believe in Lebanon and Octopusteam to hold an underwater photography exhibition. The exhibition consisted of 137 photographs and took place in Jounieh on June 3, 2018.
#7 Largest Notebook Mosaic, 2018
On May 10th, 2018, a Lebanese flag of 60,000 notebooks was created on a field in the American University of Beirut campus. The flag measured 4,039 m2 and was created to shed light on Lebanese public education. After the event, the notebooks were donated to public schools.
#8 The Fastest Crossing Lebanon On Foot, 2018
In 1 day, 15 hours, and 49 minutes, Ali Wehbi achieved the fasted crossing of Lebanon on foot. His journey ended on April 2, 2018, World Autism Awareness Day.
Wehbi said, "This run is dedicated to all persons with autism, all families dealing with it, all autism organizations offering support, research and treatments, each and every person is touched by it directly and indirectly."
Several landmarks and touristic sites were lit up in blue as Wehbi passed by them, for the #LightItUpBlue campaign to raise awareness.
#9 The Most TV Interviews Conducted In 12 Hours, 2017
In 12 hours, Dalia Freyfer managed to conduct 43 interviews. This happened on January 28th, 2017, and the TV interviews were conducted live on Télé Liban.
#10 The Largest stereoscopic 3D projection, 2017 
The record-breaking 2446 m2 3D projection is owned by the Beirut Cultural Festival. The opening ceremony for the screen happened during the festival in 2017.
#11 The Largest Collection Of Model Cars, 2011 and 2016  
Nabil Karam from Zouk Lebanon set a record of 27,777 model cars in 2011, only to break it in June 2016 with 37,777 unique items.
#12 Largest Collection of Dioramas
Nabil Karam also holds the record for the largest collection of Dioramas, as well as the largest collection of stamps featuring automobiles.
#13 Largest Cereal Box
Under the theme Think Big, Lebanon's Daher Internation Food Company (Poppins) broke the record for Largest Cereal Box which was 3.22 m in length, 1.26 m  in depth, and 4.52 m in height.
#14 The Largest Recyclable Material Mosaic 
To encourage people to recycle of help save the environment, more than 100 volunteers helped put together a 971.37 m2 mosaic. The image was designed by the Lebanese artist Pierre Abboud, and it consisted of more than 10000 recyclable pieces. 
#15 The Largest Underwater Painting, 2015
In 2015, Colette Haddad created a 6 m² underwater painting at La Marina Dbayeh pool.
#16 The Longest Pastry, 2015
On the Lebanese independence day of 2015, a manoushe made by Amjad High School in Beirut broke the record for the longest pastry. It measured 31.97 m. 
#17 The Tallest Coleus Plant, 2015
Grown by Tanos Hage in the greenhouse of Notre Dame University-Louaize, this plant was recognized as the tallest coleus plant. It was measured in December 2015 to be 4.04 m. 
#18 Largest Megalith From Antiquity
A huge stone block was unearthed during the 2014 excavations in Baalbek, by the German Archaeological Institute, in partnership with Dr Jeanine Abdul Massih of the Lebanese University.
The block is still partially buried but is estimated to weigh about 1650 tons. It is located near another large stone block known as Hajjar al-Hibla ("The Stone of the Pregnant Woman"), which is another massive megalith of around 1,000 tons.
#19 The Country With The Highest Number Of Kidnappings  
Unfortunately, Lebanon came first place in this world record. According to the data collected by the United Nations Office on Drugs and Crime for 2014, Lebanon has 18.371 kidnappings per 100,000 people. Belgium comes in second place, scoring 9.343.
#20 The Longest Vehicle Drift, 2013 
In Abu Dhabi and in February 2013, the Lebanese Abdo El Feghali broke the record for the longest vehicle drift, with 11.18 km. 
#21 Shortest Stand-Up Comedian 
Imaan Hadchiti is a Lebanese Australian full-time stand-up comedian. He is 102.5 cm tall (or short). His case is called the Rima Syndrome since he and his sister Rima are the only known people with usual sized proportions with respect to their short stature. 
#22 The Farthest Distance Towing A Car by Bicycle, 2012
In an event organized by Play For Today, Vasken Melikian managed to tow a car by bicycle for 800 m! This happened in Beirut, on October 7th, 2012.
#23 The Largest Dabke Dance, 2009 and 2011
In 2009, 4,475 Lebanese-Canadians formed the longest dabke line ever during the Lebanese Cultural Festival in Montreal.
In 2011, the largest dabke dance took place in Lebanon, consisting of 5,050 dancers. This was part of Lebanon Alertness Day, August 7th, 2011. The dance was organized by Sakha Jean Yacoub Moujaes in Dhour El-Shweir Main Street.
#24 The Longest Marathon Video Jockey, 2011
On December 17, 2011, Anthony 2GreenDollars' Chidiac broke this record for performing as a video jockey for 25 hours 23 minutes 22 seconds at the Cheyenne Pub in Broumana.
#25 The Longest Sandwich, 2011  
A 735 m sandwich stretched from Notre-Dame des Soeurs Antonines School to Elie Street, in Hazmieh, Beirut. The sandwich was created in May 2011, and it took 22 hours to make!
#26 The Longest Chain Of Scarves, 2010
On May 15, 2010, 6,500 Kofeyeh scarves were used to form the numbers 194.
#27 The Largest Fattoush, 2010 
In 2010, around 200 people in the city of Kab Elias worked together to create the largest Fattoush. It weighed 4,432.52 kg and took 15 hours of preparations and cooking.
#28 The Largest Serving Of Hummus, 2009 and 2010
Lebanon broke this world records twice, in 2009, and when Chef Ramzi Choueiri and 300 chef students served 10,452 kg of hummus on May 8th, 2010.
#29 The Largest Ceramic Plate, 2010
This plate was created by Joe Kabalan and K_Moldes S.A.R.L on May 8th, 2010. The plate was made of clay and steel tubes. It weighed 4,320 kg and measured 7.17 m in diameter.
#30 The Largest Serving Of Falafel, 2010  
Chef Ramzi Choueiri and 300 chef students served 5,173 kg of falafel on 9 May 2010.
#31 The Largest Kibbeh, 2009 
Weighing 233 kg, the largest kibbeh was made in August 2009 for the Ehdeniyat festival. It was made by Almidan NGO and prepared by 25 participants. 
#32 The Tallest Matchstick Model, 2009
Toufic Daher created a 6m 53cm high model, of nearly 6 million matches. It was a replica of the Eiffel Tower, and Toufic displayed it in City Mall, Beirut, on November 11, 2009, the Guinness World Records day.
#33 The Largest Hotel Suite, 2008
The Royal Suite at the Grand Hills Hotel & Spa broke the record for the largest hotel suite in 2008. It is located in Broummana Lebanon and measures 4,131 m2. Additionally, the suite is surrounded by a private garden and swimming pools.
#34 The Oldest Spider Silk In The World  
Located near Jezzine, Lebanon, the spider silk dates back to more than 120 million years and is 4 mm long.
#35 The Longest Career As A FIFA-Listed Referee
Sarkis Demirdjian remained a FIFA listed referee for 20 years and 10 months. Demirdjian says his most turbulent match was a 1967 contest between Iran and Turkey, in which he issued eight yellow cards and two reds.
#36 The Longest Car Burnout in the Middle East, 2018
Fahed Abu Salah made the longest single car burn out World Record in the Middle East, which lasted for more than four minutes. This attempt was made in his deep sky blue SS/RS Camaro that had blue wheels that produced blue smoke while burning.
The blue color was the theme of this event as a support to prostate cancer patients. 
#37 Raising The Highest Number of National Flags in One Day, 2019
Beirut broke the Guinness World Record by raising the most national flags ever displayed in one city in 24 hours, breaking as such the Waterloo's record in New York since 2000.
#38 Biggest Interactive Ceiling Roulette, 2017
Casino du Liban broke the record of creating the biggest interactive ceiling roulette in the world!
#39 Hosting the Longest Party in the World, 2017
In collaboration with the Ministry of Tourism in Lebanon, Nurai Beirut, one of the best nightclubs in Lebanon, hosted a 56-hour long party, breaking the record for the longest party in the world.
#40 Lebanese Jewelry Brand Broke 5 Guinness World Records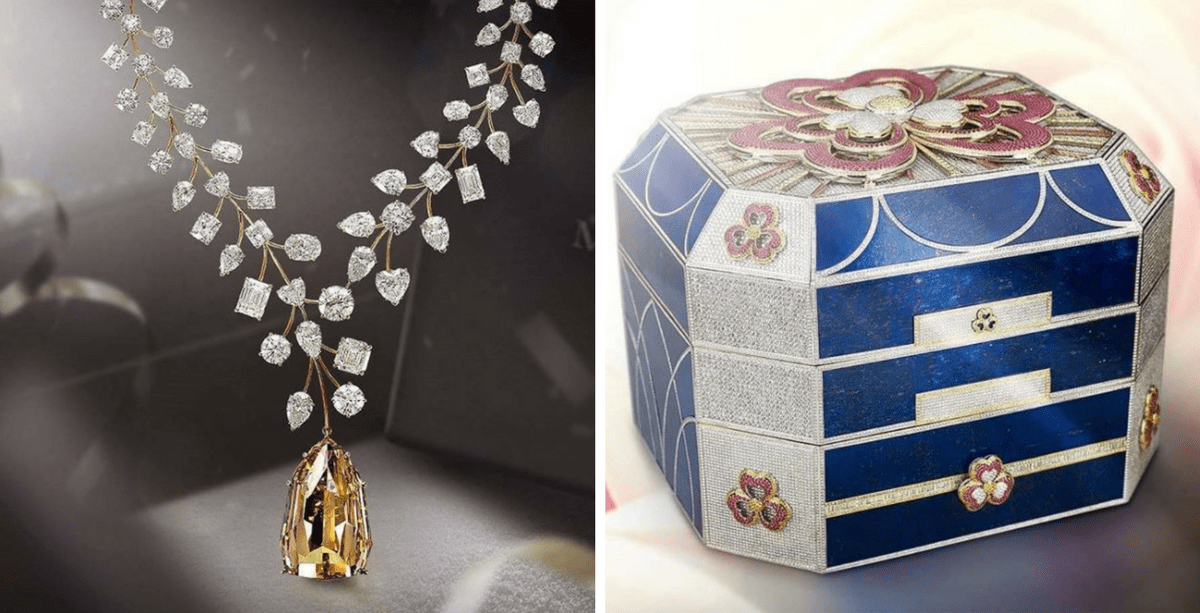 A family business that is being led by the 4th generation, Moawad Jewelry broke five Guinness World Records by designing the most expensive diamond, purse, necklace, jewelry box, and bra.
The World's Most Expensive Single Pear-Shaped Diamond, US $12.76 million (1990)
The World's Most Valuable Handbag, $3.8 million (2001)
The World's Most Expensive Bra, US $11 million (2003)
The World's Most Valuable Necklace, US $55 million (2013)
The World's Most Valuable Jewelry Box, US $3.5 million (2016)
Take a look at these masterpieces!