The vaccines are finally here and the vaccination campaign has started with Lebanon administering on Sunday the first doses of the Pfizer-BioNTech vaccine to the most-at-risk: its health workers and elderly.
First to receive the jabs were reportedly the head of ICU at Rakif Hariri Hospital, Dr. Mahmoud Hassoun, and Lebanon's widely loved actor and comedian Salah Tizani, known as Abu Salim.
28,500 doses arrived from Brussels on Saturday, but more will be arriving in the coming weeks. Lebanon needs to ensure, as a priority, that about 55,000 of its health workers, who are working at the frontline of the pandemic, will get inoculated the soonest.
The World Bank, which has announced its monitoring of the inoculation campaign, provided Lebanon with the needed loan of $34 million to help it ensure the inoculation of about 2 million of its population with the Pfizer-BioNTech vaccines.
More vaccine doses, amounting to over 3 million, will be reportedly provided, free of charge, through the U.N.-backed COVAX program.
That is in addition to some businessmen who have initiated separate negotiations to secure more vaccines.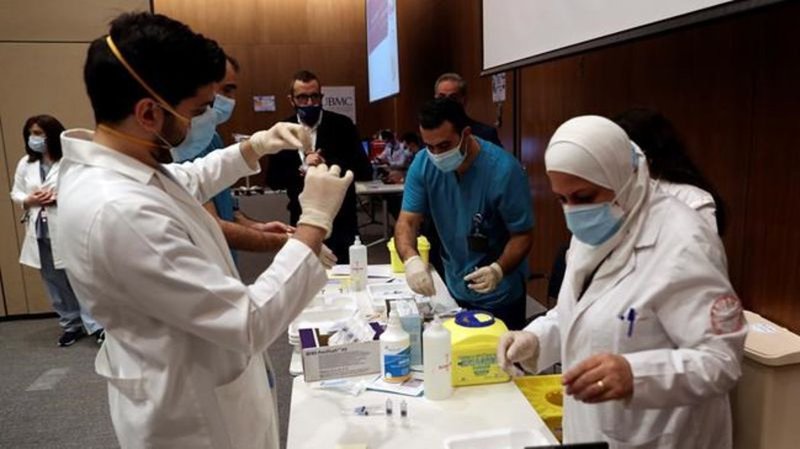 People's registrations to get vaccinated are deceptively low – only 450,000 so far – mostly due to misinformation and the government's overlooking to conduct a proper informative campaign.
However, it is expected that more will be encouraged to register in the coming weeks upon the effectiveness of the vaccine, or better say, its no-lethal effects.
"Please take the vaccine, no matter which one, as soon as possible," Dr. Mahmoud Hassoun, who heads the ICU at the main hospital battling the pandemic, urged the Lebanese people via LBC TV.
Lebanon has recorded a total of 339,129 COVID-19 cases since the start of the pandemic and 3,993 deaths. On February 14th, as of the time of writing, it is recording 2,130 new cases and 32 new deaths, according to the Ministry of Information.
We have a dedicated coronavirus section where you can find the latest news/updates about the pandemic in Lebanon, inform yourself with WHO-verified resources, and track the number of cases in Lebanon in real-time. Click here.