Lebanon recorded 6,154 new coronavirus (COVID-19) cases on Friday, the Health Ministry said in its daily report on the epidemic.
Of the 243,286 total cases registered in Lebanon since the beginning of the pandemic, 92,353 are active, as a total of 1,825 patients have died due to the disease and 149,108 others have undergone a full recovery.
On Friday, 44 COVID-19-related deaths and 1,362 recoveries were registered. Moreover, 21,854 PCR tests were administered in the past 24 hours, raising the total number of tests conducted so far to 2,329,843.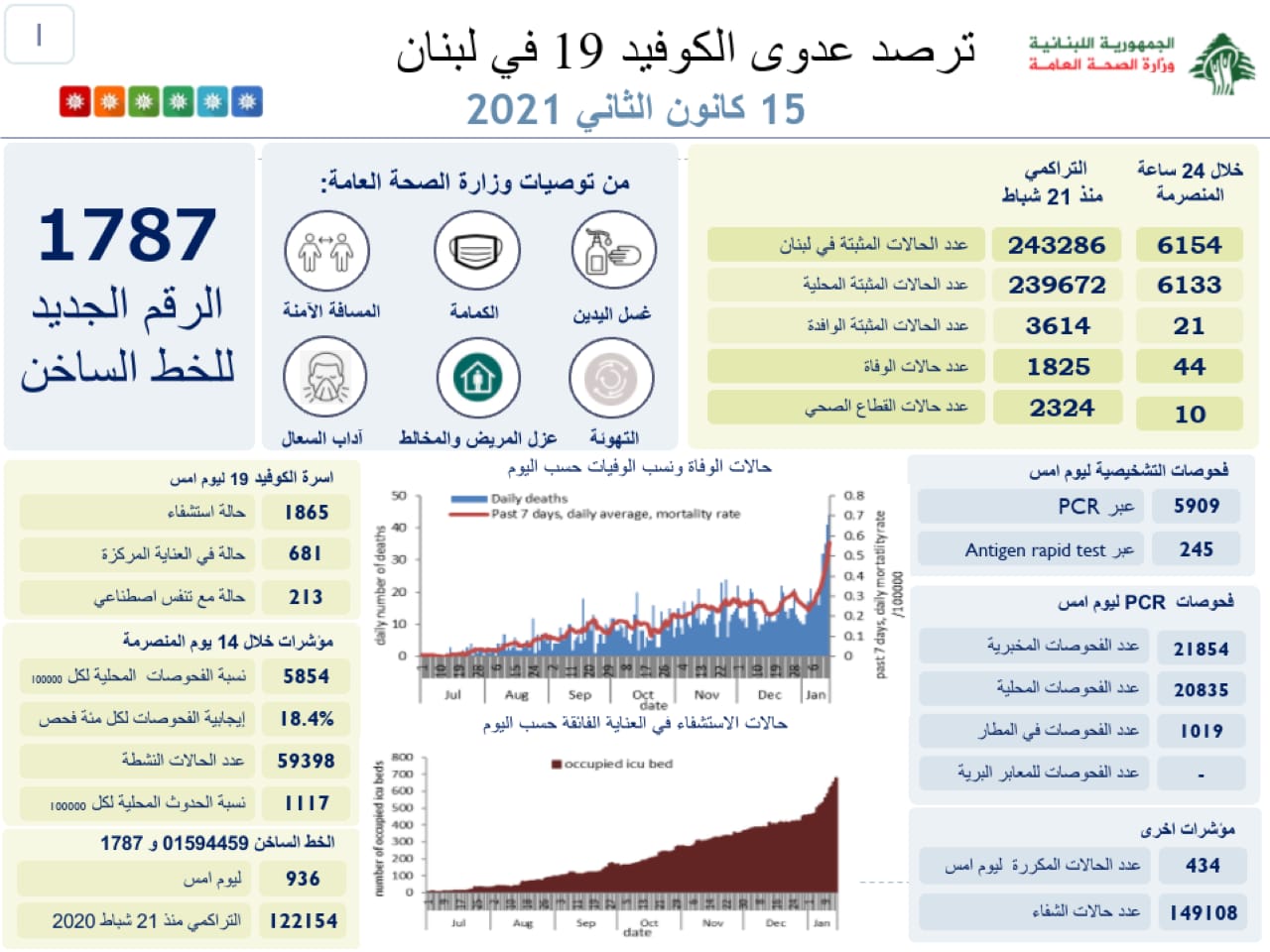 As cases soar, overwhelmed hospitals in Lebanon have been forced to follow a strategy of priority in dealing with new patients that need hospitalization.
While the new shutdown that started on Thursday forces private hospitals to reserve parts of their intensive care units (ICUs) for treating COVID-19 patients, the unabating increase in cases is maintaining its firm grip on Lebanon's hospital sector.
In light of that, St. Georges Hospital – Hadath announced on Thursday that all of its beds were occupied and that it had converted its cafeteria into an area specialized for treating COVID-19 patients.
As of Friday, 1,865 patients are in hospital due to the disease, of which 681 are in critical condition in ICUs and 213 are on mechanical ventilation.
The numbers registered on Friday – the second day of the new lockdown – represent a notable rise compared to the previous day, on which the Health Ministry confirmed 5,196 cases and 41 fatalities.
We have a dedicated coronavirus section where you can find the latest news/updates about the pandemic in Lebanon, inform yourself with WHO-verified resources, and track the number of cases in Lebanon in real-time. Click here.