Highlights:
Macron accuses Lebanese leaders of "betrayal"
He says Hezbollah must not think it's stronger than it actually is and must respect all Lebanese
Sanctions are not the right tool at the moment
Lebanon's government can't be formed without Shiites
Macron holds all Lebanese leaders responsible for the failure, topped by President Aoun
The issue in the hands of Berri and Hezbollah
Macron: "Hezbollah cannot be an army in a war against Israel and a militia taking part in Syria's war and still be a respectable party in Lebanon."
The Taef Accord does not stipulate that any party has the right to monopolize a certain ministry or funds.
Macron has granted the Lebanese parties four to six weeks to form a new government, warning of another approach should they fail in that.
In a rare press conference on Sunday, following the resignation of Lebanon PM-designate Mustapha Adib, French President Emmanuel Macron accused the leaders in Lebanon of "betraying" their promises after they failed to form a government in the wake of the Beirut explosion at the port on August 4th.
Macron blasted Hezbollah and Amal parties, as well as criticized ex-PM Saad Hariri's behavior during the cabinet formation process, warning that Lebanese ruling parties now have 4-6 weeks to form a new government or face "a different approach."
The Lebanese ruling leaders reportedly commit to forming a government within weeks of Macron's visit to Lebanon. That didn't happen, considering the rejection by both Hezbollah and Amal of Adib's proposed government. Both Shiite parties insist that the Finance Minister be from their own sect.
"They have decided to betray this commitment," Macron told reporters, declaring he was "ashamed" of the country's leaders.
"I see that the Lebanese authorities and political forces chose to favor their partisan and individual interests to the detriment of the general interest of the country," he added.
"All of them are betting on the worst-case scenario for the sake of saving themselves, the interests of their family or their clan," he seethed.
"I, therefore, have decided to take note of this collective betrayal and the refusal of Lebanese officials to engage in good faith."
It is common knowledge that Hezbollah has a firm grip on the country and its state, and it is the main player in this equation.
Hence, Macron's statement that Hezbollah should "not think that it is more powerful than it is… It must show that it respects all the Lebanese people. And in recent days, it has clearly shown the opposite."
"Hezbollah cannot be an army in a war against Israel and a militia taking part in Syria's war and still be a respectable party in Lebanon," he pointed out.
"Amal and Hezbollah decided that nothing should change in Lebanon and I understood that Hezbollah did not honor the pledge it made to me. The failure is their failure and I don't bear its responsibility," Macron added.
According to the French president, during these past weeks, Hezbollah needed to clarify its position, whether it was a serious political force to help implement a road map for the country or a militia at the behest of Iran.
"There's a question that needs to be asked to Hezbollah and ourselves. Is it really a political party or does it proceed just in a logic dictated by Iran, and its terrorist forces?" Macron asked in that news conference.
The French leader also said that Saad Hariri "erred by adding a sectarian factor to the roadmap" before eventually correcting his "mistake." That statement was in reference to Haririr's recent declaration that he approves of a Shiite for the Minister of Finance as long as he is not from any of the parties of Amal or Hezbollah.
Macron went on to say that "sanctions are not out of the question," but it is "not the way forward. "Right now we need political reform," he stressed.
However, the insinuation of some repercussions was clear from his side: "We called on Lebanon to seek to uphold the contract signed with France … And because they did not uphold it, there will be … serious consequences."
He accused the Lebanese officials to "have shown that they are willing to throw the Lebanese people into chaos," adding that "none of them have been able to uphold the promises made in August and September,."
The French president openly said holding all Lebanese authorities, including President Michel Aoun, responsible for implementing reforms, stressing that the political elite had committed "collective treason" by failing to form a government.
He said that both Amal and Hezbollah explicitly decided that nothing must change but Berri admitted that this was a condition of Hezbollah, which he played along with, which means Hezbollah decided "not to respect what they told me, face to face and eye to eye," he went on.
"If the Lebanese political elite is betting on certain changes in the US political field, they're wrong. Because with each day that goes by, an agreement gets more complicated and chaos seems nearer," Macron said.
This refers to Hezbollah's assumed stalling tactic until after the US presidential elections, where they are betting on Trump not being reelected. This would potentially mean a return to Obama-era easing on Iranian sanctions – which would empower Hezbollah, their proxy.
Macron stressed that there wouldn't be a government without Shiite representation as it's "not realistic" because "Lebanese leaders are afraid of Hezbollah and war," and it is "not realistic to promise to protect them [the Lebanese leaders] using the French military."
He addressed the "other approach of war with Hezbollah" but stressed that it is irresponsible as it will bring Lebanon down with it. The country has "already gone through civil wars and no one can really tell how things will end up," he pointed out.
Hezbollah and Lebanese Shiite people have a "historic choice to face; whether they want democracy in Lebanon or to follow their approach for the worst," Macron said, referring to the risk of civil war.
The French president went further, citing Hezbollah's mastery of ambiguity to get stronger the past decade or so; ambiguity specifically where it's a "militia, terrorist group, and political force at the same time."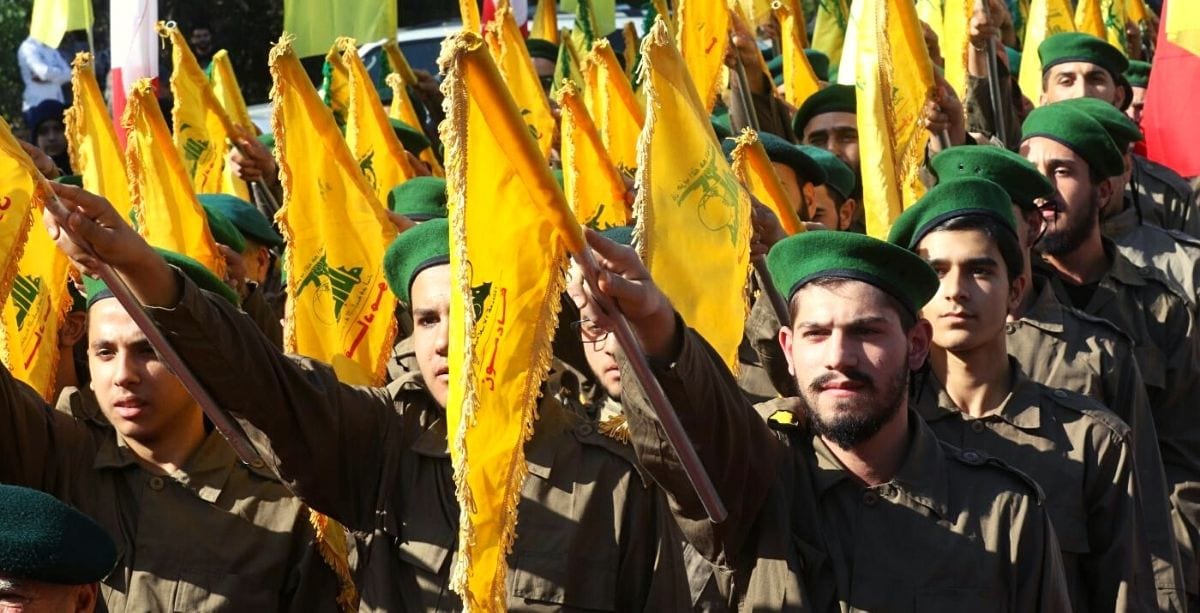 He stressed that the Hezbollah ministers need to "clarify their game" as they can't "pretend to be democratic representatives of a democratic nation by terrorizing using weapons."
He went on to address them with "you cannot stay on the table for long if you don't honor your engagements around the table."
He even said that he would have to abandon this initiative and join the "worst path," referring to the US strategy of sanctions and potential war, should Hezbollah indeed "choose the worst path."
"I don't agree with them, but they are here," he said about Hezbollah and its ministers. "It's not I who put them there. It's a segment of Lebanese who support them, whether by choice or by fear."
"It is also the other Lebanese political forces who, in a way, have allowed for this. And there are some who decided to become hostages of Hezbollah in an explicit way, and no longer run their own political parties."
"I believe the policy of sanctions and terrorist designations is a tool of American diplomacy that has its limitations. I think that when we want to try to improve a nation, we must talk to all its constituents; and Hezbollah is a part of it," he stated.
He went on to reiterate, "The main question posed to Hezbollah is, is it solely a political party or is it a terrorist force dictated by Iran?"
Macron, who visited Lebanon twice in the wake of the explosion, had urged the Lebanese not to waste any more time in forming a government.
The French president said that the roadmap for political and economic reform set out on his last visit on September 1st was still on the table but time was running out.
"It is now up to Lebanese officials to seize this last chance themselves," he stressed.
Macron confirmed, however, that he will continue his efforts to help Lebanon, and the fundraising conference is still scheduled for the end of October.