Dr. Mickey, Lebanon's beloved magician, just died from the coronavirus, leaving behind a generation of Lebanese citizens with happy childhood memories of looking forward to watching him perform during birthday parties and festivals.
Dr. Mickey's early career started with him performing during holiday seasons all over the country. His career went flourishing as he soon gained a remarkable reputation as the country's favorite performer.
He brought joy to kids and adults alike with his fun magic tricks and very pleasant personality.
While he worked at KidZilla, one of the most popular leisure parks and entertainment centers for kids in Lebanon, he also performed for NGOs.
On Christmas eve of 2003, for instance, he hosted an afternoon party inside the Church Hall of The Lady of The Star, a Maronite Church in Jieh, south of Lebanon. 130 kids enjoyed a memorable Christmas watching him unfold tricks up his sleeve.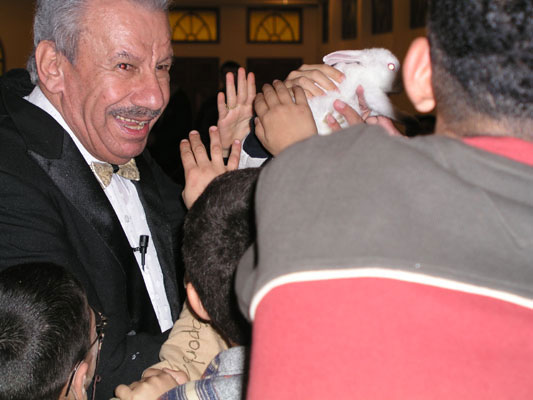 He also performed for charity, such as the event of 2013 at the Children Cancer Center in Lebanon in cooperation with the Makhzoumi Foundation.
In addition to the joy of watching Dr. Mickey uplifting their spirits with his performance, the young patients received gifts from the foundation.
In 2018, Dr. Mickey was chosen to perform for the annual fundraising dinner for the Spring Of Life, an NGO that takes in children with poverty-stricken and dysfunctional families.
The popular Lebanese magician performed as well at the Makhzoumi Foundation's and Beirutiyat's 2019 Ramadan Village, where hundreds of Iftar meals were served for those in need.
Dr. Mickey's performances were, in fact, countless and so were the smiles and laughs he incited across the country through his career. Lebanon will certainly miss him.