According to the ministerial coronavirus committee in Lebanon, certain businesses now have the permission to reopen after the long lockdown, granted that safety measures be strictly imposed.
Lebanon's 4 stage plan to reopen is now in the second phase, where certain businesses and services are allowed to go back to operating under strict measures.
Now, more businesses, including malls across the country, will open again starting Monday, February 28th.
According to the Ministry of Economy and Trade, which official documents were shared with The961 by the management of one of Lebanon's major malls, explain how this particular phase will work:
Malls are set to reopen alongside clothing, electronics, furniture, jewelry, and other stores that aren't considered extremely vital necessities.
To summarize, stores that are permitted to open are those that sell:
large amounts of food necessities,
alcohol, tobacco, and hookah,
clothing products, fabric, and underwear garments, fur cloth, shoes, and leather products.
building and engineering products, as well as agricultural products.
perfumes and makeup products.
furniture, electronics, electronic pieces and equipment.
house utilities, decorations.
sport equipment, toys, musical equipment.
watches and jewelry.
vintage items.
Malls
items in small quantities.
According to the document, employees are required to submit a negative PCR test before going back to work, while customers will have to show their permits at the door before being allowed entry.
Restaurants, cinemas, and other entertainment facilities will remain closed.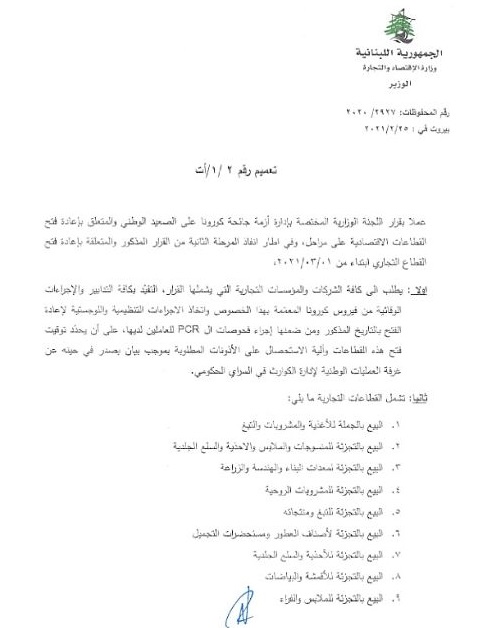 We have a dedicated coronavirus section where you can find the latest news/updates about the pandemic in Lebanon, inform yourself with WHO-verified resources, and track the number of cases in Lebanon in real-time. Click here.