This week, Mia Khalifa donated, once again, $20,000 to the Lebanese Red Cross.
She announced it on an Instagram story, accompanied with a message to the Lebanese Red Cross: "we see your efforts, we see you running from the top of Lebanon to the ports helping people and saving protestor's lives. Thank you so much for everything you do."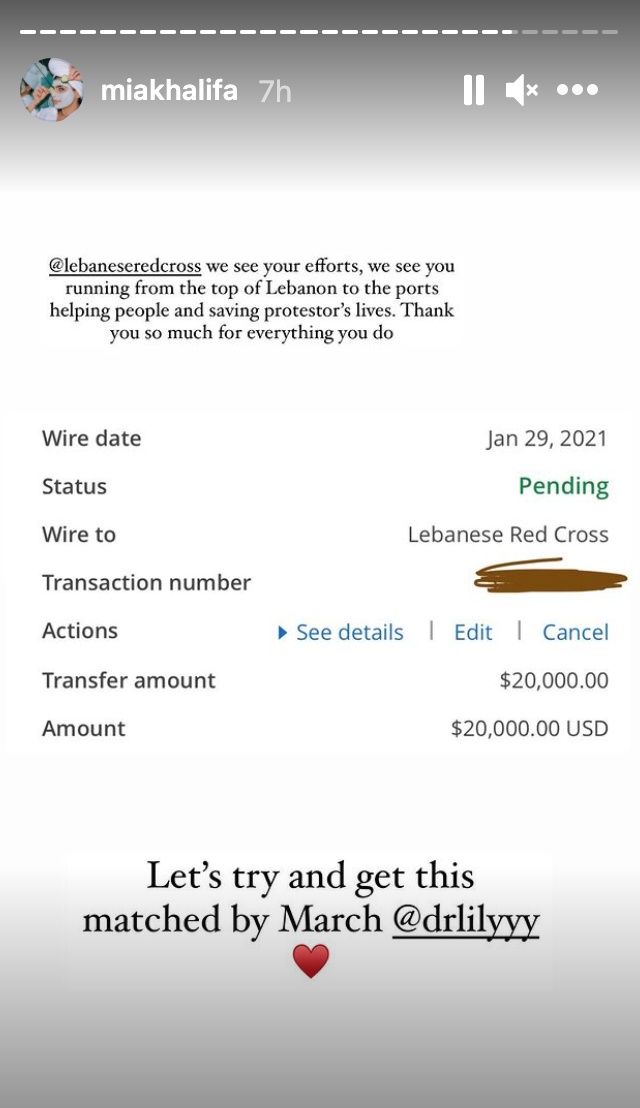 She called on Dr. Lily Wakim, a US-based Lebanese dentist, who hosts an Only Fans profile under 'The Sexy Dentist', to match the amount. Dr. Wakim responded by posting to her story asking for her fans to donate. She also thanked Mia Khalifa for her efforts.
Yesterday, while speaking about cultural appropriation on Twitter, a user tried to attack Mia Khalifa's former adult industry work by referring to her Lebanese roots.
However, Mia Khalifa did not shy away from responding. She attached a screenshot of a wire transfer showing another $5,000 donation the Lebanese Red Cross.
This is a combined total of $25,000 donated to the Lebanese Red Cross in just a matter of days.
Mia Khalifa, who's taken an active role as an outspoken activist for social issues in Lebanon since at least 2019, has been continuously helping independent Lebanese organizations and calling out Lebanese politicians.
After the deadly Beirut blast on August 4th, 2020, Mia Khalifa auctioned off her infamous glasses for over $100,000 to raise money for the Lebanese Red Cross. However, when the auction fell through, she donated the full amount herself.
Despite all her work for Lebanon, the government continues to reject her. President of Lebanon Michel Aoun blocked her on Instagram, shortly before disabling all comments. His son-in-law and former Foreign Minister, Gebran Bassil, also did the same.