MP Hadi Abou El-Hassan confirmed on Saturday that Prime Minister-designate Saad Hariri is faced with two options at the government formation level, either to apologize or form the new cabinet according to "the other side's terms."
In an interview with the radio station "Voice of All Lebanon", the MP considered that Hariri is facing impediments in order to pressure him to apologize.
He added, "The utmost the President of the Republic aspires to achieve is to guarantee the presence of his political heir in the event of delaying the parliamentary and presidential elections, so as to control matters."
This comes at a time when the political scene in Lebanon has been on edge, as seen by the recent feud between President Aoun and Hariri, which was ignited by a leaked video in which Aoun described Hariri as a liar and put down his efforts to form a government.
Walid Jumblatt, leader of the Progressive Socialist Party, urged Hariri to withdraw from the task of forming the government as long as the matter is in the hands of Hezbollah and its ally, the Free Patriotic Movement.
"Let them take over the whole country with all its joints, and bear the responsibility for gains or setbacks. Why should one participate and not receive anything in return?" Jumblatt said.
For over a month, Aoun and Hariri have not met, while the government formation process remains deadlocked. Mediators have tried to set up a "clear-the-air" meeting between both leaders but sources say those efforts have failed.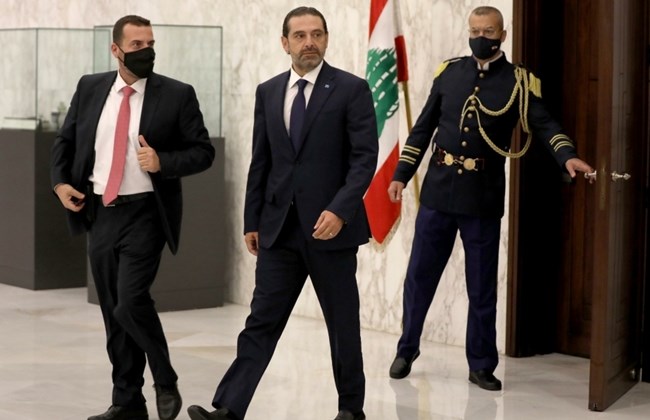 The Lebanese presidency issued a statement on Friday, in which he ruled out the possibility of inviting the prime minister-designate for talks.
"The president of the republic is not to repeat the call for the prime minister-designate to come to Baabda, because Baabda Palace is still waiting for the prime minister in charge to come with a governmental proposal that takes into account the standards of fair representation in accordance with the provisions of the Constitution," Aoun's media office said in a statement.
It noted that the president was a "partner in choosing ministers and distributing ministerial portfolios," which brought several MPs to react, accusing the president of acting "as a party, and not as a president entrusted with the constitution."
Among them, MP Anwar Al-Khalil who considered that the statement "destroys the hope of forming an important government. It is also a digression from obstinacy and stubbornness."
"The constitution named you as president, a symbol of national unity and a protector of the constitution," Al-Khalil said, addressing Aoun. "Your advisers are making you one team. Enough bickering! Support the whole country and save it from collapse."
From his side, MP Hadi Abu Al-Hassan accused the president of wanting "to monopolize everything," noting that Aoun and his FPM party "don't want the return of Hariri as prime minister without Bassil in the government."
Another politician objecting to Aoun's stance is former MP Mustafa Alloush, who also noted the president's main objective is "to make Bassil afloat again and move the presidency to his son-in-law. It is not the rescue of the republic."
It is to note that the presidency statement also rejected accusations of Hezbollah's interference, saying: "The party does not interfere in decisions by the president on all issues, including the formation of the government."