With 159k followers on Instagram alone, Lebanese influencer and interior stylist Bruna Rizk is killing it abroad with her content creating career.
Based in Amsterdam, the influencer has been going viral for a TikTok video where she talks about the time she put a gossiping bully in her place in the most graceful Lebanese way possible.
In the video, Bruna recalls an incident when someone in a store talked about her not so nicely in another language and she showed them that she understood what they were saying.
It happened in Paris when Bruna was with her cousin at a clothing store chatting in French. While shopping, a mother turns to her daughter and says something quite rude about Bruna in Arabic.
"Look at how this wh*re looks," she told her daughter in Arabic, not thinking Bruna would understand.
Being Lebanese, Bruna was shocked at what she heard. She turned to the lady and said, "I understood you, are you serious?"
Caught in an awkward moment, the woman decided to ignore her, but kept at her prejudicial gossip in another language, thinking Bruna wouldn't understand, saying in Dutch, "Well she shouldn't be proud of herself that she understands two languages."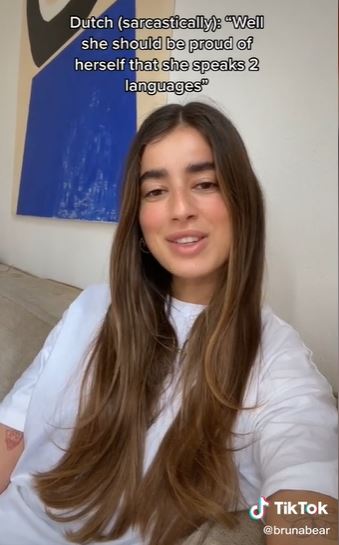 Of course, Bruna, who can speak Lebanese, French, English, and Dutch claps back and said, "I also speak Dutch, are you on a roll?"
The961 reached out to Bruna who told us, "I was just so flabbergasted that it happened in the first place, but very amused that I was able to 'nicely' teach her a lesson to not talk about people in public."
We hope the woman and her daughter did indeed learn a valuable lesson. The first being: Don't mess with Lebanese people – they're multilingual by default!
And some Lebanese are even polyglot! So, you better watch out what you say when they are around.