The Lebanese revolution is a peaceful one. This is a key characteristic of this protest. And this characteristic will not change no matter how many times it is challenged or placed under attack by people who wish to turn this into a violent uprising.
@wearelebanonembedded via  
One of the most beautiful statements uttered on Marcel Ghanem's Show Sar El Waqt (Time Has Come), which aired on MTV recently, was something along the lines of "Lebanon's revolution is making history. It is making more history and change than the French or American Revolutions. Why? Because it is PEACEFUL."
Unseen before since 1985. Shia demonstration against corruption and militias in the #Hezbollah controlled home city of #Nabatieh in #Lebanon. A whole new generation of young moderate Shia Lebanese rejecting the obscure ideology of #Iran #Ayatollahs. pic.twitter.com/vtWSfVLu42

— Walid Phares (@WalidPhares) October 20, 2019
In spite of that, the peaceful protesters have endured assaults in some regions from politically affiliated elements who want to keep their leaders in power, however how. That has been the situation in the South Lebanon region of Nabatieh.
However, on Wednesday, October 23, 2019, a confrontation occurred between the municipal police and the protesters of Nabatieh, resulting in an estimated 25 people injured. At least one of the protesters was severely injured and taken into intensive care, according to the Daily Star.
@nabihbulosembedded via  
Protesters everywhere in Lebanon are making it a firm point to close roads with their presence and sit-in as a means to pressure the government to abide by their demands. In Nabatieh that day, it took a bad turn, unlike all other regions, with the municipal police attempting to open a closed road. 
The Nabatieh Municipality released an official statement calling on the Lebanese Army and Security Forces to assist them in opening the road safely and to remain present in the area because their peaceful protest is under consistent threat.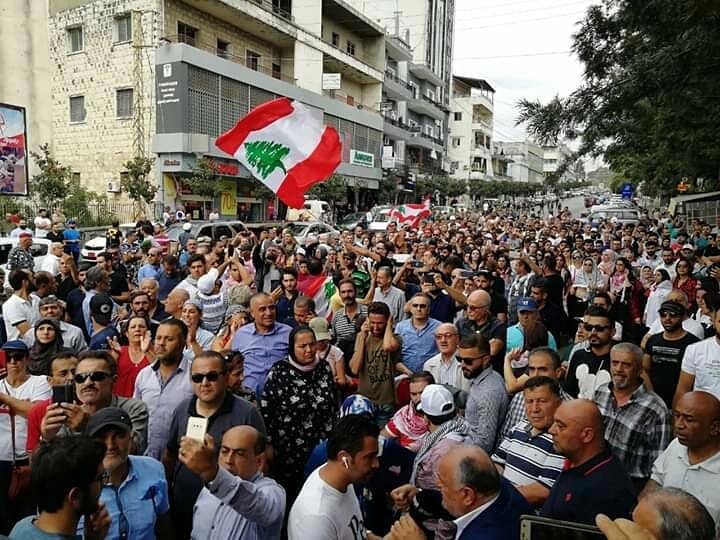 @livelovenabatiyehembedded via  
The municipal council of Nabatieh also requested that the media appropriately cover these events and report on them honestly and transparently. 
Later on, in the same evening, the Lebanese Army rushed to break up fights between protesters and Hezbollah supporters who were holding a parallel protest at the same site.
Chanting pro-Hezbollah statements and often pushing the peaceful demonstrators at the scene, Hezbollah supporters were physically removed by the Lebanese Army and isolated from the protests.
The peaceful protesters at the site claimed that they did not instigate the fights, nor do they intend to. They also made it very clear that these attacks on them will continue to happen in Nabatieh, considering the grip that Hezballah has on the city, and the peaceful protest will remain consistently under threat.
@peaceforthevoicelessembedded via  
In a separate statement, an official representative from the Amal Movement stressed that his party and their supporters in Nabatieh are not resorting to violence, nor were they involved in that attack in particular, or any other attacks in the future.
A similar statement was issued by Hizballah in regard to the assaults of its members on the peaceful protesters in downtown Beirut recently, including attacks on Lebanese army elements. Yet, it has been happening.
@peaceforthevoicelessembedded via  
Four members of the Nabatieh Municipal Council resigned at once upon the outbreak of Oct 23 that brutalized their citizens and caused 25 wounded, as reported in various local news, including the National News Agency. 
Since then, the latest developments of October 25, 2019, where the army had to intervene yet again, demonstrators have taken to television stations across the country to reinforce the fact that their demonstrations are "PEACEFUL and peaceful only."
Supporters across the country have chanted their support for Nabatieh. Tripoli's moving chant of over 150,000 people screaming "We are all Nabatieh" has gone viral on all social media platforms across the world.
Nabatieh is also seen in other footage yelling support chants for Tripoli. The Lebanese Army currently has the area under its most-watched locations as outbreaks are expected to be fueled at any moment after yesterday's events. And the people of Nabatieh prevail, peacefully, determined to chant to the only flag they pledge allegiance to.
@serhanenourembedded via  
Follow us on Instagram @the961 for continuous coverage of the current events, and join us also on Facebook @The961Lebanon to engage with our fans in Lebanon and abroad.