Once again, Dr. Falah Bechara Maroun is honored in Canada for his achievements and contributions in the medical field.
This time, he was recognized by the Memorial University of Newfoundland (MUN) with an honorary degree during the university's Spring Convocation 2022.
In recognition of his achievements, Dr. Falah B. Maroun was previously honored with the Lifetime Achievement Award/Charles Drake Medal, the Medaille de l'Ordre de Merite of France (2001), the Order of Canada (2002), and the Order of Newfoundland and Labrador (2018).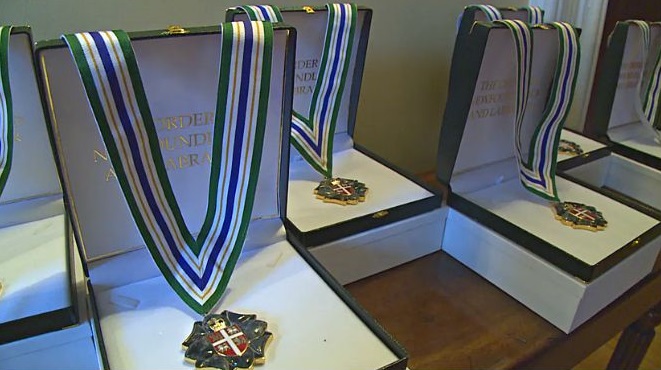 Also in 2002, Dr. Maroun was appointed lifetime Honorary President of the World Association of Lebanese Neurosurgeons.
Lebanon also honored him in 1974 with the Knight of the Order of the Cedar of Lebanon for his great contribution to humanitarianism throughout the world.
Born and educated in Lebanon, Dr. Maroun first graduated in 1960 from the French Faculty of Medicine in Beirut. He then completed his post-graduate training at the Montreal Neurological Institute.
In 1965, he obtained his Canadian Fellowship, and then his American Board of Neurological Surgery (Foreign) Certificate in 1966.
In 1967, he went to Newfoundland and Labrador for a 3-week locum, upon which he decided to remain in the province. In 1968, he became the Chief of the Division of Neurosurgery in St. John's, New Brunswick, and held that position for almost 40 years, until 2007.
From 1996 until 1999, he operated as Clinical Chief of the Surgery Program for the Health Care Corporation.
In addition to authoring over 73 publications and presenting 228 papers at national and international meetings, Dr. Maroun has produced crucial materials that have been used as references for neurosurgeons; namely, a short movie on epilepsy titled It's a New Life and a book on the congenital spinal anomaly.
In 1970, he introduced and performed the first seizure surgery for epilepsy in the province, among his other breakthroughs in the field.
MUN honoring Dr. Falah now was a way to pay tribute to his remarkable work in saving lives in the Health Sciences Centre operating rooms.
Praising the medical team he worked with, Dr. Falah said during the ceremony: "Even though my ancestors the Phoenicians contributed to the creation of the alphabet, I had at the beginning great difficulties understanding the boys […]"
"Shortly after, I realized that the boys were more advanced than the Phoenicians, they didn't have to talk, they simply communicated with a nod of the head and a classic Hi b'y," he added with a certain humor.