Lebanon as a country alive with its own heart, essence, nature, and energy has its own state of Being that defines it.
It defines itself not in what it is doing or has done but in its nature, in its moments, in its beauties, each day offering a new beginning, each season offering new magic.
And in winter, Lebanon's Being is a magical wonderland. 
#1 Tarshish
A magical sunset moment in Tarshish, a village at an elevation of 1400m in Baabda, 50 km from Beirut.
#2 Mount Sannine
A magical heavenly peace in Mount Sannine, the source of many mountain springs, and reigning king of the mountains at 2,628m above sea level.
#3 Mzar Kfardebian
"A piece of heaven, the landscape was more than amazing, the white king was the boss, unbelievable place for skiing," a Tripadvisor's commented. 
Located one hour from Beirut, Mzar Kfardebian also known as Ouyoun El Siman is the largest ski resort in the Middle East. 
#4 Balaa Village, Tannourine
Be still and know, Lebanon is a magical wonderland…
The village of Balaa doesn't only host one of the most impressive natural wonders in Lebanon, the Baatara Gorge with one of the best waterfalls in the world (according to La Guardian), but the village itself is scenic in all seasons.
#5 The magic of a Golden Hour
When we get lost in a magical golden hour in our winter mountains, it's like existing in a universe out of Time itself. Awe-striking and humbling.
#6 Douma
One of our most beautiful villages, Douma with its red-tiled houses resembles a fairy tale during winter at just 30 km from Byblos/Jbeil. A village in a valley surrounded by mountains…  
#7 Faraya
"Lebanon, O piece of heaven!" (He couldn't resist…).
Faraya village in the mountain of Kessrwan, at 46 kilometers north of Beirut, is a popular and lively destination both in summer and in winter. Its average elevation is 1290 meters above sea level and edges Mzar Kfardebian.
#8 Hammana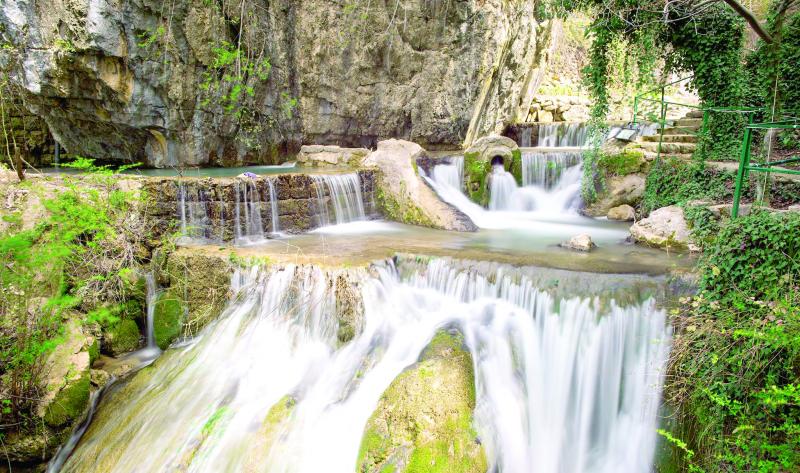 Hammana, the valley made famous by the poet Lamartine when he described it as "the work of God," and that perches at 1200m above sea level.
#9 El-Arz
The magical mountain of El-Arz (The Cedar) in the North of Lebanon, known for its "Cedar of God's Forest" and also its great and very popular ski resort.
#10 Driving through a snowy road
It feels like Christmas all through winter in the mountains!
#11 Laqlouq
Said to be a small village yet its snowy landscape isn't small. Located in the mountain of Byblos/Jbeil district, at 1780m of altitude, Laqlouq is a very popular winter destination for hikers.
#12 Falougha
Falougha, in Baabda, at just 35 km east of Beirut, perches at 1200m of altitude in all glory with breathtaking sceneries.
#13 Ain Zhalta
A charming picturesque village in Shouf, Ain Zhalta rises at an altitude of 1200m. It hosts a cedar forest, which is part of the Shouf Reserve, listed by UNESCO as a biosphere reserve in 2005. 
#14 Ehden
"The Bride of Summer Resorts in the North of Lebanon" is even more stunning during winter, covered in a queenly white cape at 1500-m above sea level. Ehden was the 'heaven on earth' of ancient civilizations that named it Eden, hence its current name. 
#15 Homey winter nestled in the snow
There is a good, peacefully yet exhilarating reason why so many Lebanese seek to spend their winter weekends in the villages. "The echoing silence that takes over the atmosphere after it snows puts you in a deep trance that is unlike anything you have ever felt," says Hussein in This Is How Winter in the Mountains of Lebanon Feels Like.
#16 Bkaakafra
The hometown of Saint Charbel and the highest inhabited village in Lebanon all year round (1,650 m), Baakafra is a must to visit to experience the eerieness of living past winter times.
#17 Barouk
Behold world, Lebanon in all the simplicity of its majestic beauty!
That's Barouk in the Chouf and its natural reserve, 52 kilometers southeast of Beirut, and an all-season destination for both tourists and locals.
#18 El-Mejdel, Akoura
We can't but hold our breath when facing such a scene in the village of al-Mejdel in Akoura, which is known for its beautiful circular ponds, mesmerizing nature, and for being a popular destination among campers and hikers.
#19 Sawfar
A favorite destination for nature lovers in both summer and winter, Sawfar is located in the Aley District of Mount Lebanon at an altitude of 1,320m. It is a must to visit in winter for its majestic sceneries.
#20 Hasroun
The Rose Flower of Mount Lebanon, Hasroun is one of these remarkably beautiful Lebanese towns perched over the northern Valley of Qadisha. It owes its nickname to its predominantly red-tiled roof houses.