On Wednesday, June 3rd, the pro-revolution group Hurras Al-Madina (The City's Guards) stopped a large number of fuel trucks that arrived at El-Mina from Syria and were reportedly heading to the Beddawi facility to fill up their tanks.
The Hurras Al-Madina prompted to inform the Intelligence Service and called on the citizens "to stand in the face of these tanks to prevent the smuggling of diesel."
The Hurras Al-Madina confronted some of the drivers who claimed they came to fill cooking oil. The protesters stated not being duped and kicked the truckers out of their city.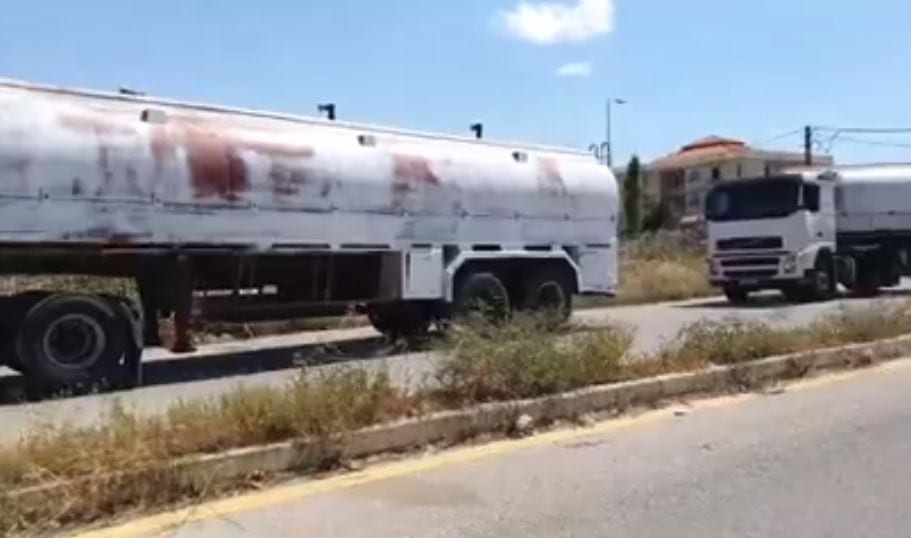 They then called on the protesters in Beirut to follow up with the situation, as the drivers were seemingly headed to the port of Beirut.
"To make something clear, we are not against the Syrian people. We are against the regime and the smuggling that has been taking place. Just as the Syrian people are in need of 'cooking oil', [the Lebanese] are in need of it too," said a leading member of Hurras Al-Madina.
"The price of a tank of oil was 28,000 LL. Today, it costs between 110,000 – 120,000 LL," one of the protesters said.
Lebanon spends billions of dollars to subsidize essential goods to make them more affordable for the Lebanese people, but the authorities simultaneously turn a blind eye to obvious smuggling.
There is an ongoing history of resources from Lebanon being smuggled to Syria. Recently, the Lebanese army confiscated 30 meters of pipes being used to smuggle diesel into Syria in the northern border.
Lebanon has been suffering an economic collapse, one of its worst financial crises in history. It is topped off with political unrest and anti-government sentiments that are walking on thin ice.
Here are some recordings from the interception of the trucks. According to the caption, these are fuel tracks and that the claim that they came for cooking oil is false.
The caption states that a large number of Syrian truck tanks are spreading in the north to smuggle diesel. They were noticed on Tripoli-Beirut road and in a number of northern regions "coming from the Syrian territories to fill diesel from the facilities in the Beddawi region."