The relief team of Qatar Charity (QC) as well as King Salman's Humanitarian Aid and Relief Center (KSRelief) quickly rushed to deliver urgent support to Syrian refugee families affected by the large fire that had broken out in the refugee camp in the north of Lebanon.
Hundreds of Syrian refugees fled their only shelter in Tripoli after their tents were burned down to the ground during a clash between local youths and camp residents.
Within 12 hours of the horrific incident, KSRelief confirmed it will be rebuilding the camp and securing housing for those affected.
"The King Salman Center already started distributing the supplies, blankets, and clothes to those affected, and the center will distribute aid to all families. There are around 100 families who used to live in this camp," issued Reslan Malas, President of Sobol Al-Salam NGO that is cooperating with KSRelief.
"No human casualties were recorded, but only material damage," she added.
When the fire broke out, Al-Salam ambulance, which is funded by King Salman Center, transferred injured people from the camp to nearby hospitals.
"We are following on the needs of the Syrian brothers," Malas emphasized.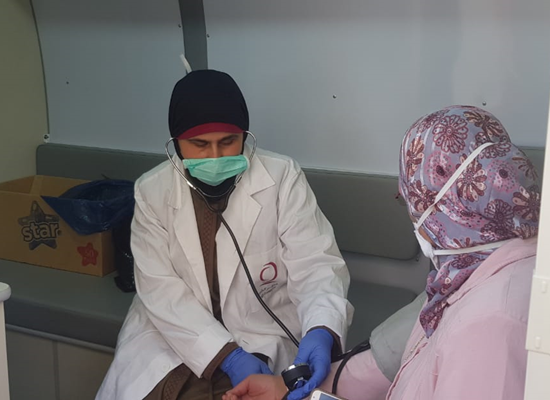 On the other hand, Qatar Charity, in cooperation with the Islamic Medical Association, launched a mobile medical clinic equipped with an ambulance and a specialized medical team in the affected refugee camp.
The urgent intervention also included medical examinations and the necessary medicines, according to the Gulf Times.
"As many refugees were affected by this humanitarian catastrophe, Charity is working to provide urgent aid to the vulnerable to alleviate their suffering," the Gulf Times stated.
The refugee camp in north Lebanon is one of the dozens across the country. The blazing fire tore through the makeshift shelters of some 75 families, leaving behind a destroyed wasteland.
Unfortunately, only a month ago, hostility towards Syrian refugees mounted over a murder committed by a Syrian national in the northern mountain village of Bsharre. At least 270 Syrian families had to flee the village, some of which took refuge in Tripoli.
Early this month, reports emerged that the number of Syrian refugees returning to Syria from Lebanon has been on the rise since their government recently waived its imposed fees of return. However, an approval process for waiving these fees is still required.
While the estimated rate of Syrian refugees returning home has been 400-500 repatriates daily, and up to 700 on some days, many can't still go back and continue to live in difficult conditions in refugee camps.