Lebanon was always a place that attracted the interests of explorers, some for its historical and archeological sites, and some for the culture and beauty of its land.
Around 2 centuries later, we look at a past era of Lebanon from the lenses of foreign and local photographers and artists who once explored our country.
That was Lebanon in the 1800s, during which the Lebanese hadn't yet freed themselves from foreign rulers, and also came to fall into the trap of their own internal conflicts that turned into a civil war.
However, the nation prevailed the best they could to ensure that, one day, Lebanon will still be here for the coming generations, holding on to its rightful existence, for us, their descents.
This is in their memory.
Lebanese men from Mount Lebanon, late 1800s
Beirut in the 1880s
Beirut Hospital staff party, 1898 (most probably AUB)
Ain Mreisseh, Beirut in 1897
Construction of the port of Beirut, 1893
American Evangelical Church, Beirut 1890
Tripoli Souks, 1889
Lebanese farmer 1890
A glimpse at life in Tyre in 1898
Mail Carriages at Hotel Victoria in Chtaura, 1880
French expeditionary corps in Beirut, 16 August 1860
The French expeditionary corps of 6,000 soldiers, led by General Beaufort d'Hautpoul, landed in Beyrouth on 16 August 1860 with orders to collaborate with the Ottoman authorities in reestablishing order during the deadly conflict between the Druze and Maronite communities.
Sidon, South Lebanon, 1881
Busy, busy, Beirut Souks in 1880
Coastal view of Beirut in 1886
German Emperor Wilhelm II visiting Lebanon in 1898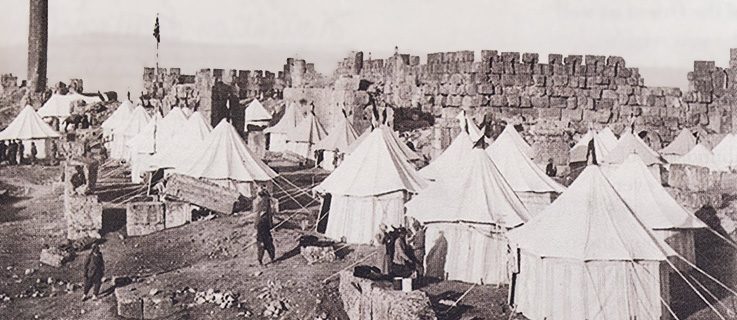 Baalbek officials receiving Emperor Wilhelm II in their city, 1898
Group of people seating on and around a cedar in Lebanon, 1898
Beirut Hospital Ward, 1898
Sahet El-Burj – Place Des Canons, Beirut, 1898 (Today's Martyrs' Square)
A view of Beirut Small Serail & Sahet El Borj, late 1800s
Saint George Bay, Beirut, 1800s
Tanios Chahine, Leader of the historical Thawrat El-Fallahein (The Peasants' Revolution), 1860
Lebanese brides, 1880
Byblos (Jbeil) in 1893
Students at the American University of Beirut, 1898
Nurses at the American University of Beirut, 1898
Lebanese women from Zahle and Zgharta, 1873
The photo is claimed to be of Lebanese Christian women from Zahle (on the sides) and Zgharta (in the center).
Class time in Beirut, 1890
Tyre Port, 1898
Britain's Princes visiting Baalbek on May 3rd, 1882
Prince George (future King George V) and his brother Prince Albert Victor (in the center) with their tutor Reverend John Dalton, and local officials.
Prince of Wales at the British Consulate in Beirut, May 1862
The camp of the traveling companions of the Prince of Wales (later King Edward VII) on the ground of the British Consulate in Beirut.
Bashi Bazouk mercenaries, Lebanon 1862
Mercenary soldiers in the Ottoman Army, the Bashi Bazouks were employed as bodyguards to the Prince of Wales and his companions during their trip in Lebanon and through the Holy Land. 
Baalbek women preparing of pomegranate molasses, 1898
Take also a look at these Rare Photos of Lebanon in the 1900s – 1920s.