Li2an mafi metel trab Lebnen…. DUH!! Seriously, we've all thought of taking a vacation outside of the country. But when you look at how much you'll end up spending, you start to consider the option of a staycation in Lebanon.
#1 It is way less expensive than a vacation in Côte d'Azur
By staying in Lebanon, you will get to save money on the flight ticket, taxi, hotel, etc. Just fill up your car with gas, book a cheap and nice apartment from Airbnb and ta daaa.. STAYCATION MODE ON!
#2 You don't have to learn a new language
In fact, if you're Lebanese you already know at least three languages. But you won't have to learn Spanish if you wish to party by the beach in Ibiza, li2an men shu byeshke ba7er Lebnen?
#3 You don't have to face the hassle of the whole family dropping you to airport
Because when one person in the family travels, the whole family ma3 wled el jiran will convoy them to Beirut–Rafic Hariri International Airport
#4 You won't miss out the events that are happening bel balad
When you travel, you lose track of what is going on, who got killed, who got kidnapped, who got married, and you don't want to miss the latest mouzahara.
#5 Lebanon is the country of diversity and tourism
All jokes aside, Lebanon is a truly beautiful country, filled with diverse cultures, a variety of sightseeing spots, the most delicious food and the best nightlife in the Middle East. And it is ONLY in Lebanon that you could go to the beach during the day and to the mountains at night.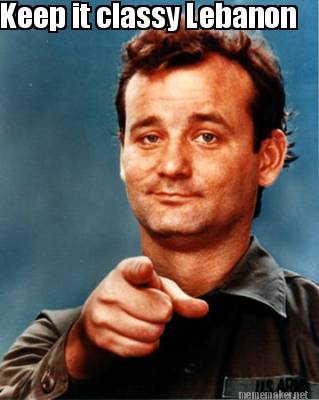 Contributed by Valeriya Y. Yermolenko