Lebanese Red Cross (LRC) paramedics had to leave an ambulance carrying a patient at the entrance of a hospital in Beirut after the hospital refused to admit the patient.
Because of its lack of vacant beds, Sahel General Hospital, in Haret Hreik, refused to take in a coronavirus (COVID-19) patient brought in by an LRC ambulance on Monday.
This prompted the paramedics to leave, keeping the ambulance – with the patient inside it – at the hospital's entrance. The patient was in critical condition and required hospitalization.
The LRC told Al-Jadeed TV that similar incidents have become more frequent lately with most hospitals in the country.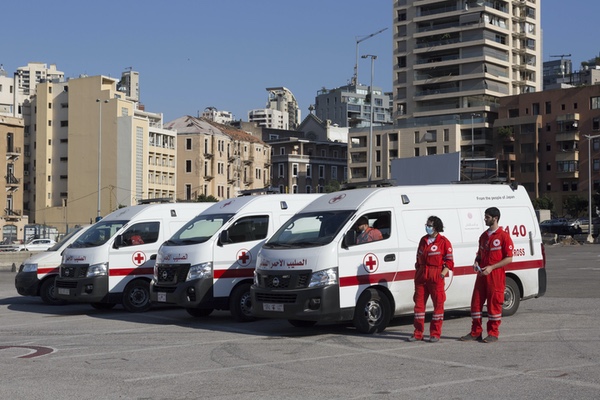 "When the hospital refuses to receive a critical case, the Red Cross team is forced to leave the patient in the ambulance and leave the place to force the hospital to provide him with first aid, so that he doesn't lose his life while moving between one hospital and another," the LRC explained.
Eventually, the aforementioned hospital succumbed to the pressure and admitted the patient for treatment.
Lebanon's healthcare sector has been under enormous pressure due to the rapid spread of COVID-19.
In a similar incident last week, LRC paramedics, who had brought in a patient in critical condition to Quabrshmoun Hospital in the village of Remhala in Aley, Mount Lebanon, had a fight with a doctor in the hospital for the same reason.
We have a dedicated coronavirus section where you can find the latest news/updates about the pandemic in Lebanon, inform yourself with WHO-verified resources, and track the number of cases in Lebanon in real-time. Click here.