The Coronavirus (COVID-19) Follow-up Committee has announced new preventive measures to be taken in Lebanon during the month of Ramadan.
After a meeting on Wednesday, the Committee issued the following recommendations for the measures to be taken during Ramadan, which starts next week:
A curfew will be active every day during Ramadan from 7 PM until 5 AM.
Group iftar meals will be prohibited as well as "Ramadan tents."
Entities and organizations that wish to distribute iftar meals must obtain a permit from the IMPACT platform beforehand.
Standard preventive measures, such as wearing face masks and adhering to social distancing, must be abided by.
Religious authorities are asked to warn people of the consequences of not adhering to COVID-19 preventive measures during Ramadan and to take strict measures at places of worship during prayers and religious activities, including not exceeding 30% of the capacity of places of worship, provided that people use the dedicated platform to obtain permission to leave their homes.
The Committee also recommended that the same measures that were taken during Easter, in regards to supermarkets, bakeries, pharmacies, clinics, and other institutions, be taken during Ramadan.
The Committee said these recommendations are based on the high rates of infection recorded in all governorates, including those with a majority that partakes in fasting and other religious activities during the month.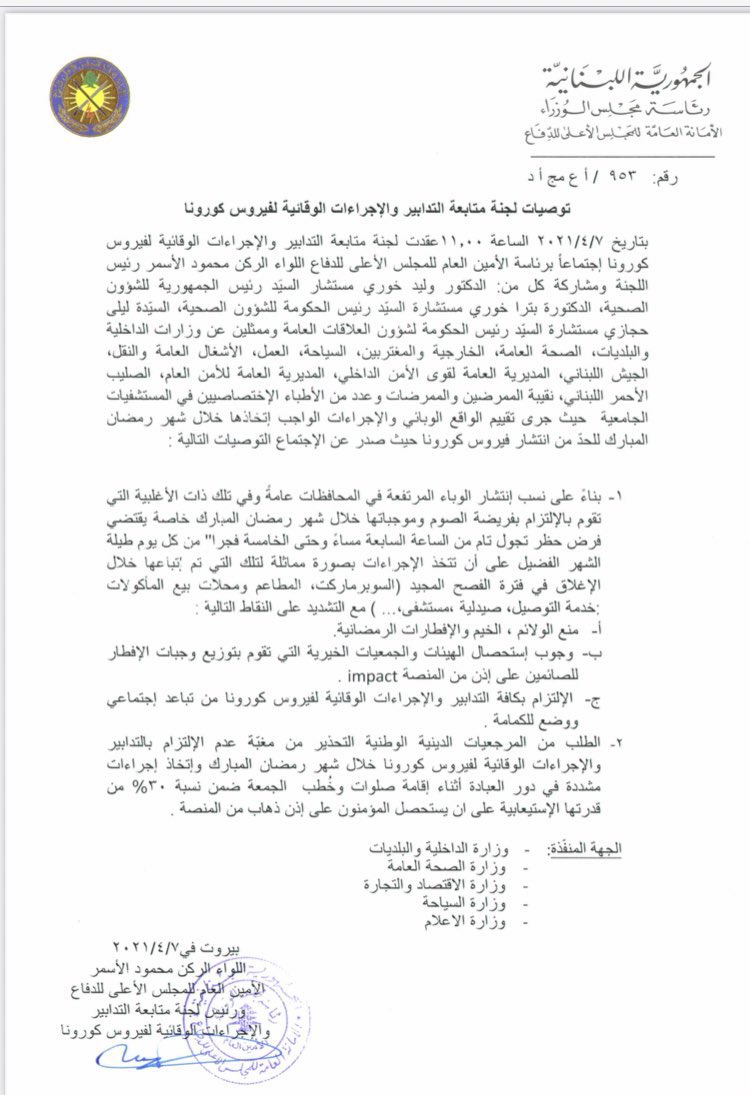 We have a dedicated coronavirus section where you can find the latest news/updates about the pandemic in Lebanon, inform yourself with WHO-verified resources, and track the number of cases in Lebanon in real-time. Click here.