On Tuesday, June 23rd, religious leader and political activist Sayyed Ali El-Amine has been accused of several charges, including meeting up with Israeli officials in Bahrain, as reported by the National News Agency. 
The public prosecutor's office of Mount Lebanon has pressed charges against the 68-year old religious authority, based on a lawsuit filed by lawyer Ghassan Al-Mawla on behalf of Nabih Awada, Khalil Nasrallah, Shawqi Awasa, and Hussein al-Dirani. 
In addition to the allegations of meeting with Israeli officials during an international forum in Bahrain, Sayyed Ali El-Amine, a Lebanese Muslim Twelver Shi'a cleric, is being accused of his anti-Hezbollah stance by allegedly "attacking the resistance and its martyrs."
Other charges include "inciting and stirring strife among sects" and "tampering with the Sharia laws of the Jaafari sect," according to NNA.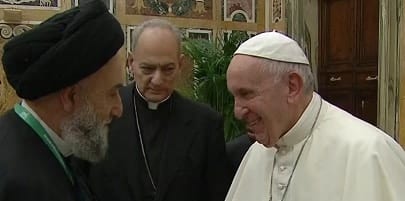 For context, Sayyed Ali Al-Amine attended a religious diversity dialogue conference in Bahrain in 2019 and got a lot of backlash from Hezbollah due to the fact that Jewish scholars from Israel also participated in it.
"Hezbollah also denounced the participation of El-Amine in the forum, which the movement said was attended by "Zionist figures." It also accused the cleric of "seeking to normalize ties with Israel," stated Asharq Al-Awsat.
Sayyed Ali El-Amine said that he didn't even know the Jewish members were going to be attending the conference, which they did on the second day.
Sayyed Ali El-Amine is a member of the Muslim-elders Council, with the clerical rank of Mujtahid, a senior level of clerical accomplishment.
He also held the position of Mufti of Tyre and Jabal Amel, in addition to being a lecturer, a religious mentor, and an author of several books.
He is particularly known regionally and internationally for his calls for interfaith dialogue. He "emphasizes mutual coexistence between Christians and Muslims, and advocates for Islamic solidarity and unity," according to the International Dialogue Center KAICIID, based in Vienna, Austria.
He's a reputable lecturer on religious consciousness and religious moderation, and has been outspoken against "hate, intolerance, extremism, and terrorism."
Locally, NNA reported that former Prime Minister Fouad Seniora has publicly denounced the claims against the religious scholar. He said that the allegations against Sayyed Ali El-Amine are "a mockery" and that they [the authorities] are delaying real reforms.
He also said that he believes that the Lebanese judiciary is being used as a tool to oust political opponents, according to the same news source.
Seniora's statement refers to the series of arrests of activists in recent days with the authorities referring to the defamation law to silence critics of the government.
Two of these arrests, in addition to El-Amine's, are also claimed on charges related to dealing or collaborating with Israel.