A 21-year-old college senior is creating special face-maks designed to accommodate people with hearing loss and who can only communicate by lips-reading, speech-reading, and also by using ASL as their primary mode of communication.
According to her, the DHH (deaf and hard of hearing) community has been overlooked during this major health crisis with everybody dealing with their fears and concerns.
Ashley Lawrence, a college student studying education for the deaf and hard of hearing (DHH) at Eastern Kentucky University in the US, used her education, expertise, and her quarantine time to work on this project.
Ashley told LEX18 that she "felt like there was a huge population that was being overlooked. […] We're all panicking right now and so a lot of people are just not being thought of," she said, "so I felt like it was very important, even at a time like this, for people to have that communication."
With the help of her mother, Ashley started making special face-masks out of bed-sheets.
These face-masks have clear plastic panels around the mouth "for people who use speech-reading, lip-reading, and people who use ASL as their primary mode of communication. ASL is big on facial expressions and it is part of the grammar."
And since Ashley has the DHH community people in mind, she is also creating face-masks for people with cochlear implants and hearing aids.
People who can't wrap the face mask around their ears can now wrap their face-masks around their heads and neck thanks to this thoughtful and creative young woman.
Ashley Lawrence's initiative was right on point; her masks are on high demand and she had dozens of orders in less than two days.
She isn't selling them. She's going all the way with her humanitarian stance, giving these special masks for free. As she said during her interview with LEX18: "If you need them, then you need them. We are sending them out for free whenever we have people asking for them."
Ashley had to launch a GoFundMe page to cover the costs of keeping up with the demands. She then decided on Thursday to stop receiving donations and share the tutorial publicly instead so to give the opportunity for more people to produce for their communities.
On that crowdfunding page, she posted the following message on April 2nd:
"Thank you so much for everyone's love and support for this project! At this time, we are no longer accepting donations, as we have met our goal. Thank you all who have donated and who have reached out wanting to donate. The tutorial for the masks will be posted to YouTube hopefully by end of week, so please make your own for your own community!
If you still would like to donate to the cause, please consider donating to a charity for the Deaf and Hard of Hearing."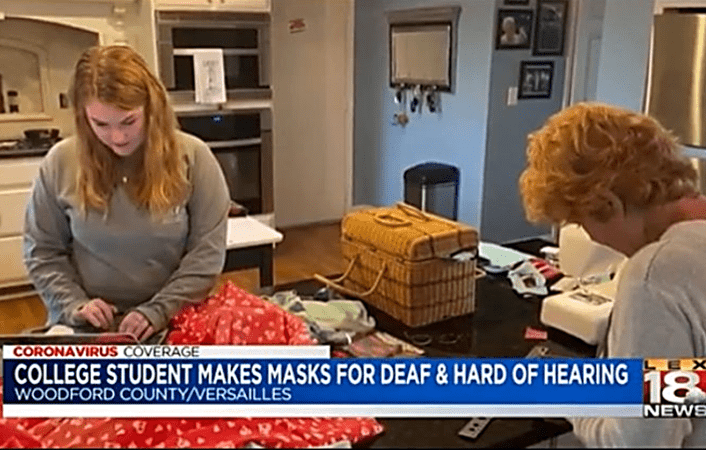 We have a dedicated coronavirus section where you can find the latest news/updates about the pandemic in Lebanon, inform yourself with WHO-verified resources, and track the number of cases in Lebanon in real-time. Click here.