"I still get paid in the 1,500 LBP rate," a university professor said speaking to The961. "Do you know what that means? I can't even afford to buy a kilo of meat anymore."
As the summer vacation draws near, she, like thousands of teachers in Lebanon, is not sure what to do to get through the toughest months of the year.
Despite barely getting paid, Lebanese teachers have been working relentlessly to ensure students of all ages are not abandoned throughout the worst economic crisis the country has ever witnessed.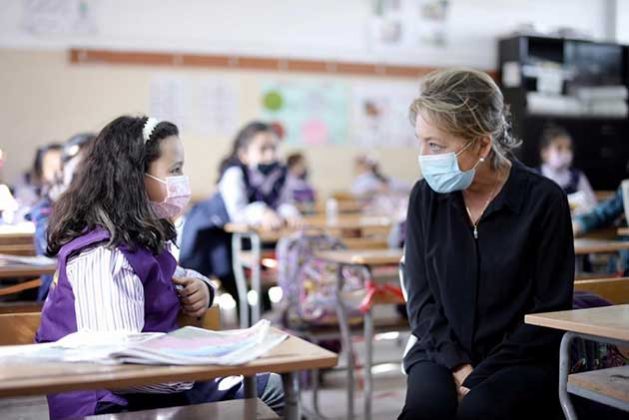 Back in February, UNICEF urged the Lebanese officials to step up as it witnessed the plight of the public school teachers in particular, who have been already struggling with drastic cuts to their salaries.
But the struggle continues as the country remains without any sign of reforms and without a fully functional government.
Lebanese teachers have proven to be the true unsung heroes these days for pouring all of their energy into the future of Lebanon, even if it means teaching from their cars while waiting in a neverending line for fuel, or sitting on the street by a closed cafe for some scrap of internet connection to continue their classes.
Even though they were not fully prepared or equipped to make the shift to online teaching, they adapted to it- with electricity cuts, poor internet, fuel crisis, lockdowns, and so on.
This shift has enabled teachers to gain new skills and techniques for teaching online.
Noticing the plight of the teachers, and combining it with the local economic crisis, a group of professors launched the Lebanese Teachers Without Borders initiative to help teachers in Lebanon make a second income in fresh USD by teaching one-on-one courses to students abroad.
Now, this initiative is providing a space for teachers to continue teaching throughout the summer by teaching students abroad looking to strengthen themselves in an array of skills, such as foreign language.
"We are putting our hearts and souls into this," said Josiane El-Khoury, a spokesperson for the initiative, to The961. "We dream of supporting all the professionals and academics across the entire land [of Lebanon]."