The year 1943, especially November of that year, was a very crucial and pivotal period for Lebanon; it is during that year that the Lebanese fought their final battle with colonialism and, ultimately, achieved their longtime dream, leading their country to become an independent state.
Although most dusty Lebanese history books end with the achievement of independence in 1943, the history of Lebanon certainly does not end there.
In fact, that year and the ones that followed independence brought forth some decorated Lebanese figures who helped rebuild and change the course of this country.  
Below is a list of some of the most prominent Lebanese political figures who played significant roles both before and after Lebanon's independence:
#1 Riad Al-Solh
One of the most familiar and recognizable names in Lebanon's history, Riad Al-Solh was the first prime minister of Lebanon after its independence. He was born in the southern city of Sidon in 1894 to a land-owning family. 
He studied law and political science at the University of Paris and spent most of his youth in Istanbul, as his father was a deputy in the Ottoman Parliament. Riad Al-Solh and his father Reda were both exiled from the Ottoman empire for political reasons.
Before serving as Prime Minister of Lebanon, which he did twice, he served as Minister of the Interior in Emir Faisal's government in Damascus.
Al-Solh is known for amending the constitution and eliminating articles related to the French Mandate in 1943, thus granting Lebanon its independence. He was assassinated on 17 July 1951 in Amman by members of the Syrian Social Nationalist Party.
#2 Sabri Hamadeh
He was the first Speaker of Parliament in Lebanon after Independence and served for five terms. He was born in the city of Hermel in the Bekaa Valley in 1902.
Hamadeh played a crucial role in the events leading to Lebanon's independence and was instrumental in the establishment of a separate Higher Council for the Shiites of Lebanon.
Sabri Hamadeh was also well-known for his moderation and compromise in the national political scene and, being Shiite himself, he was an important figure and representative for the Shiite community in the Lebanese politics following World War 2. He died at the age of 74 in 1976.
#3 Habib Abou Chahla
Born in Beirut in 1902, he studied at the American University of Beirut (AUB) and the University of Sorbonne in Paris. He was an active politician in post-independence Lebanon; he was the Minister of Justice in 1943 and was an elected MP several times after that year.
Habib Abou Chahla also served as Minister of Education, and was the Speaker of the Lebanese Parliament between 1946 and 1947, following the first term of Sabri Hamadeh. He died in 1957 at the age of 55.
#4 Camille Chamoun
Camille Nimr Chamoun was the second post-independence president of Lebanon. He was elected in 1952, after Bechara El-Khoury's term, and served as president for two consecutive terms (until 1958). He was born in Deir al-Qamar on 3 April 1900.
In addition to his presidency, Chamoun held various positions in the Lebanese government throughout his political career; he was elected to the Lebanese parliament in 1934 and was reelected in 1937 and 1943.
He was also an ambassador to the United Kingdom from 1944 to 1946, and an ambassador to the United Nations thereafter.
#5 Majid Arslan
Emir (Prince) Majid Toufic Arslan was the head of the Arslan feudal Druze ruling family and the leader of the Yazbaki faction in Lebanon.
He was an important national figure and played a role in the country's independence from the French Mandate. Born in Choueifat in 1908, he is the son of Emir Toufic Arslan, who helped found Greater Lebanon in 1920.
Arslan was a long-running MP and a multiple-time government minister with many important ministerial portfolios, including Health, Telecommunications, Defense, Justice, and Agriculture.
He was a skilled horseman and would practice his horsemanship in El-Magidieh, the southern village named after him. Today, his son Talal serves as an MP and is the President of the Lebanese Democratic Party.
#6 Abdul Hamid Karami
He was the son of Rashid Karami, the mufti of Tripoli, and he temporarily filled the mufti position after his father but was removed by French authorities.
Born in October 1890, he was a prominent leader of the movement that aimed to have Lebanon become an independent country.
Abdul Hamid Karami served as Prime Minister and Finance Minister for a short period (7 months) in 1945 and had been an elected MP during the late years of the French Mandate.
A year before his term as PM, he survived an assassination attempt, the motives of which was a local rivalry in his hometown Tripoli.
#7 Saeb Salam
Born in January 1905, Saeb Salam was a prominent Lebanese politician and businessman and a holder of a bachelor's degree in economics. He served six terms as Prime Minister between 1952 and 1973 and was the most popular Prime Minister after Riad Al-Solh.
He also held numerous positions in the Lebanese government, including 5 ministerial and 10 parliamentary positions.
Saeb Salam was the founder of today's Lebanon's commercial airline MEA (Middle East Airlines). He was exiled in 1985 and moved to Geneva, Switzerland, returning to Lebanon in 1994. Salam died of a heart attack on 21 January 2000, 4 days after his 95th birthday.
#8 Salim Takla
Salim Takla was born on 5 December 1895. He was among the first Lebanese politicians to participate in the first post-independence government.
Following Lebanon's independence, Takla served as Minister of Foreign Affairs, Public Works, and Justice, in addition to other ministerial positions. 
Additionally, he was the elected MP of Mount Lebanon in 1937 and 1943 after resigning from his position as governor of Mount Lebanon during the Mandate.
#9 Rashid Baydoun
One of the less known forefathers of Lebanon's independence, he had nevertheless made a name for himself resisting the French and defending Lebanon's right for independence.
Rashid Baydoun was one of the people who signed the first official Lebanese flag in 1943. He was born in 1889 in Damascus, and he served as a minister and delegate several times during his political career, which ended with his death in 1971.
#10 Adel Osseiran
Born on June 5th, 1905, Adel Osseiran was a prominent Lebanese statesman, a former minister, Speaker of the Lebanese Parliament, and one of the founding fathers of the Lebanese Republic. 
He studied at the American University of Beirut, graduating with a degree in History and Politics in 1928.
During his involvement in the Lebanese political scene, he filled more than 6 ministerial positions, including education, justice, and national defense.
Osseiran suffered from an obscure malady known as Essential Tremor, which made daily activities moderately difficult to perform but did not affect his mental sharpness. He died in June 1998.
#11 Adnan al-Hakim
Adnan Al-Hakim was an active player in Lebanese politics and the leader of the Najjadeh Party, an Arab nationalist party in Lebanon, for more than 30 years.
He was one of the people who contributed to Lebanon's independence. Al-Hakim was elected to parliament thirteen years after the Independence (1956), and again in 1960 and 1968. He died on May 26, 1990.
#12 Pierre Gemayel
A prominent Maronite leader and founder of the Kataeb party, Sheikh Pierre Gemayel was born in Bikfaya in November 1905.
He was a fierce opposer of the French Mandate over Lebanon in the late 1930s and early 1940s and advocated an independent Lebanon free from foreign control. He studied pharmacy at the Université Saint-Joseph in Beirut.
Gemayel served as a long-time member of the Lebanese Parliament, first taking office in 1960, and was re-elected numerous times until 1984. He also held cabinet posts intermittently throughout the remaining quarter-century of his life, including the Ministry of Public Works in 1970. 
His two sons, Amin and Bachir, became presidents of Lebanon. Pierre Gemayel died in August 1984.
#13 Hamid Frangieh
Hamid Beik Frangieh was one of the most prominent Maronite leaders of Lebanon.
He was born in August 1907 to a family with a long history in public service; his grandfather was a District Governor, his father a member of Parliament (in 1929), and his brother Suleiman became President of Lebanon.
He graduated in law from the Université de Saint-Joseph in Beirut in 1930. He was elected as a member of Parliament multiple times from 1932 until 1957, and served as Minister of Finance, Foreign Affairs, Education, among others, from 1938 till 1955. Hamid Frangieh died in September 1981.
#14 Henri Pharaoun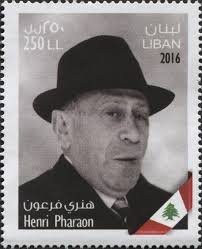 Henri Philippe Pharaoun played a very crucial role in securing Lebanon's independence from France. He was a Lebanese art collector, sportsman, politician, and businessman born in Alexandria, Egypt. Pharaoun's father moved the family to Beirut when Henri was four years old.
During his political career in Lebanon, Pharaon served as Foreign Minister and other Cabinet positions. He also was known in Lebanon for his advocacy of mutual existence between Muslims and Christians.
He was murdered in his bedroom at the Carlton Hotel in 1993; police said the motive for his murder was possibly robbery.
#15 Maroun Kanaan
Maroun Kanaan was a Lebanese politician from Jezzine born in 1890. His father was a member of the board in Mount Lebanon. Kanaan was vice-president of the municipality of Jezzine until 1937 and was an elected MP five times for his region.
He actively contributed to the independence of Lebanon from the French Mandate in 1943, and his signature can be seen on the first Lebanese Flag.
#16 Saadi Al-Munla
Saadi Al-Munla was born on November 4th, 1890 in Tripoli, north of Lebanon. He was a Lebanese lawyer and politician and served as Prime Minister of Lebanon from May 1946 until December 1946 under the presidency of Bechara El Khoury.
He also served as minister of economy. He is recognized as one of the forefathers of Lebanon's independence. He died in December 1975 at the age of 85.
#17 Mohammad Beik Al-Fadel
One of the less talked about names when it comes to the forefathers of Lebanon's Independence, but one of the clearest signed on the first Lebanese flag.
Mohammad Al-Fadel was born in Nabatiyeh in 1912 to a family of politicians. He represented the South in the Lebanese Parliament in 1943 and was re-elected many times following his first election. He died in March 1986 and was buried in his hometown.
#18 Bchara El-Khouri
#19 Sheikh Hussein El-Halabi
Although he is not a politician, and not officially recognized by the Lebanese government as one of the forefathers, Sheikh Hussein El-Halabi deserves recognition among "The Men of the Independence."
He was the leader of a military resistance in his hometown Bchamoun and a respected cleric in his hometown.
The man completely changed the course of the story of Lebanon Independence when he offered his residence for the minister who sought refuge from the French.
For his mighty resistance against the French and his admirable contribution to the independence of Lebanon, his famed home became known as "The House of the Independence."
"اللي عمرو بيعمر غيرو… المهم يبقى لبنان" Which translates roughly into "He who built his house will build another… The important is that Lebanon remains."
This was his response when he was warned about the dangers of giving the ministers refuge at his house; negligible would the sacrifice of his house be when compared to that of the nation.
Read also: Everything You Need to Know About the Heroic Story of Lebanon's Independence Day.