Since October 17, hundreds and thousands of Lebanese citizens have been revolting against corruption and protesting for their rights. Amid this revolution, unprivileged people saw a light of hope to get some money as they marched to the streets of Beirut selling umbrellas, food, drinks, and Lebanon's flags.
Passing through Solidere, you will find an old woman sitting on the street selling Mankoushé Saj for 1000LL, a young man selling umbrellas for 5000LL each, and a child selling Kaake Traboulseyyeh for 2000LL.
No one would have ever imagined that there comes a day when you hear someone yelling Kaake for 1000LL in the middle of Solidere. People from different backgrounds do now hop to buy stuff down there to enjoy the authenticity of the Lebanese culture and the essence of this revolution. 
This is the face of the old Beirut, the old Beirut that was known as Paris of the Middle East. Downtown Beirut was the home of a variety of activities, ranging from official state and municipal bureaucracies, travel terminals, hotels, and sidewalks cafes to retail stores, popular souks, to less reputable venues, including gambling houses. 
The souks used to be traditional, from Souk al-Tawileh and Souk al-Jamil to Souk al-Franj, which functioned as Lebanon's biggest fruit, vegetable, and flower market. Old Beirut was then evolved into a luxurious district that only a few Lebanese could afford, a district that threw former residents and businesses away.
For its supporters, Solidere made Downtown Beirut a top attraction spot in Lebanon. On the other hand, its critics have accused the company of using harassment and intimidation to drive the original residents out. 
Nevertheless, Solidere truly changed Downtown Beirut. For years now, the shops have been closing one after the other, only a small number of people could afford to have a dessert there, and the district was almost gloomy. 
The Lebanese Revolution has changed every aspect of the district. People are sleeping there on the tunes of revolutionary music and waking up on some clean-ups. Underprivileged people have found their spots and selling their low-cost items and food.
One has only to close their eyes to feel back in time when downtown Beirut belonged to everybody without discrimination.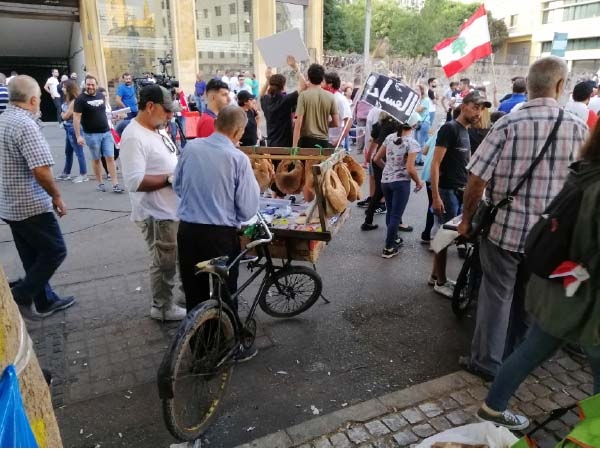 While downtown Beirut has been the home for all Lebanese people of different backgrounds and opinions, nowadays the protesters are filling the walls of downtown with "It's Called El-Balad (Downtown) not Solidere" and "Down with Solidere."
All the Lebanese people now hope that the downtown of their capital stays full of people, life, variety, diversity, and happiness… and the smells of baking mankoush, and the sound of the kaak seller calling out for hungry customers.