Some great artistic works get buried in our country, whether by purpose or negligence. This masterpiece of a movie is one of them.
Despite winning the first prize at the Carthage International Film Festival in 1994 and its success in various countries, The Tornado film wasn't well-received in Lebanon back then.
Deemed controversial, the movie was rejected by Lebanese theaters that stopped showing it, which caused it to go underrated and even unheard of by most in Lebanon.
Bold, dramatic, and genuine, the movie is the work of Lebanese director Samir Habchi, a native of the town of Deir El-Ahmar.
He studied cinema in Russia before returning to Lebanon in the 90s, where he used his cinematic knowledge to create remarkable films and TV series, as well as teaching at universities.
At the time of his arrival to Lebanon in 1992, he found himself amidst heartbreaking scenes of ruins and destructions of the Civil War that had just ended. 
Deeply affected, Samir Habchi did what most artists do; he channeled the impact he felt into the artistic creation of a great film: The Tornado.
But he didn't do it alone. The movie, in fact, is a Lebanese-Russian production, with a Russian actor playing the main character.
While it is hardly noticeable, the film was shot in both Lebanon and Russia. Also starring in the movie: Fadi Abou Khalil, Philippe Akiki, Chehade El-Hatchiti, Julia Kassar, and Ana Manoukian.
Unique and unusual in every way, the movie storyline is bold and cleverly made, turning the whole production into a cinematic wonder. 
Some of the people in the scenes weren't even cast; they were just passers-by who wanted to get involved, and Habchi opened the opportunity for them, which added to the authenticity of the scenes.
The plot narrates the struggle of Akram who, upon his arrival to Lebanon from expatriation, starts dealing with nightmares about the terrors of war. The story also involves the daily life of the Lebanese people during this period and how they adapted to recurring bombings to survive.
The Tornado was the first to document Lebanon's war, during and after those unfortunate times. Habchi realized his vision in a sincere and honest way, using the painful reality of the war-torn surroundings and backgrounds. That gave the movie a rich and dramatic ambiance.
Another aspect that helped make The Tornado a masterpiece is the amazing effort allocated by a dedicated and hard-working team who was prepared to produce such excellent work on a low budget.
The strongest point in this project is that Habchi didn't work on glorifying the war or its aftermaths but on capturing brilliantly its terrifying aspects.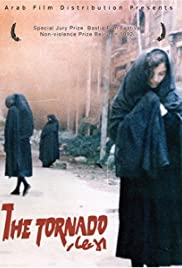 This film is the definition of Lebanese cinema. It is a historical representation of Lebanon's worst times and was beautifully made despite that.
Whoever wants a clear view of Lebanon in 1992 (and a mind-blowing one), go ahead and watch it! You might find it on Amazon or similar sites.
---
Our team works tirelessly to ensure Lebanese people have a reliable alternative to the politically-backed media outlets with their heavily-funded and dangerous propaganda machines. We've been detained, faced nonstop cyber attacks, censorship, attempted kidnapping, physical intimidation, and frivolous lawsuits draining our resources. Financial support from our readers keeps us fighting on your behalf. If you are financially able, please consider supporting The961's work. Support The961. Make a contribution now.