We all have come to know the musical sensation Gloria Estefan, a Cuban-American singer, songwriter, actress, and businesswoman, winner of three Grammy Awards and recipient of a star on the Hollywood Walk of Fame and Las Vegas Walk of Fame. She was quite popular in Lebanon at a certain time. But how much did we know about her husband, Emilio Estephan, a Lebanese descendant? 
Emilio Estefan has won 19 Grammys – making him and his wife quite the musical power-couple since Gloria's awards kept coming. In 2015, she received the Presidential Medal of Freedom for her contributions to American music. She also received the Kennedy Center Honors in December 2017 for her contributions to American Culture Life.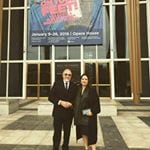 @emilioestefanfoundationembedded via  
Emilio Estefan was born on March 4, 1953, in Santiago de Cuba to Emilio Estefan Sr. and Carmen Maria Gómez. His father was the second-to-last child in his family and is of Lebanese ancestry from his paternal side. 
In 1967, at the age of fourteen, Estefan and his father Emilio Sr. fled Cuba for Spain to escape the Castro regime. The Estefan family planned to reunite in the United States. However, Carmen chose to remain behind because she did not want to abandon her parents.
It was during his formative years that Estefan cultivated his musical sensibilities, as he had often used his accordion-playing skills to earn enough tips to support his father and family.
Via Americatevepr.com
In 1975, Gloria and her cousin met Estefan while performing at a church ensemble rehearsal. Estefan, who had formed the band Miami Latin Boys earlier that year, learned about Gloria through a mutual acquaintance.
While the Miami Latin Boys were performing at a Cuban wedding at Hotel Dupont, Gloria and her cousin performed two Cuban standards impromptu. They impressed the Miami Latin Boys so much that they were invited to join the band permanently with the band's name changing to Miami Sound Machine.
Via CD and LP
Eventually, Miami Sound Machine would perform with Gloria Estefan as the lead singer and headliner, and the rest is history! 
In 1994, Emilio Estefan was awarded El Premio Billboard award for his work in the Latin music industry. In the same year, he was given the Excellence Award at the 1994 Lo Nuestro Awards.
At the Latin Grammy Awards of 2000, Estefan received the award for Producer of the Year for his work on the albums Ciego de Amor by Charlie Zaa, El Amor de Mi Tierra by Carlos Vives, and the song Da la Vuelta by Marc Anthony. He was recognized as Person of the Year by the Latin Recording Academy that same year.
Via bles.com
In 2002, Estefan was appointed to the President's Committee on the Arts and Humanities by President George W. Bush. In 2005, he went on to receive the BMI Songwriter of the Year award and a star on the Hollywood Walk of Fame.
Estefan has also received honorary doctoral degrees from Barry University, the University of Miami, Florida International University, and the Berklee College of Music. He also received the Sammy Cahn Lifetime Achievement Award by the Songwriters' Hall of Fame, and the Ellis Island Medal of Honor in 2009.
Estefan was inducted into the Latin Songwriters Hall of Fame in 2014, and in November of 2015, President Barack Obama awarded him and his wife Gloria with the nation's highest civilian honor: the Presidential Medal of Freedom. They were also awarded Lo Nuestro Excellence Award in 2018.
Via sipse
Emilio and Gloria Estefan have been married since 1978 and have a son, Nayib, and a daughter, Emily, who is a recording artist. Nayib is an aspiring filmmaker and owner of the Nite Owl Theater in Miami, Florida.
According to Mas Ricos blog, the Estefan power couple "has a fortune of approximately $700 million, a splendid chain of ostentatious restaurants, and live on an exclusive and impressive Star Island."
However, the Estefans are not your typical rich celebrity. They serve the less fortunate through Emilio Estefan Foundation, and much they are seen among their "guests" and contributing their time to them.