Michel Hayek started by titling his predictions, quoting Gebran Khalil Gebran, "You Have Your Lebanon, and I Have My Lebanon" for the year 2020, where he saw many falls for the country and remarkable hopes for a resurrection of Lebanon.
Highlights
Lebanon will not go through hunger.
There will be no begging at banks.
There will be many Lebanons within Lebanon. Each Lebanon will have its own symbol, flag, feature, and color.
Civil marriage law applied yet not in all Lebanon
Lebanon's 10, 452 square km size will be clearly amended.
Lebanon will be a new model, created from within by the Lebanese.
Agreements on and support of former Minister of Industry Layla El-Solh.
Leadership responsibility is given to a lady from the Aoun family name.
A huge invasion of the common-used Lebanese language.
Embassies will be called up for an emergency situation related to the blue line.
A rush of international investments from various countries in Lebanon.
Hassan Diab turns the tables.
Once again a huge event will occur on the 17th day of a certain month.
Michel Hayek has been predicting the fate of Lebanon for three decades, and surprisingly, he can be so accurate at times, which leaves believers and nonbelievers waiting for his predictions every year on New Year's Eve. We summarize here the most relevant:
On Politics
There will be a government and it will be one of a kind; Hayek cited it also as a Cesarean birth of a government.
In a certain situation, Salim Aoun will ask for help for himself and for others.
Speaker of Parliament Nabih Berri's security forces will find themselves in need of protection.
A wave of fear around Head of Lebanese Democratic Party Talal Arslan.
Beirut Madinati's stocks will be up for sale in the market.
Sethrida Geagea will be facing some unusual waves of her own.
Nawaf Salam won't stay a retired ambassador.
An unusual appearance of the name of Habib Shartouni.
A western and an American eye on the Gemayel family, which will be subjected to many challenges.
The malfunction of the personal security of Sleiman Franjieh and Walid Joumblatt will be evident.
Weam Wahhab will be falsely accused.
Tashnag political party will be forced to change its map destination.
The name Michel Mouawad is subjected to be replaced.
Strife will hit the Mustaqbal Movement.
A curse on the Presidential Palace and its premises.
In an unusual moment, the relationship between President Aoun and Gebran Bassil will be unstable.
The Serail of Jounieh is on the lockout.
Bashir Gemayel 'reincarnates.'
Political inheritance is the next political crisis.
Non-guaranteed results in the actions of Jawad Hassan Nasrallah.
Tension will occur for a little while between the Western Suburb of Beirut Dahyeh and Baabda.
A big change will be evident between Taimour and Walid Joumblatt.
Oussama Saad will be facing conflict and will not have immunity.
The power of the Lebanese state will make the highest stature kneel.
President Michel Aoun will rise up against everyone, including himself.
Former PM Saad Hariri will challenge the "wave" he is surfing.
The name of Sleiman Frangieh will be mentioned frequently and will leave a Northern patriotic mark.
Hassan Diab turns the tables.
The finger of Al Sayed and Hassan and his ring will be at the top of the scene.
Hezbollah will live for a little while in a danger to themselves and to Lebanon.
Hezbollah will receive an unprecedented positive message from an international source/reference.
A region of Lebanon with its people and leaders is wrestling between submission and non-submission, while other regions strongly refuse to submit to the will of Hezbollah.
The Resistance Bloc with its members and leader will be like thunder and lightning, and a tornado.
In one of the scenes, we will see the Lebanese people worrying about President Aoun.
A crisis will occur between an embassy and an ambassador.
History will repeat itself in the Grand Serial and the house of Hariri.
On the Lebanese Revolution
The revolution is a woman indeed, a mother who will give birth to other revolutions.
Two explosions within the revolution: an explosion caused by gun/gunpowder and an explosion caused by leadership and a decision.
The 'groups' that were in power before the 17 October Revolution will act as following: a group saying: "goodbye Lebanon," a group acting with remorse, a group trying to hide in fear, a group changing sides, a group rushing to courts nationally and internationally.
The groups' distribution continues: a group "playing" and getting played, a group negotiating, bargaining, and creating adjustments, a group facing what seems like a suicide mission, and another group appears to be drained of members.
The final groups are: a group facing phycological and health crises; some are fabricated and some are real. A group trying to regain what was lost, a group changing its face and exchanging its guns as well as changing its expression and behavior, a group revealing scandals and deals, and, finally, a group will have its freedom held hostage as if it's under house arrest.
The "Hela Hela Ho" chant will exceed the revolution and will be part of our lifestyle.
The "Hela Hela Ho" chant will be the reason behind a revengeful action.
Revolution squares are saddened by certain news of a celebrity.
The revolution will give birth to revolutionaries, and the woman will be in the heart of the fire. Danger and blood will not only be for men.
One of the exceptional faces of the revolution will take an authoritarian position.
The revolution will have a beauty icon.
Anti-revolution people will attempt to disfigure the Bride of the Revolution in Tripoli.
The revolution will grow on its own and it will last long.
One of these three [media figures] will be an image on all the screens: Tahsin Khayat, Michel El-Murr, and Pierre Daher.
The revolution breaks the image of those who thought of themselves as gods.
The revolution will revolt against itself, clean up, and throw out the intruders.
The "bread of the revolution" will be offered to anyone hungry and in need of a loaf of bread.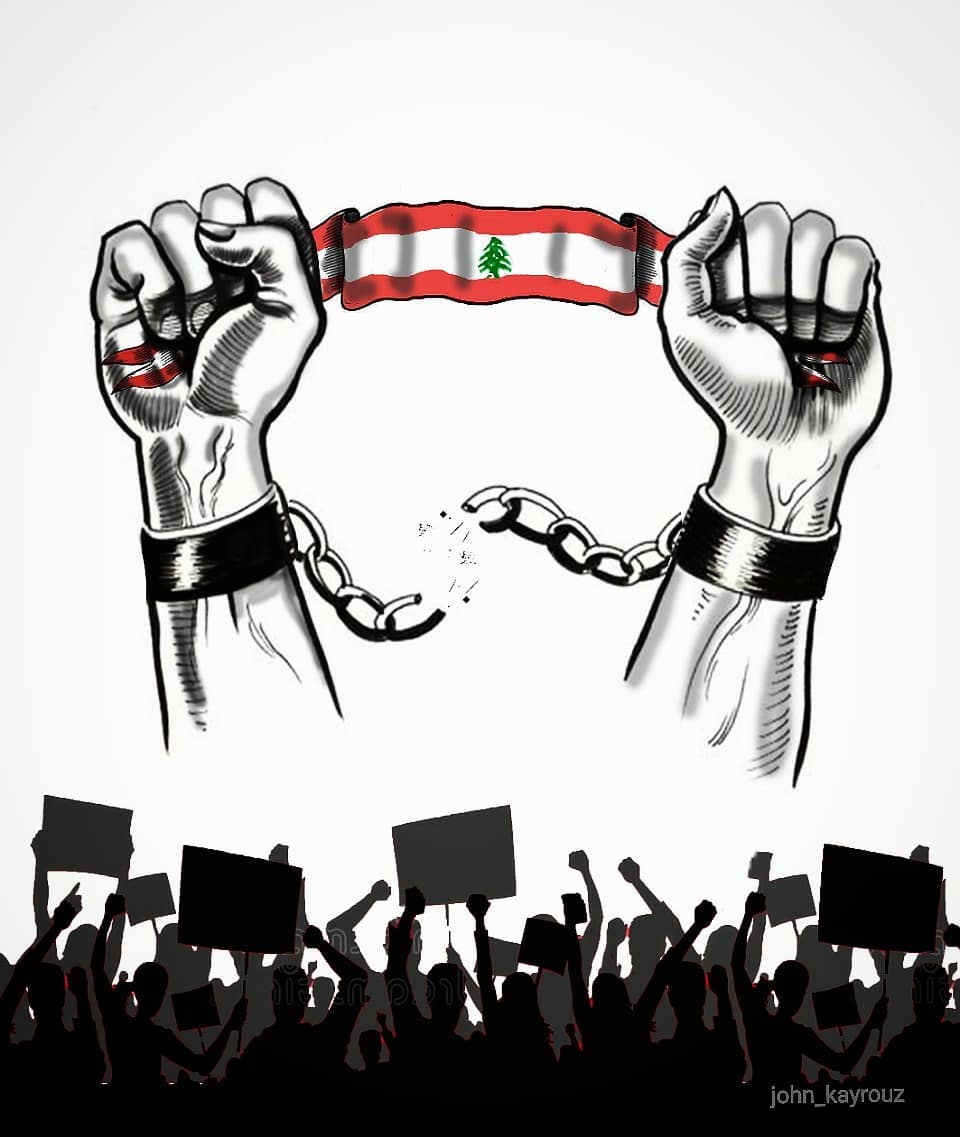 The revolution will witness long periods of waiting.
The threats that female reporters witnessed in revolution squares will come true.
Big investments in sectarian properties. These investments will turn the properties into programs for medical, academical, social security, and retirement age purposes.
Some entrepreneurs in Lebanon will enter prison.
On the economy and finance
There will be bankruptcy, half-fake, and half-real, and the real will sound fake.
The people's money deposits in banks will return to their owners.
The Lebanese pound is wronged, will be wronged even more, and then will turn with time into hard currency. 
Banks will be facing all options: merges, bankruptcy, and will no longer be a place for begging.
The central bank will turn into a court of all courts; it will hold others to account and will be held accountable and will also send people to prison.
There is petrol and its proceeds will not be stolen or looted.
Countries and international sides will rush to invest in Lebanon.
Riad Salameh will be found innocent of some of the accusations.
Riad Salameh to the court of courts and will be revealing many scandalous files.
Dar Al-Handasah (engineering consultant organization) will make a high achievement.
On Religious figures and institutions
Religious men announce their willingness to appear in courts.
A revolution will be born against some religious figures and other religious figures will participate in this revolution.
Well-known Maronite figures will be targeted.
Religious men from different sects will have their freedoms held hostage.
Dangerous files on high-status religious men will be opened.
One of the Patriarch Al-Rahi's sermons will be ground-breaking.
The Maronite Archbishop of Beirut Boulous Abdel Sater will score with bravery many achievements.
The name of Sobhi Toufeili will cause some kind of a shake within the Lebanese community.
The prestige of Grand Mufti of Lebanon Abdul Latif Derian is on the stake and Dar Al-Fatwa is broken.
The Vatican will interfere in a Lebanese situation directly.
A Lebanese Bishop in Canada takes an unprecedented move that will be heard all the way to Lebanon.
On law and judicial
The Governor of Beirut Ziad Chbib will face two stops: one is honorary and the other is libel.
Assault on private diplomatic cars
The Head of Beirut Bar Association Melhem Khalaf will face ongoing seasonal battles.
Prosecution of endowments and properties. These properties will open their doors for the people.
An adventure in the file and the imprisonment and the case of Omar Fakhoury.
A case will explode out of Lebanese water.
2020 is the year where the topic of Lebanese water will rise against all odds.
Khaled Hammoud breaks his silence with a big file.
Many general directors will be prosecuted and sent to jail.
On military and security
A significant number of security forces will be present in remarkable events in Bourj Hammoud.
More than one storm will occur inside the military court and its premises.
Uncompleted happiness on the deck of a yacht.
A terrorist cell will be activated and will shake security in Lebanon.
All eyes on Akkar and the army are alerted.
A sudden move in the ranks of the military.
The equation of the army, the people, and the resistance will be subjected to a change.
Deliberate movements of a series of mobile explosions will appear.
Vengeful attempts targeted at militarian leaders will occur.
Once again, Shebaa Farms will spark a fire.
Fire and flames present in Eden Bay.
A vital facility in Lebanon will be a target for Israel.
Roads leading to Sassine, Ashrafieh, will be closed in an emergency situation.
Lebanese people are well known for their deep love of conspiracy theories and politics, so it is no surprise that Michel Hayek has been the star of New Year's Eve for three decades.
It's in our culture and traditions; from 'reading the coffee cup" to discussing our dreams for some clue of what's coming to or for us, and tuning to some daily horoscope reading. 
Whether we believe in that or not, there is always a thrill and stomach butterflies to want to know what is being predicted. 
So, if you are as curious, get to also know what Michel Hayek predicted for the countries of the Middle-East; from Syria to Iraq and Saudi Arabia, among numerous others.