Plenty has been said about the Lebanese strong sense of fashion, yet that aesthetic characteristic is also reflected, and brilliantly, in the interior design of houses, hotels, and venues.
Skilled, refined, practical, and sophisticated are the most qualifications you hear about the creative work of our interior designers.
Let's take a look at fifteen of the most sought after among them.
#1 Nabil Dada
Nabil Dada started out his career in 1972 with a small gallery in Lebanon. He expanded his business in Saudi Arabia, working on the more classical approach.
He met the soon-to-be Prime Minister Rafic Hariri and worked with him on a variety of projects. Dada also opened an office in Paris before deciding to finally settle down again in Lebanon and continue his projects in his country.
#2 Elie Choueiry
Elie Choueiry is a USEK graduate of the class of 1982. He founded the ECH Group Design with some of his university classmates and the team went on creating, so far, more than a hundred projects that were acclaimed as works of art.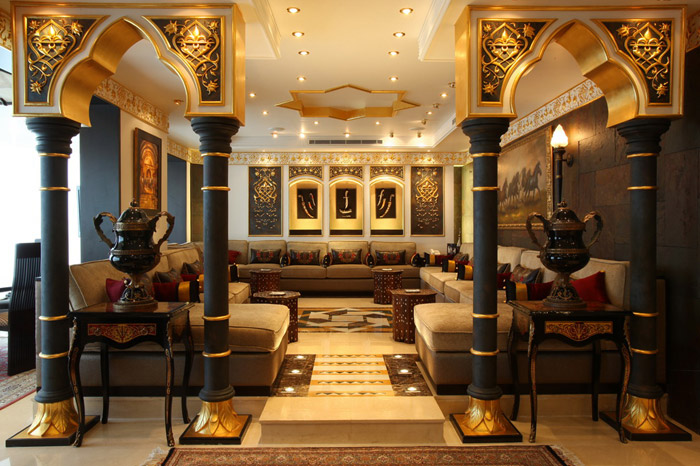 Choueiry's creative works are based on the concept of modernity with simplicity, refinery, and harmony.
#3 Pierre Mouhanna
Pierre Mouhanna completed his undergraduate studies at USEK, Lebanon, where he was awarded a scholarship to continue his studies in Germany.
He has been teaching as a university professor since 1985 and started creating furniture in 1988. His approach is based on neo-modern and contemporary philosophy. 
#4 Nada Debs
Nada Debs is a Lebanese designer currently working in Beirut. Her creative work is based on the interaction between different cultures all at once.
She grew up in Japan, studied design at the Rhode Island School of Design in the United States, and has traveled the world, studying the different cultures and incorporating them into her work. 
#5 Eddy Renno
Eddy Reno is a Lebanese-Canadian interior designer, and son of the famous art professor and founder of the Michael Angelo Academy, Dr. Assaad Renno. Eddy was greatly influenced by his father when choosing his work path.
After his graduation, he moved to Canada to gain experience and visited many other countries as well before settling back in Lebanon, where he strives to make his projects as original as possible.
#6 Elie Abs
An LAU graduate from the class of 1997, Elie Abs pursued his master's in the Architectural Association, class of 2000.
He established, together with Souhail Kayali, the ACCENT DESIGN GROUP offering specialized design and urban planning for the region. Their focus is on unconventional design, without following any established technique.
#7 Carla Munzer
Carla Munzer received a degree in Interior Design and recognition for her talent in poetry and painting from USEK, Lebanon. She works in her own company named after her.
The above image portrays her design approach, which is based on the combination of art, science, and technology to achieve the best end result.
#8 Bachir Nader
Bachir Nader is an interior architect and industrial designer, holder of a Master's degree in Interior Design (1999) and a Master's Degree in Scenography (2002).
What differentiates Bachir Nader is that he likes the challenge involved and loves to transform the spaces in which no one saw potential. It is incredible to think that it all started in his car, on his way to a meeting.
#9 Wael Farran
With about 18 years of experience, Wael Farran is a Lead Interior Architect and Designer with an office of his own, based in Beirut. His primary goal is to offer personalized environments to his clients, always prioritizing their comfort.
The above image portrays a living room for the house of a family of four people in Beirut where he used a clean, sleek style.
#10 Shady Bou Saba
With an experience of more than fifteen years, Shady Bou Saba opened up his own design house in 2004, emphasizing architecture, interior, and furniture design.
The keys to his success are his diversity, flexibility, and client-centered approach.
#11 Fadia O Chaker
Fadia Obeid Chaker majored in Interior Architecture and 3D animation in Beirut and in Hotel Design in Milan, Italy. She worked in countless reputable architecture offices in and out of the country before opening her architecture and design office in Lebanon.
The above image portrays her focus on the contemporary style and her preference for white, brown, and gray tones.
#12 Rabih Geha
A Lebanese architect, AUB Graduate with a Master's degree from ENSCI, and winner of international awards, Rabih Geha works in a variety of projects, including architecture, interiors, product design, and experimental installations.
His main goal is to leave traditional architecture behind and to focus on newer approaches.
#13 Marcel Tabib
Marcel Tabib pursued his interior architecture degree from USEK Lebanon. Following his university graduation, he split his time between working in Beirut, Dubai, and Qatar, for various offices, and multinational companies.
The above picture depicts his preference for the minimalistic approach.
#14 Dany Ghanem
Dany Ghanem bases his work on an integration between the types of markets, be it commercial or residential. He takes advantage of the international industry and what it has to offer.
#15 Jean Claude Malhame
An honor graduate from L'Accademia Di Belle Arti Roma and L'Instituto Europeo De Design Roma in Italy, Jean Claude Malhame established two architecture and Interior design companies in the Middle East and Europe.
He has worked with people from all corners of the world and this multicultural diversity is one of the known facets of his work.
Of course, there are many other great interior designers excelling in Lebanon. As we mentioned, Beirut is the design capital of the MENA region and a house to a countless number of designers!