In the context of recent regional military tensions originating from the Israel-Hamas war, the US Navy's P8 Poseidon was observed on a surveillance sortie near Lebanese maritime borders.
The state-of-the-art aircraft, a military derivative of the Boeing 737, comes equipped with an array of sensors and communication systems designed for broad-scope reconnaissance tasks. Its advanced AN/APY-10 radar allows for detailed surface mapping and image surveillance.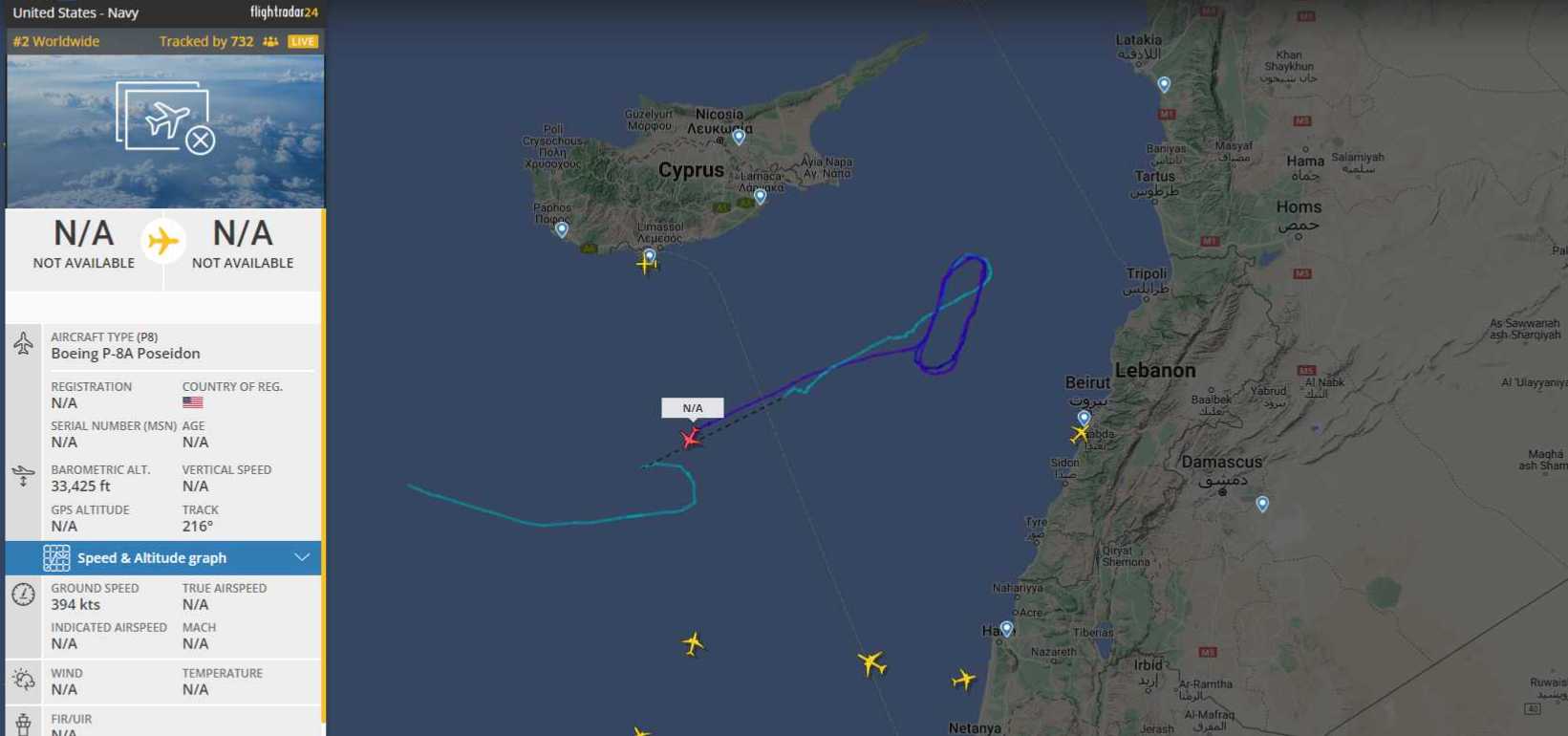 The Poseidon's sophisticated surveillance suite includes high-resolution cameras and an acoustic system capable of deploying sonobuoys to track submarine activity. Additionally, its electronic support measures enhance its signal intelligence abilities, making it crucial for gathering maritime intelligence.
This flight occurs against the backdrop of the US Navy's strike groups being on heightened alert in the region, following the October 7 Hamas attacks in Israel and the ensured clashes between Hezbollah and Israel on the Lebanese border.
These strike groups, typically comprising destroyers, cruisers, and aircraft carriers, signify a robust US presence and have been strategically placed near Israel to respond to regional security challenges in the protection of their ally.
The US already said these striker groups, including the US Gerald Ford, are there as a deterrence to Hezbollah and Iranian proxies from escalating the situation.
The P8's recent operations off the Lebanese coast, soaring initially at 33,000 feet before descending below 10,000 feet over international waters, emphasize the ongoing importance of surveillance in maintaining regional stability.
The aircraft is currently second-most tracked on flight radars globally, right behind the approaching TITAN25 (call sign), the US Air Force's Advanced Airborne Command Post. The Boing E-4 is one in 4 built and has a cost equivalent to $3.6 billion.
Often when the US president is traveling outside of North America, the E-4B will be deployed to a nearby airport in case of emergency and the Air Force One is deemed unusable. The E-4B variant, which is approaching, has nuclear electromagnetic pulse protection, nuclear and thermal effects shielding, advanced electronics, and a wide variety of communications equipment.
At the time of publishing, its destination is unknown and it was seen in Greek airspace heading in the direction of Israel at speeds of 530kts.